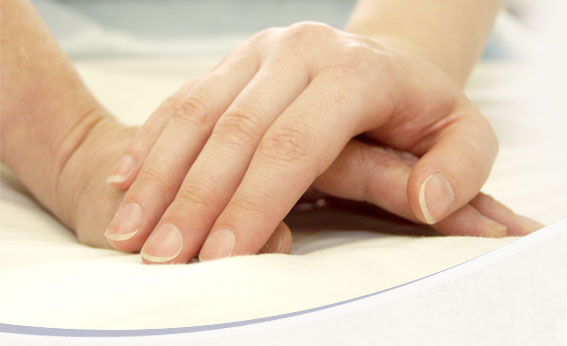 Hope Made Visible, International
---
Update! June 20th, 2017
Hope Made Visible™ has arrived in Guatemala!
Paulina, a colleague of Alessandra's in Guatemala, is working with the help of a public hospital to exhibit the globe-trotting flag collection at a local mall from July 7th through July 9th!
The flags were shipped from SDCRI's home in San Diego to Guatemala in May, and their arrival in Guatemala was confirmed in early June.
Paulina and her crew of cancer warriors completed 7 monthly sessions making flags, and the have announced that they are planning to exhibit the flags for the 3 days in July. Alessandra has sent 700 to 800 flags created in, and collected from, the USA & several other countries around the world.
In addition, at least 100 more flags will be coming from the Fahnen furs Leben group in Germany. Fahnen furs Leben ("Flags of Life") is the German counterpart of HMV, headed up by Gabriele, another colleague of Alessandra's, who has been working with cancer patients in Europe to create their own collection of flags.
There will be more news and possibly photos for the new exhibition of these wonderful, international symbols of hope!
Check back soon to see what's next!
---
(Previous)Update! December 1st, 2016
You can follow Hope Made Visible™ on Twitter by clicking here!
And you can get updates for HMV on the Expressive ARTS Therapy Facebook page!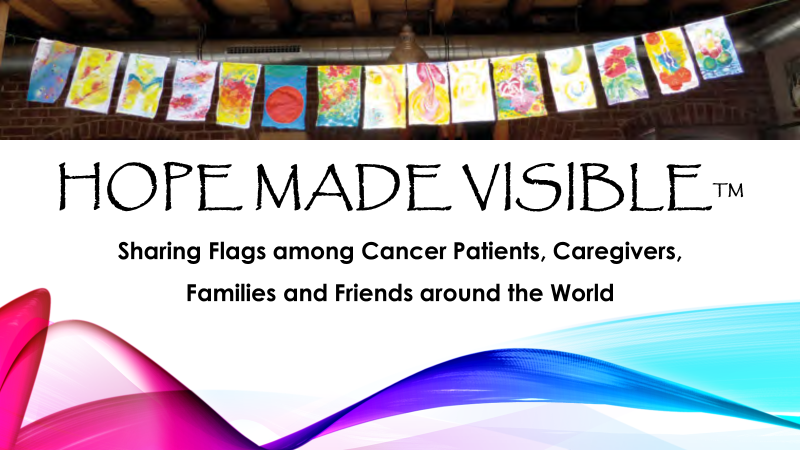 Our international, educational initiative started 4 years ago, inspired by the Nepalese and Tibetan flags, which symbolically bring healing blessings across lands, mountains, and reach out to distant communities.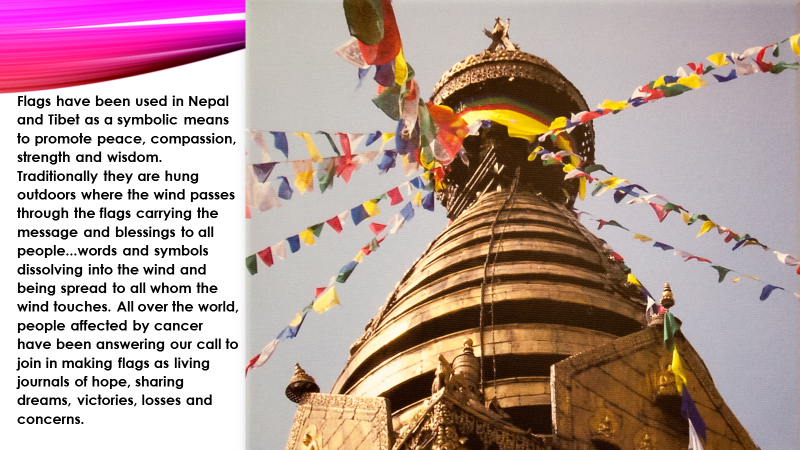 It's been very inspiring and rewarding to follow the developments of this initiative, with many opportunities to share and build a virtual community based on local and non-local healing, aimed at fostering empathy and resilience among cancer patients.
Local workshops have been periodically offered through our Expressive Arts Therapist Alessandra Colfi and her programs. Sharp Healthcare was one of the first local group to join in. Currently a new series is being offered at UC San Diego Moores Cancer Center, followed by a series at UC San Diego Cancer Center in Encinitas in 2017.
Cancer patients have been engaged in guided relaxation, visualization, hands-on art making processes to create personal flags made mostly with fabric, paint, trims, quotes or personal messages.
Data have been collected in the form of narratives, patients' feedback, and self-assessment / self-reporting tools, which Alessandra administers as surveys at the beginning and at the end of each 8-week segment for local groups; the principal tool is the Connor-Davidson Resilience Scale of 25 items (CD-RISC), created by Jonathan R. T. Davidson, M.D. and Kathryn M. Connor, M.D of Duke University, to assess depression and distress symptoms, post-traumatic stress disorder (PTSD), and patients' resilience.
CD-RISC surveys show improvements of 6 to 20 points over 100, showing reduction in various pain and anxiety symptoms, in patients' confidence in coping with the disease and in managing stress.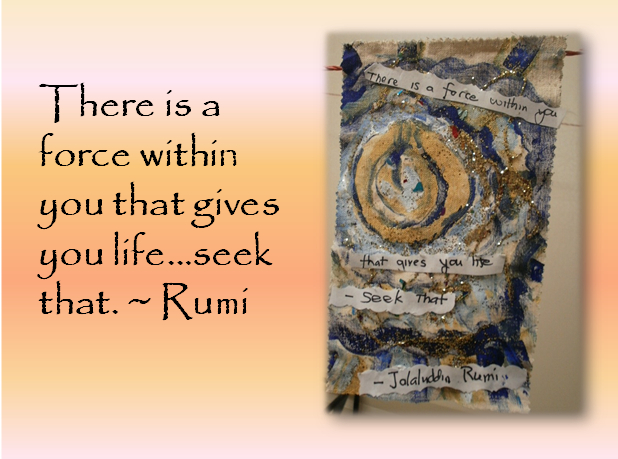 Participants' feedback shows improvements in fostering empathy and their resilience by making and sharing flags. Expressions of patients' feelings and emotions onto flags become catalysts for symbolic understanding and transformation.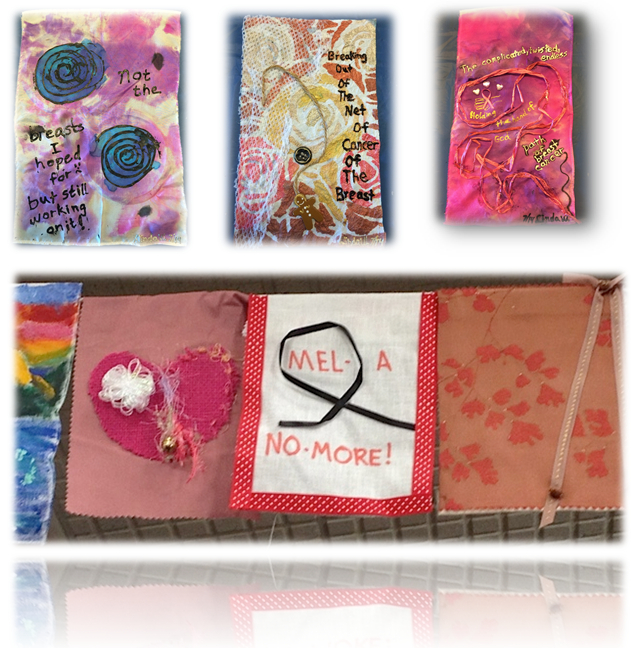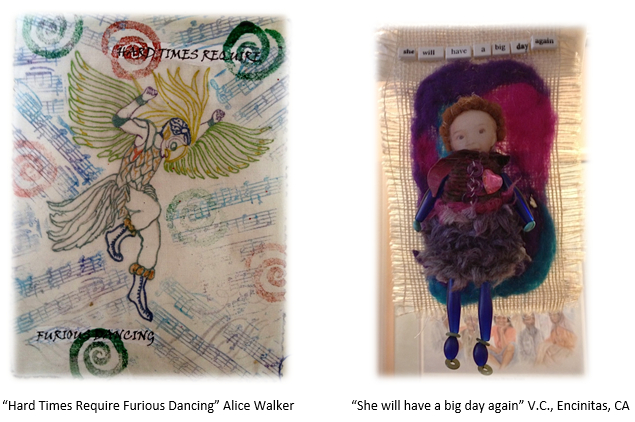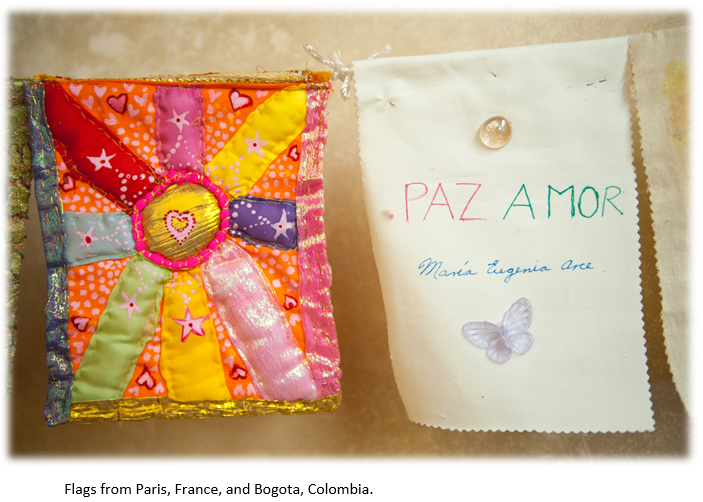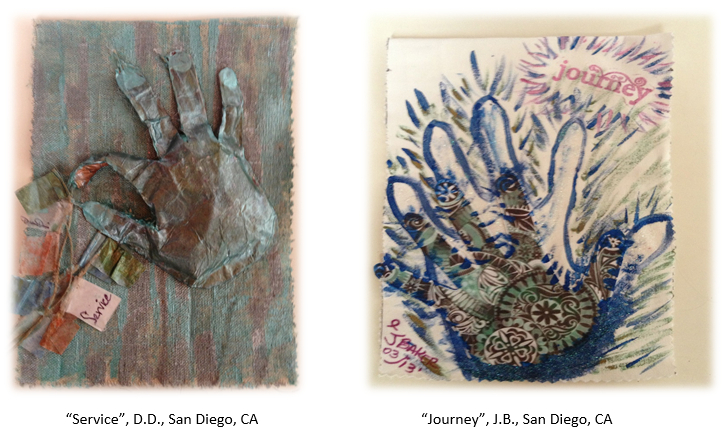 The call to join in and sharing their cancer journeys through art flags has been answered by groups, individuals, and families; for example, MACMA, a Breast Cancer Support Group in Buenos Aires, Argentina, dedicated several sessions to create flags together and sent them all to us.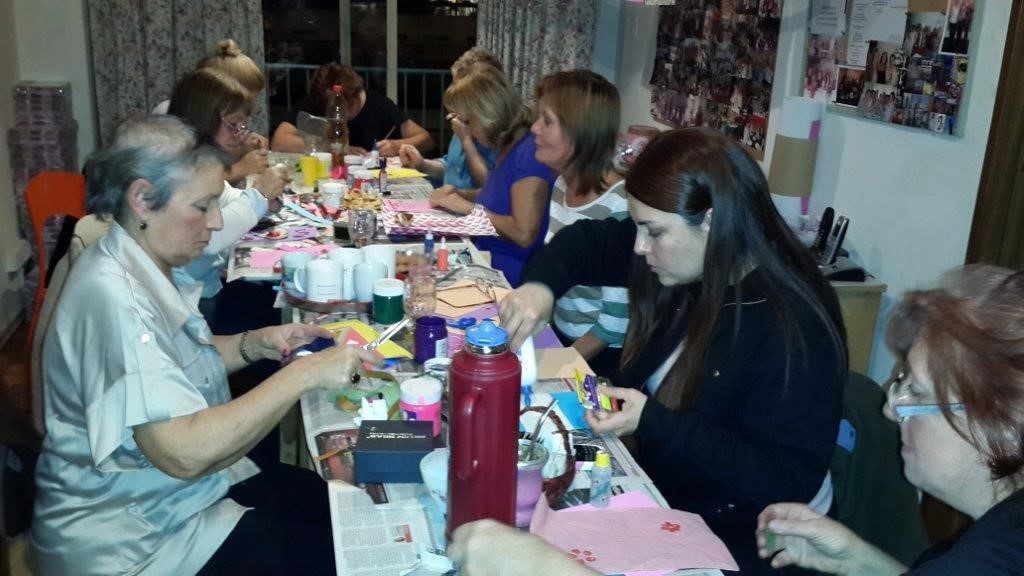 It was very meaningful and exciting when in February 2015 Alicia Galdeano, who runs MACMA, visited our Hope Made Visible™ exhibition at Front Porch Gallery in Carlsbad.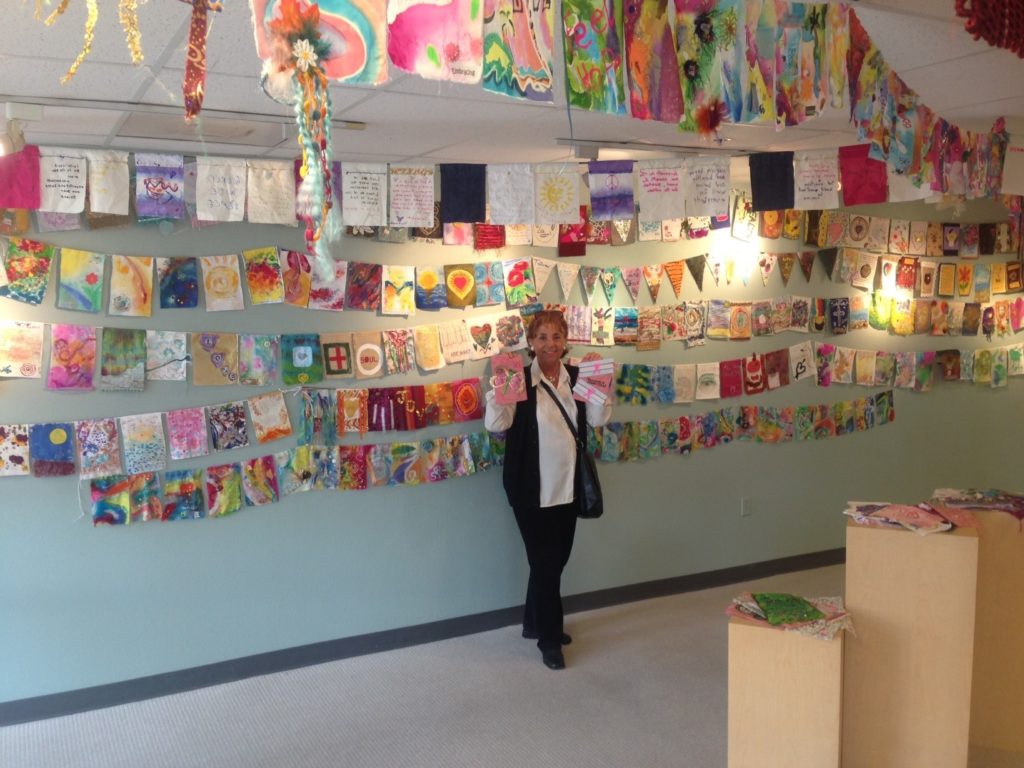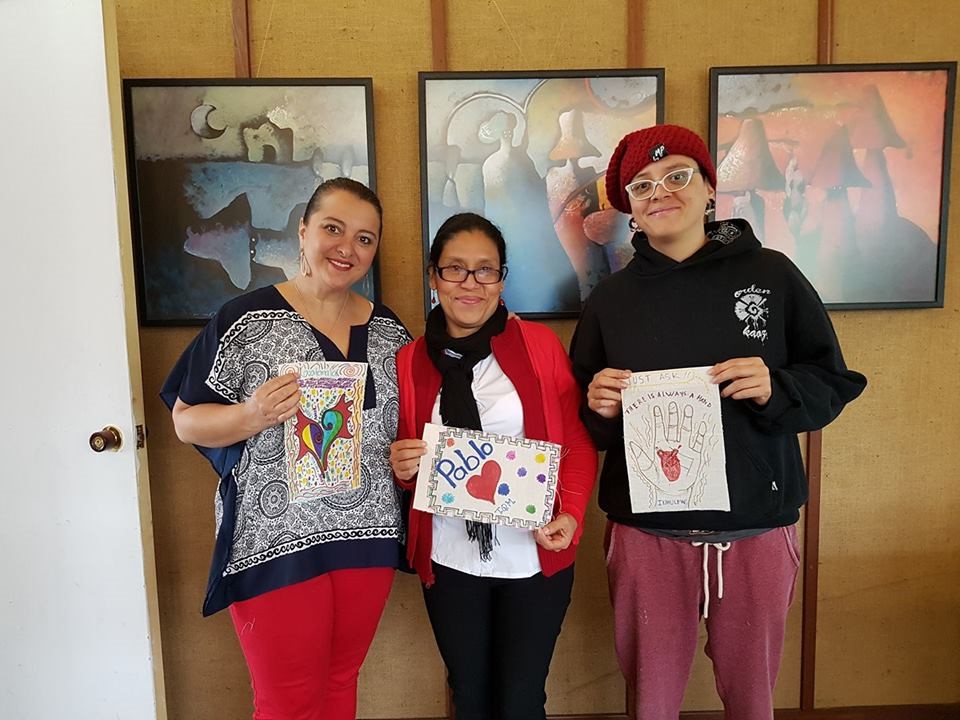 In Guatemala, Art Therapist Paulina Buonafina engaged patients at INCAN, oncology hospital in Guatemala City, making a long string of flags to add to our collection very early on. This year she embraced Hope Made Visible™ on her own, offering several workshops in the community to create flags; she plans to host a public installation with all the flags in March 2017. Another exciting development to look forward to! www.arteterapiaguatemala.com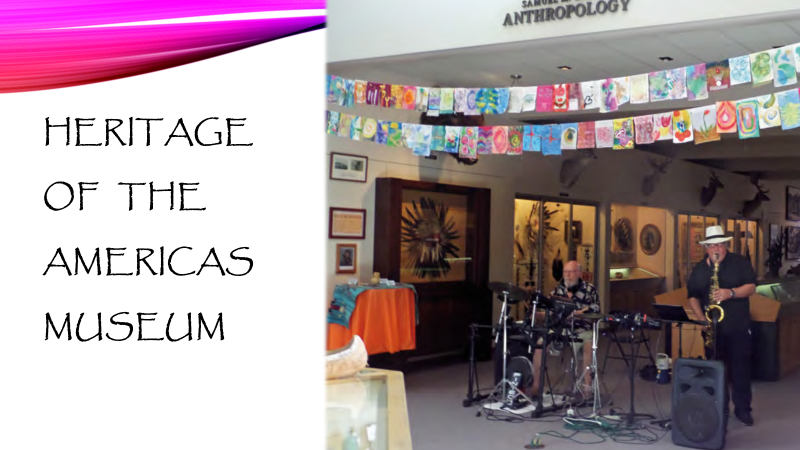 In 2014, San Diego Cancer Research Institute received the invitation to exhibit Hope Made Visible™ and all artwork made by patients, at the Heritage of the Americas Museum, at Cuyamaca College in San Diego. The whole community of patients, families and practitioners came together to celebrate the healing spirit and the dedication of all the artists, and to remember those who live on in our hearts.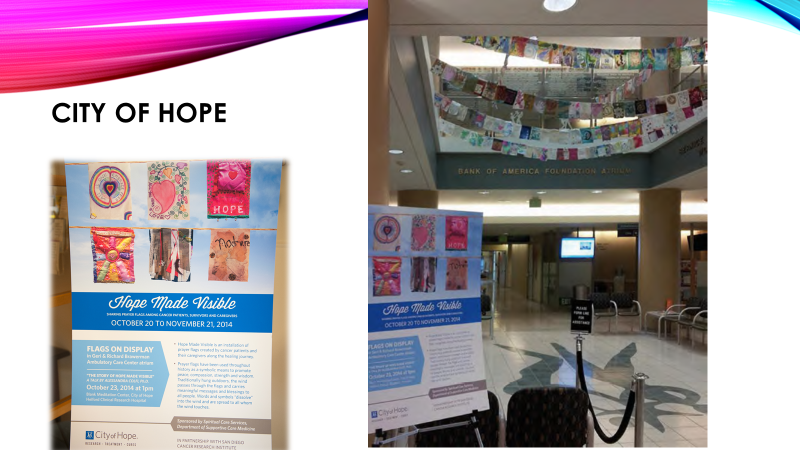 City of Hope requested a presentation and a training for some of their Social Workers, Chaplains, and Nurses so that they could engage their patients in creating flags; at the same time, all the flags were featured in the Atrium at the Outpatient Clinic during Spiritual Care Week in October 2014. The impact was so remarkable that City of Hope then requested to keep the flags on display for the whole month.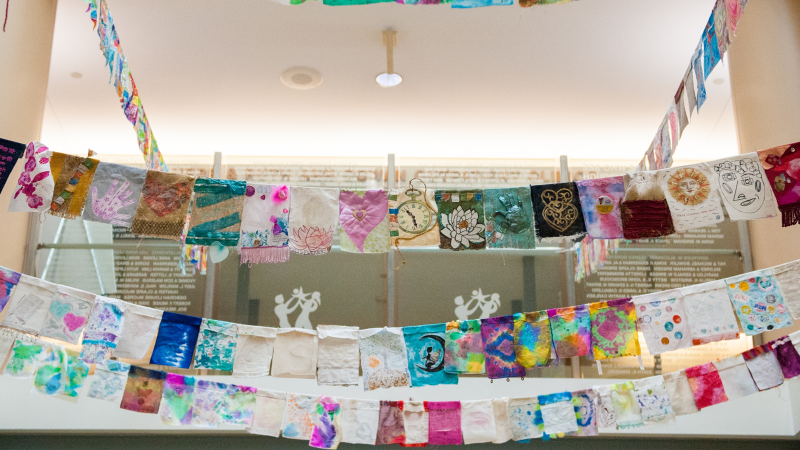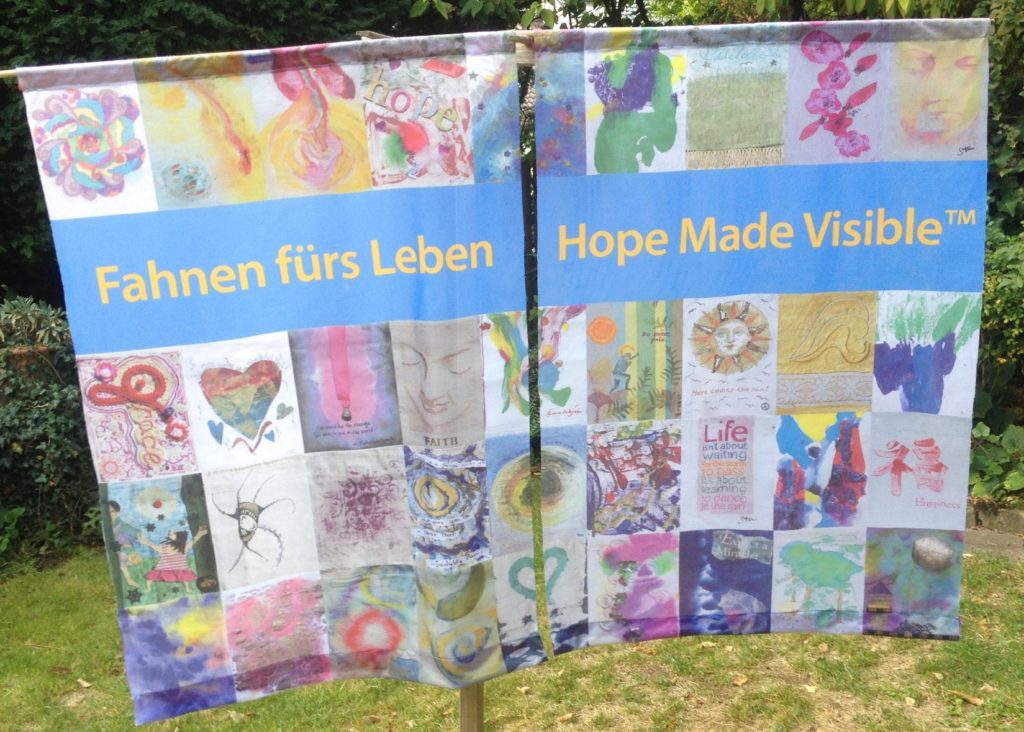 At the same time, in Germany, Gabriele Heyd combined flag-making workshops with outreach, marketing, and PR to share "Fahnen furs Leben" (Flags for Life) across the Country, exhibiting at a variety of venues, including a Rehab Conference in Karlsruhe in April 2015.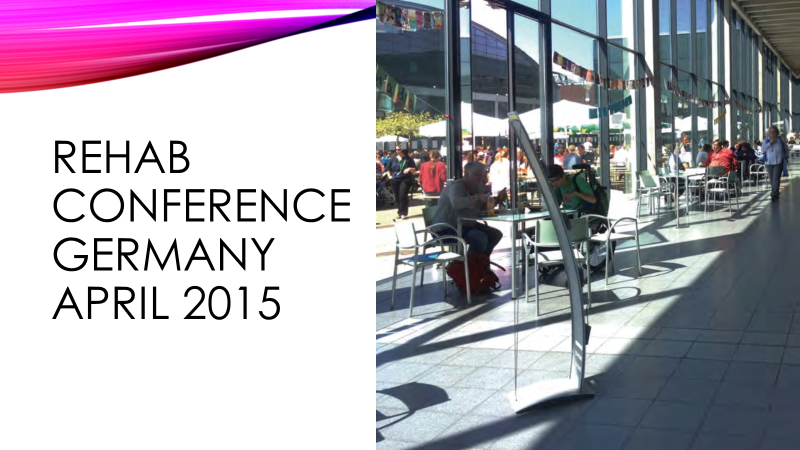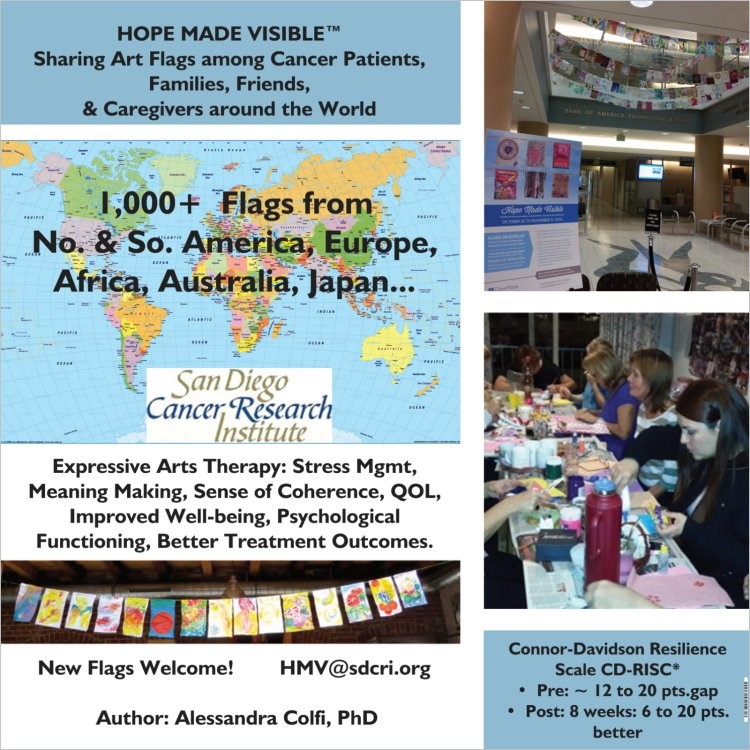 In March 2016 Hope Made Visible™ flags have been displayed at the American Psychosocial Oncology Society Conference – www.APOS-Society.org , and featured as an exhibition booth and as research poster. The only art program at the conference!
In July and August 2016, the full display of flags provided a symbolic canopy at Oceanside Public Library, adding another layer of patients' satisfaction, pride, and feeling connected beyond cancer. It's been especially meaningful and timely for the library staff who lost 2 of their own members to cancer this year.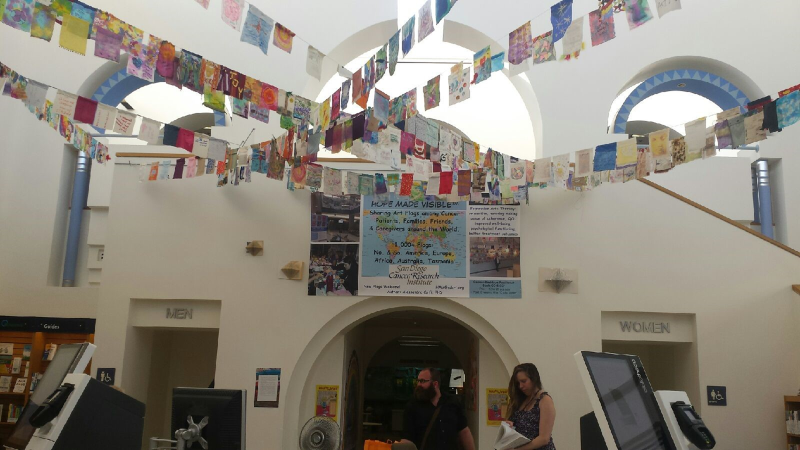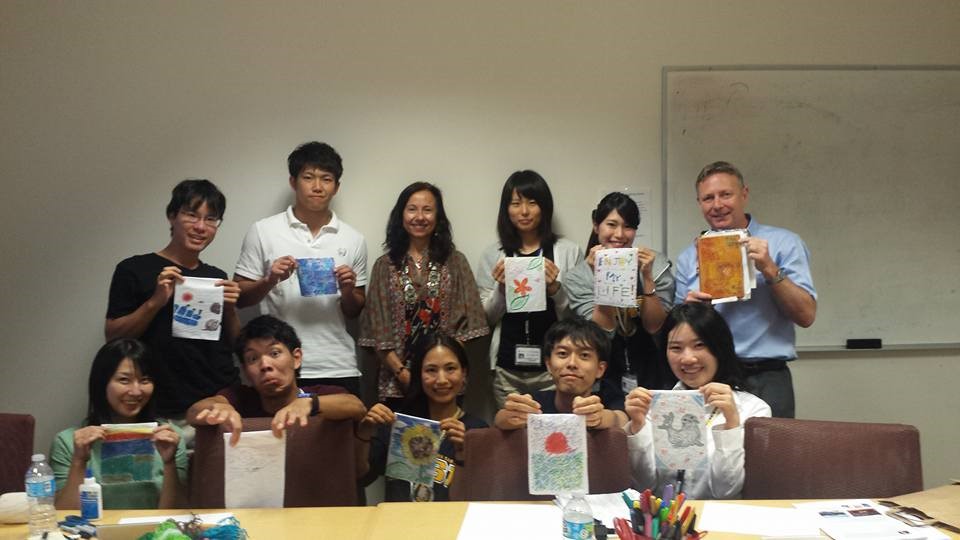 Last September Alessandra presented Hope Made Visible™ to medical school students from Dokkyo University (Japan), on a week-long visit at UC San Diego Moores Cancer Center. Together they took the opportunity to learn about mind-body-spirit modalities available to support oncology patients and their families, and to make their own flags to take back to Japan to inspire colleagues and other clinicians to join in the global initiative.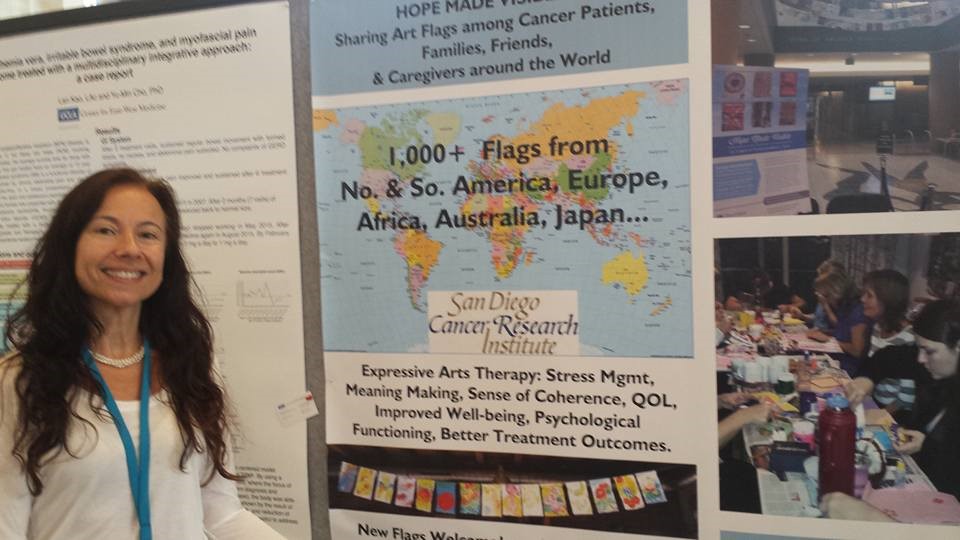 Hope Made Visible™ poster was also entered in a competition at the Academy of Integrative Health & Medicine Conference "People, Planet, Purpose" – www.AIHM.org – this past October in San Diego. On November 4th, the last day of the conference, Alessandra shared about her Expressive Arts Therapy program including Hope Made Visible™ at the Consciousness and Healing Initiative Summit: The Healing (R)Evolution – www.CHI.is.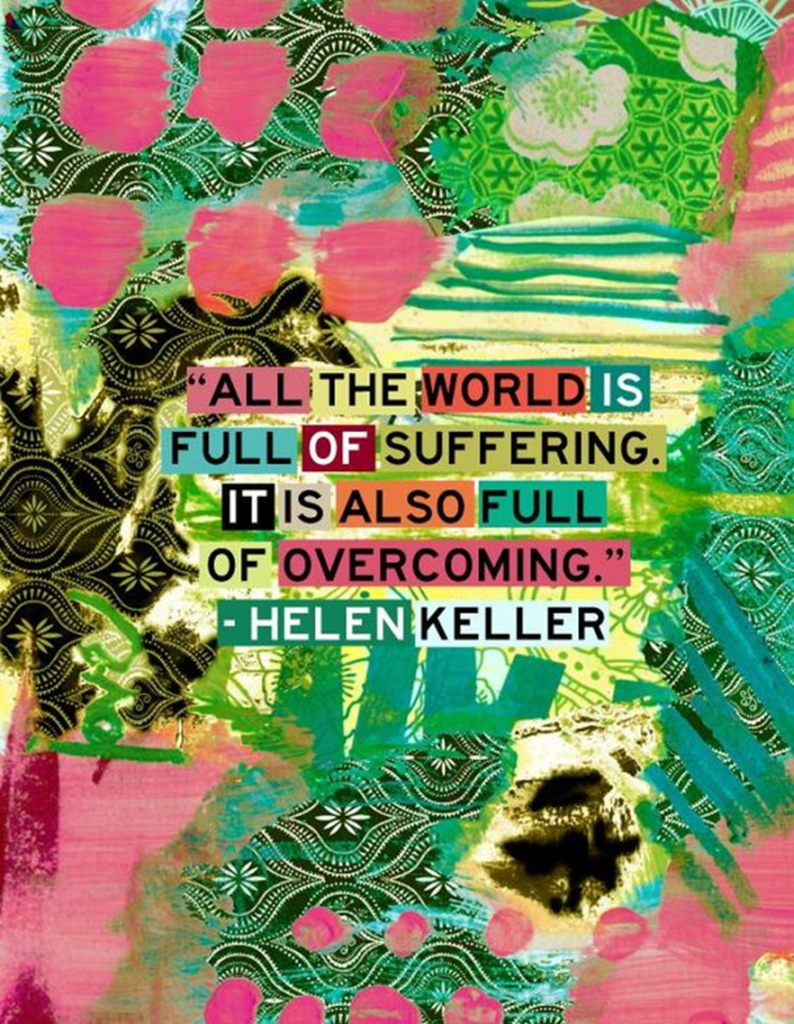 Alessandra has just completed a 2-year program at Habitat for Humanity; Hope Made Visible™ was well received by Veterans experiencing homelessness, addictions, PTSD. "Thank you so much Alessandra! Your work with our veterans has been magnificent and deeply appreciated. " (Donna Deutchman, CEO, Habitat for Humanity SF/SCV).
The invitation to create and gather flags is always open and encouraged, as well as considerations for exhibitions locally and internationally. More than 1,000 have been collected so far, all unique in their symbolic expressions of hope, healing, challenges, sorrows, joy, and resilience.
---
Hope Made Visible™ – Part II: Research Studies
The use of Art for healing is well documented and supported by positive impact on the health and quality of life of oncology and other patients. Besides the data already collected, there could be interesting opportunities for further research; studies would be desirable on multiple fronts:
1 – Simple, low-cost tests to evaluate distress and anxiety in patients and their caregivers are necessary to identify and implement early intervention. Distress Screening has become mandatory in cancer care since 2015.
Biofeedback screening such as BioWell http://www.bio-well.com/ could be used in a study to identify, monitor, and evaluate patients' energy, stress, and vitals.
2 – Is 'a sense of coherence' what makes the difference in boosting patients' resilience?Often patients seek complementary modalities on their own and after several months of their initial diagnosis. In an integrated model of care patients can safely access complimentary modalities.
Clinicians often note higher cooperation by patients who are engaged in supportive complementary modalities like Expressive Arts Therapy.
Clinicians often report fewer pain medications prescribed and fewer visits to those same patients, thus reducing costs and increasing capacity.
3 – Is art making a catalyst for lower inflammatory response in the body?
The effect of mindfulness on inflammatory health was shown in a study by David Creswell, PhD, published in February this year. This research showed changes in brain circuitry and reduced inflammation after three days of mindfulness training, while three days of relaxation did not have the same effect. Creswell explains the difference in impact between mindfulness meditation and relaxation:
"We show that mindfulness meditation impacts measurable brain circuits more so than helpful relaxation practices, and that these brain circuit changes help us understand how mindfulness meditation improves health. Mindfulness teaches participants how to be more open and attentive to their experiences, even difficult ones. By contrast, relaxation approaches are good in the moment for making the body feel relaxed, but… harder to translate when you're dealing with difficult stressors in your life. This new work sheds light into what mindfulness training is doing to the brain to produce these inflammatory health benefits." (Creswell, 2016, Carnegie Mellon University)
---
Here is just a taste of the project that has expanded to nearly 1000 flags and more than half a dozen countries!
Additional Videos:
Hope Made Visible™ from around the world
Hope Made Visible™ @Moffitt Cancer Center
Hope Made Visible™ flags from Argentina:
Hope Made Visible™ presentation, exhibition and training at City of Hope, Duarte, CA