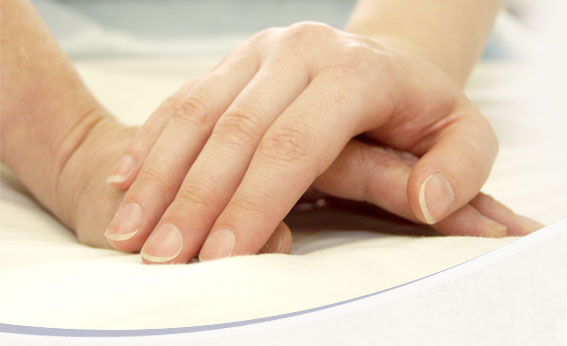 News News News
What is/was happening?
This is a collection of current news and older, still pertinent news related to SDCRI, with a few mentionings of our affliates and friends who are endeavoring to carry on the Integrative Torch.
Select a section of News to explore:
Special Updates The news you want to know!
Current News What are the recent happenings?
News Archive See how things lead up to now…
---
Special Updates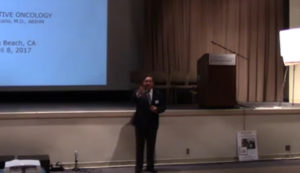 On April 8th (2017) our very own Dr. Daniel Vicario, MD, ABIHM, gave a talk at the Susan Komen Breast Cancer Symposium in Long Beach. Don't worry! If you missed it, you can still catch that talk in this video, titled, "Metastatic Breast Cancer Symposium- Helping Me Help Myself". In this talk, Dr. Vicario explains Integrative Oncology and Epigenetics, and their importance in helping cancer patients and survivors.
---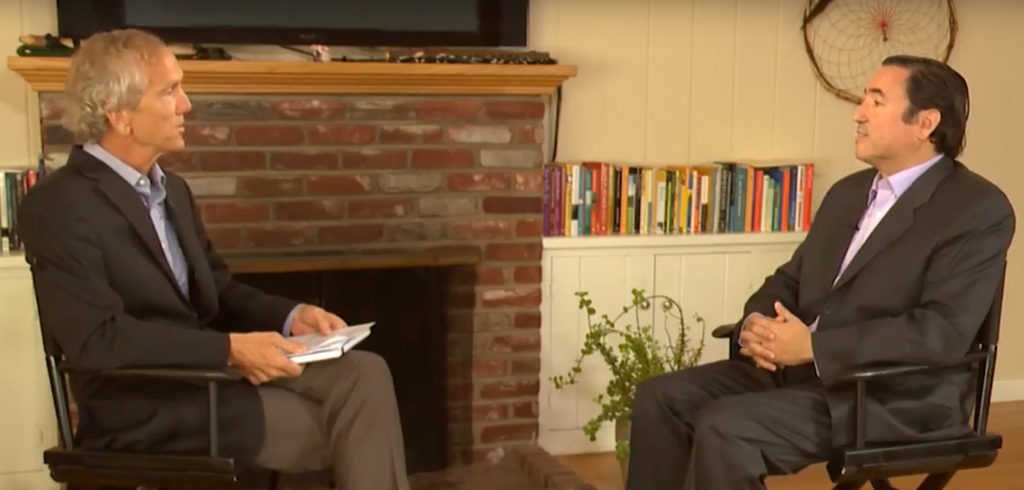 Ready for more? Relax and enjoy this great interview with Dr. Paul J. Mills of UC San Diego and our own Dr. Daniel Vicario, MD, ABIHM. In this video, Dr. Mills and Dr. Vicario talk about pioneering research in integrating Western medicine with ancient healing techniques and developing comprehensive treatment plans for cancer patients. Dr. Vicario gives examples of treatments that have led to a decrease in cancer and treatment related symptoms, fewer doctor visits and a higher quality of life for those who are responsive to holistic cancer care. Click the following link or the image above to view the video on the UCTV (University of California) website, recorded in March, this year (2017): Comprehensive Cancer Care: Integrative Oncology
---
The Hope Made Visible™ flags have arrived in Guatemala! A special exhibition of the every-growing collection of flags will be on display at a yet-to-be-named mall in early July! Check back here for more details as we get them!

---
Current News
SDCRI wants to remind everyone that Kim Taylor's Acupuncture Clinic is continuing under the Center of Integrative Medicine & PCOM, in the care of UC San Diego's Cancer Center.
It is located in the same place: 1200 Garden View Rd, Suite #240, Mondays & Thursdays, 9am – 12pm.
The clinic is still free to cancer patients, currently in treatment.
Appointments are necessary.
Call 760.536.7679 to make an appointment!
---
If you haven't yet, be sure you check out Dr. Paul Brenner's wonderful videos on Epigenetics, Psychology and Healing for cancer patients, survivors, families and even the people who've never been touched by cancer. We have 23 short, but beautiful talks by Dr. Brenner.
Check out SDCRI's YouTube site here to watch them all!
Don't forget to check out our secondary Blog site for Dr. Brenner here!
---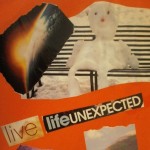 SDCRI is proud to present it's new Contributing Writer's Page! Each month we will post a new article written by someone in the Integrative community, and very often, one of our former Free Integrative Service Volunteers!
Click here to see who has contributed and what they had to say!
---
Missing the old Nutrition group with Mary and Jessica? You're in luck! Mary has started her very own Nutrition Blog online and we are happy to host a secondary site for that blog.
Click here to see what you've been missing!
---
SDCRI would like to share this empowering and inspirational video:
Intentional Medicine – Shifting the Focus of Healthcare by Libby McGugan at the TEDxGlasgow talks.
Click here to be taken to the YouTube page.
---
News Archive
Select a sub-section of the Archives:
Important Updates for Classes and Groups
Past News Updates Archive
Updates on SDCRI as a Whole
Class and Group notifications for 2015:
Mindful Living Support Group: New Location as of Wednesday, March 4th, 2015!
This group of 8-16 members meets weekly for 90 minutes with certified and long-time mindfulness meditation teacher, Diana Shimkus, LCSW. The aspiration of this group is to explore and adapt the many ways that mindfulness practices and training can be effective in encouraging everyone to directly encounter and use all the unexpected and present aspects of their lives, including illness, medical treatment and aging in which to learn, heal and cultivate qualities of resilience, compassion, kindness, connection and well being.
Each week the group will discuss mindfulness teachings and principles based upon identified group need, explore a 30 minute guided practice together, review the practice for weekly practice and offer 20 minutes of mindful movement in which to embody the practices fully. An audio file is made of the guided meditation each week and made available to all participants through email.
Please join Diana for this drop-in series. Chairs are available and meditation cushions and other supportive devices can be made available upon request.
The group has moved to a new location to make room for additional participants as of Wednesday, March 4th at the Soul of Yoga located at 627 Encinitas Blvd, just off of Westlake, in Encinitas, CA 92024. The group will meet from 1:00-2:30 PM. There is no charge for this group. There is ample parking and a welcoming community awaiting you.
Mindfulness practices offer many benefits, including:
increased capacities and personal resources, improved health and well-being, greater joy and ease and a sense of true belonging in community.
Check out the new flyer by clicking here!
Please go to: www.everydaymind.com to learn more or contact Diana directly at:
(760) 310-2920.
Diana M. Shimkus, LCSW
---
-Zumba: Gentle (both Encinitas and Vista) and Gentle Fitness (Encinitas) are continuing indefinitely in the care of Yoga Vista Studio and North County Cancer Fitness!
Currently On-Going Classes & Groups
Please keep in mind that none of these classes are directly a part of SDCRI any longer, but are being supported by individuals and groups who were gracious and wonderful enough to take over the reins!
Gentle Fitness class is now hosted by North County Cancer Fitness!
Contact Deb at 760-517-6223 for info and to sign up!
Exercise has been shown to improve cardiovascular fitness, strengthen muscles, regain balance, increase flexibility while reducing fatigue, anxiety and depression in cancer survivors.
Certified Personal Trainer, Erzsi Kovacs will lead the way!
Class is held every Friday, from 1:00 pm to 2:00 pm at Frog's Fitness, on Garden View Court, in Encinitas.
Zumba: Gentle is now held twice a week, every week! Come and dance, sway or just sit and enjoy the music! Learn Salsa, Cumbia, Bachata, Merengue, Reggaeton, Hip-Hop, and free flow too!
Every Tuesday in Vista at Yoga Vista, hosted by Yoga Vista Studio!
Every Wednesday in Encinitas at Frog's Fitness, hosted by North County Cancer Fitness!
Caregivers are welcome!
No experience needed!
Email Alessandra for more details at alessandra@alessandracolfi.com.

---
Past News
Hope Made Visible™: Creating & sharing artful flags among cancer patients, survivors, families/friends, & caregivers
Alessandra Colfi has been engaging patients at San Diego Cancer Research Institute – SDCRI, and UCSD Moores Cancer Center in creating Flags in various art media. We have made and received over to 1,000 flags now, from all over the USA, Canada, Colombia, Argentina, Guatemala, Ghana, France, Germany, The Netherlands, Italy, Australia, and many other countries; even more are on the way!
Recently, the flags were hung in Germany at the Karlsruhe Museum! Here are just a few photos of the exhibit: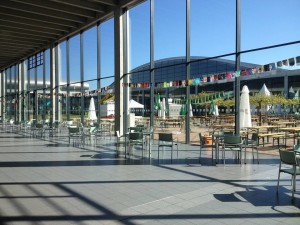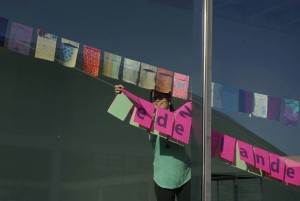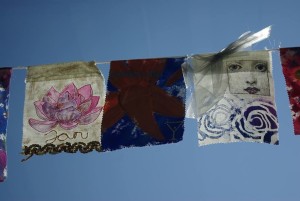 We will keep you posted as to new times, dates and special events involving Hope Made Visible.
---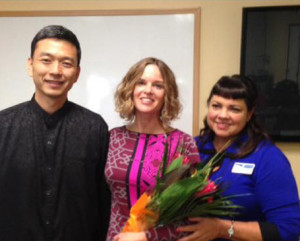 Congratulations to Kim Taylor, Acupuncturist, Chinese Medicine Expert and long time volunteer with SDCRI!
She is now Dr. Kim Taylor! Dr. Kim received her PhD in Acupuncture on March 30th, 2016!! Her graduation ceremony was be in May 2016.
Kim still heads up the Acupuncture Clinic at the UC San Diego Cancer Center in Encinitas, in collaboration with the Pacific College of Oriental Medicine, helping patients on active treatment to overcome the side effects of treatment.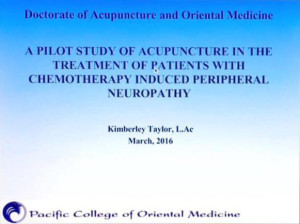 Kim is passionate about patient-centered, patient empowered health. She loves teaching and critical thinking and believes her patients and students are her most influential teachers. She has worked in the oncology field for over a decade, as a teacher, clinical supervisor, researcher, program manager, and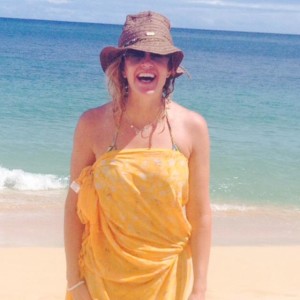 clinician. She recently received her doctorate degree from Pacific College of Oriental Medicine, where she completed a research study on the effects of acupuncture for chemotherapy induced peripheral neuropathy. She has also recently joined the integrative team at UCSD at Moores and Encinitas cancer centers, which has long been a dream of hers. (when she wasn't dreaming of killing them- don't put this part on facebook). She can be reached at ktaylor@ucsd.edu, or in the integrative department, 760.536.7679
---
Our wonderful Social Worker and Meditation Facilitator, Erin Graves, will be able to start seeing clients again! Starting April 13th, Erin will be welcoming patients, their family and their friends to her Therapy Groups and Individual sessions. She recently sent us an email with this message, and her contact info:
"I am really excited about this new opportunity to provide supportive individual and group counseling services to those experiencing anxiety, depression, life-transitions, life-altering medical diagnoses, grief, loss and relationship issues. In addition, I will facilitate support groups in meditation, mindfulness and self-care for women, healthcare professionals, first responders, public school educators and college students.As I am eager to offer my services to a wide range of individuals, please feel free to refer acquaintances, family and friends who may be interested in individual or group counseling including introductory meditation and self-care classes. I offer day, evening and Saturday appointments. I am also able to offer an income-based sliding-scale to individuals as needed.
Thank you so much for your support as I embark on this new endeavor! My bio and contact information will be added to the Therapeutic Center for Anxiety and Trauma website soon. Please contact me if you have any questions and feel free to pass my information to anyone who may be interested.
Take care,
Erin Graves, MSW, ASW6098
Registered Associate Clinical Social Worker
Therapeutic Center for Anxiety and Trauma
619-272-6858 x705
erin@anxietytraumatherapy.com
Welcome!
Contact Erin, today!
---
Our SDCRI family lost a dear friend & colleague on Saturday, February 27th, 2016. Deb Snyder, founder of North Coast Cancer Fitness, NCCF, and a Cancer Warrior herself, will be missed by so many in the cancer community. Her commitment to cancer fitness was unparalleled.
If you have not yet had a chance to read this article written about her in 2015, please take the time to learn about this amazing woman.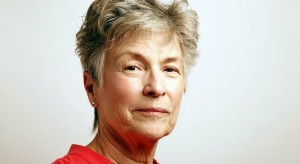 Recognize this face? If you've ever attended a Gentle Fitness session, or been to a few of our other classes, odds are you would have met this fantastic lady! Deb Snider is a long time client and partner of SDCRI and, more importantly, is a co-founder of the North County Cancer Fitness (NCCF) program, helping so many cancer patients and survivors get back to the health and functionality they very much need!
Check out this great interview article, posted on the San Diego Union Tribune website, to learn more about Deb, her personal struggle with Cancer, and her work with cancer survivors in San Diego county!
---
December 2015
We would like to thank all of you for your donations throughout this year. Without donor support the San Diego Cancer Research Institute would not be able to continue with its mission of education, collaboration, community outreach, and research.
Your generosity has helped Alessandra Colfi, PhD, to continue the International Hope Made Visible™ project: creating & sharing artful flags among cancer patients, survivors, families/friends, & caregivers. Funds for this project sent over 1,000 flags, from all over the USA, Canada, Colombia, Argentina, Guatemala, Ghana, France, Germany, The Netherlands, Italy, and Australia, to Europe & throughout our community for display in several venues. Your donations have also funded our Hope Made Visible™ collaboration with Habitat for Humanity's Veterans Program.
Continued support will allow SDCRI's other educational programs to carry on and to expand in 2016. SDCRI's online nutrition program, Reality Based Nutrition with Mary Hollander R.N., Dr. Paul Brenner's Blog, SDCRI's integrative oncology projects, collaborative research and our educational video's.
Donations designated for cancer research are used for Dr. Mark Adler's work in Genomic Oncology and Dr. Daniel Vicario's work in Integrative Medicine. Dr. Vicario is collaborating in broad based Integrative Research projects, working with several scientists, health practitioners, educators, researchers, professionals, nonprofit Institutes and academic Institutions to continue to expand research in the importance of embracing proven integrative healing modalities to support cancer patients. Thank you for your ongoing commitment to both of their work.
You were an integral part in the growth of SDCRI in 2015 and you can continue to be a part of its growth in the coming year by donating now. To contribute to this worthy cause, please make an online donation at our website, www.sdcri.org, by clicking on the DONATE button or by sending your donation to:
San Diego Cancer Research Institute
Attn: Mr. Claudio Garcia, CFO
910 Sycamore Ave., Suite 102
Vista, CA 92081
Sincerely,
SDCRI Board of Directors
San Diego Cancer Research Institute
501 (c) (3) Established 2001
---
Update of Integrative Free services for SDCRI website, SDCRI Volunteers and community.
December 5, 2014
To our dear San Diego County community,
As you are aware, the San Diego Cancer Research Institute (SDCRI) Integrative Oncology free services, which have been offered for over a decade, are now coming to an end. It has been a wonderful journey, and we are very grateful and proud of what was achieved. Although our services are now changing, our vision, our mission, and our commitment are as strong as ever. Times change, and so must we. The year 2015 will no doubt bring new ways to grow, so we invite you to explore the new setup and discover how you can still be part of our program.
SDCRI has worked to transition as many of their services as possible, both to community partners and larger institutions such as UCSD as of the end of this year. Fortunately several North County partners have come forward to transition some of the programs to their sites, like yoga, mindfulness and Zumba for cancer patients. These partners are detailed in the integrative section of our website, in hopes that patients will still access these modalities which have proven to be of great help. Please look them up and embrace the services. We understand that UCSD will be keeping the Pacific College of Oriental Medicine (PCOM) acupuncture program under the direction of Kim Taylor, and the Expressive Arts Program directed by Alessandra Colfi.
SDCRI will continue working with Alessandra Colfi on the "Hope made Visible" program, an inspirational project with flags of hope made by cancer patients from different places in the US and overseas. Congratulations to Alessandra and all those involved in this exciting project!
Dr. Paul Brenner will also continue with a web-based educational program on emotional support for cancer patients and their loved ones. He is creating several short inspirational videos which will be on our website very soon.
The San Diego Cancer Research Institute remains active in its mission of education, collaboration and research, and all the pertinent information will always be available through this website. As of December 17, 2014, SDCRI will remain as a web-based resource, and anticipates continuing its education and research collaborative efforts with several other respectable institutions.
Please continue to check our website, where you will find news and regular updates, educational programs, videos and resources.
With love, deep gratitude and much appreciation,
SDCRI Integrative Oncology leadership
---
(A few months before the above:)
Dear North San Diego County Community,
As many of you know, SDCRI's Integrative free services have become very popular over the last several years, and more recently, there has been a significant increase in patient participation. The program has kept growing to accommodate the equally growing need for integrative support services for those dealing with cancer. Due to this increase in client participation, the Integrative free services have outgrown SDCRI's ability to sustain them. Furthermore, three key supervisors of the program will be retiring or moving out of San Diego. You may have heard that, sadly, by the end of 2014, SDCRI will no longer be providing these free Integrative services in North County.
As these programs are so sought after and helpful to the patients, SDCRI is working with some larger institutions to find a way to transition over the operations of these free complementary services. This would be an ideal situation for the community. The details still need to be figured out and we will keep you informed as it moves along, so please visit our website for updates. In the interim, we will keep the program running until the end of the fall 2014.
The San Diego Cancer Research Institute, which was created in the year 2000, will continue as a non-profit with a focus on research, education and collaboration. Our web site will continue to offer educational programs, resources, updated news on integrative oncology, etc.
SDCRI is deeply grateful for all the volunteers love and selfless dedication to the welfare of the patients, the program and community over the past many years. The Integrative program was created almost 15 years ago and has become not only very successful but also a role model in its field and for other institutions to follow. Thousands of patients and family members have been supported over the years and for that we are deeply grateful and very proud.
With love, deep gratitude and much appreciation,
SDCRI Integrative Oncology leadership