What is/was happening?
This is a collection of current news and older, still pertinent news related to SDCRI, with a few mentionings of our affiliates and friends who are endeavoring to carry on the Integrative Torch.
Select a section of News to explore:
Special Updates The news you want to know!
Current News What are the recent happenings?
News Archive See how things lead up to now…
---
Special Updates
February 14th, 2021
Contact Tracing
During the pandemic, the most important job that our local Public Health Department has had is contact tracing. It has slowed down the spread of COVID-19. It sounds easy to do but in fact, it is very time-consuming & complicated. It is like dropping a pebble into a calm lake. Like the pebble, one person creates a long list of people whom they have been in contact with who in turn create a long list & on & on it continues. It is important to stop the ripple effect from the beginning.
What is Contact Tracing? (ca.gov) (From the California Department of Public Health website): Contact tracing is a common public health practice used to identify and notify anyone who has been exposed to someone with an infectious disease. Contact Tracers reach out to people who have been identified as having been in close contact with an infected person to inform them of their exposure and provide them with information on what they can do to keep themselves and their loved ones safe.  Public health departments have used contact tracing for decades to fight the spread of infectious diseases like measles, tuberculosis, HIV, and other serious infectious illnesses. If people participate in the contact tracing process, it can be a very powerful strategy for slowing the spread of disease transmission in a community.
Contact tracing for COVID-19 starts with public health workers reaching out to people who have tested positive for the infection. They might do this by calling these individuals on the phone or by sending them a short survey by text or email. During this call or in this survey, the people who have tested positive will usually be asked about anyone they were close to who they may have exposed while they were contagious. Based on this information, public health workers will next call or text those "close contacts" to let them know that they may have been exposed. When they do this, they keep the name of the person who exposed them confidential.
Many people think that it is an invasion of their privacy when in fact it is confidential. To protect your privacy, contacts are only told that they may have been exposed to a person with COVID-19. They are not told the identity of the person who may have exposed them. So please answer the phone call from the Public Health Department.
This is how it works. Information is from the following websites:
CDC COVID-19

Contact Tracing

California COVID-19

Contact Tracing. Also, Sign up for 'CA Notify'

California Department of Public Health

What is Contact Tracing?
During contact tracing, the health department staff will not ask you for: (from #1 above)
Money
Social Security number
Bank account information
Salary information
Credit card numbers
Immigration Status (from #'s 2 and 3 above)
If you were around someone who has been diagnosed with COVID-19, someone from the health department may call you. (from #'s 1, 2 and 3 above)
Stay home and away from others: (from #1 above)
Stay away from others, especially people who are at higher risk for getting very sick from COVID-19, such as older adults and people with other medical conditions, if possible.
If you have been around someone with COVID-19, stay home and away from others for 14 days (

self-quarantine

) after your last contact with that person and monitor your health.
If you have a fever, cough or other symptoms of COVID-19, stay home and away from others (except to get medical care or testing, if recommended).
If you need support or assistance while in self-quarantine, your health department or community organizations may be able to provide assistance.
The best way to protect yourself and others is to stay home for 14 days if you think you've been exposed to someone who has COVID-19. Check your 

local health department's website

 for information about options in your area to possibly shorten this quarantine period.
For COVID-19, close contact is anyone who was within 6 feet of an infected person for a total of 15 minutes or more. An infected person can spread COVID-19 starting from 48 hours (or 2 days) before the person has any symptoms or tests positive for COVID-19. (from #'s 1, 2, and 3 above)
Monitor your health:
Watch for fever, cough, shortness of breath, or 

other symptoms of COVID-19

. Remember, symptoms may appear 2-14 days after exposure to COVID-19.
Here is how you can help:
Please answer the phone call from the health department. If someone from the health department calls you, answer the call to help slow the spread of COVID-19 in your community.
Discussions with health department staff are confidential. This means that your personal and medical information will be kept private and only shared with those who may need to know, like your health care provider.

Your name will not be shared with those you came in contact with. The health department will only notify people you were in 

close contact

 with (within 6 feet for a total of 15 minutes or more) that they might have been exposed to COVID-19.
Tell the health department staff if you develop symptoms of COVID-19. If your symptoms worsen or become severe, you should seek emergency medical care.
In California, you'll get free, confidential testing and assistance in accessing medical care, regardless of income, health insurance, or immigration status. (from #'s 2 and 3 above)
Help stop the spread of COVID-19 in our communities; please answer the call!
Best Wishes and Blessings to our SDCRI community,
Mary Hollander, R.N.
Daniel Vicario, M.D.
---
January 18th, 2021
COVID-19 Vaccine Side Effects
We want to remind everyone how important it is to receive your COVID-19 vaccine when it is available to you. You will be protecting yourself, family, friends, and your community; "It takes a village!"
The news has reported on the side effects, but as usual, they have sensationalized them. Severe problems after receiving either vaccine are very rare.
As you saw in our previous post, Dr. Vicario received his 1st vaccine shot. The side effect that he experienced is by far the most common: a very sore arm.
The CDC has published a good article: What to Expect after Getting a COVID-19 Vaccine
As described by the CDC, common side effects are:
Pain and swelling in the arm you received your injection. You can use a cool, wet cloth to help with the discomfort. Using your arm will also help reduce the swelling & the pain.
Fever
Chills
Feeling tired
Headache
Some people have had mild flu symptoms:
Cough
Mild shortness of breath
Muscle aches
Loss of sense of smell or taste
The side effects usually subside within 48 hours. They will vary by person depending on their overall health and any chronic conditions.
Call your health care team if you experience an increase in the swelling or pain in your arm; if your symptoms are not going away or are becoming worse and concerning in the first 24-48 hours.
Call your health care team if you have any concerns about how you feel.
There are a few points that we want to stress:
Before receiving your first injection, let your healthcare team know if you have had any reactions to previous vaccinations.
Stay around the location you receive your COVID-19 vaccination for the 15 or 30 minutes as they ask of you. This is important just in case you develop symptoms that need attention, evaluation and assistance.
After receiving your vaccine, sign up on your smartphone for

V-Safe from the CDC

: "V-safe is a smartphone-based tool that uses text messaging and web surveys to provide personalized health check-ins after you receive a COVID-19 vaccination. Through V-safe, you are able to give feedback to the CDC on any side effects that occur after receiving the COVID-19 vaccine. It asks you a few brief questions that you answer on a daily basis until your side effects subside. Depending on your answers, someone from CDC may possibly contact you to get more information." But in case of urgent or concerning symptoms, always call your health care team. Do not wait or expect to get a call from the CDC.
To sign up for V-Safe: open the web browser on your smartphone: Safari or other web browser and type:

https://vsafe.cdc.gov

(or click here) and follow the instructions.

You will need a second injection for the vaccine to be effective

. Get the second shot, the same one you received the first time, even if you had experienced flu-like symptoms after the first one. The 

Pfizer-BioNTech

 vaccine: 3 weeks (or 21 days) after your first shot; the

Moderna vaccine

: 1 month (or 28 days) after your first shot.
It takes time for your body to build up immunity to any vaccine. In this instance, it will take about 2 weeks after the second dose. As recommended by the CDC, you must continue to practice the safety precautions; wear a mask, practice physical separation (social distancing), hand washing, and do not spend time with people outside of your household.
"If you are still unsure about getting vaccinated for COVID-19 this is an interesting and insightful write up shared by Dr. Lissa Rankin on her website. Lissa is a colleague I've known for several years. If you feel it is helpful, please consider sharing with others.
Thank you,
Dr. Vicario"
A Note To The Vaccine Hesitant From A COVID Researcher & Front Line COVID Physician
"With all due respect to those who are understandably vaccine-hesitant, let me share a few thoughts. The vaccine-hesitant are valuing an imagined (but granted not impossible) long-term side effect with no current evidence of existing, against the risks of infection by a virus that 100% exists, and has 100% probability of killing and disabling some folks who contract it. The hypothetical negatives of a vaccine- negatives that may not even exist- are less "real" than a virus with confirmed death and disability events that are happening in front of us and are guaranteed to take down some of our patients…"
Excellent article. Click to continue reading.
We anticipate writing another follow up within the next few weeks, as information about the COVID-19 vaccine continues to evolve.
Best Wishes and Blessings to our SDCRI community,
Mary Hollander, R.N.
Daniel Vicario, M.D.
---
January 11th, 2021
Here is a note from SDCRI's Medical Director, Dr. Daniel Vicario: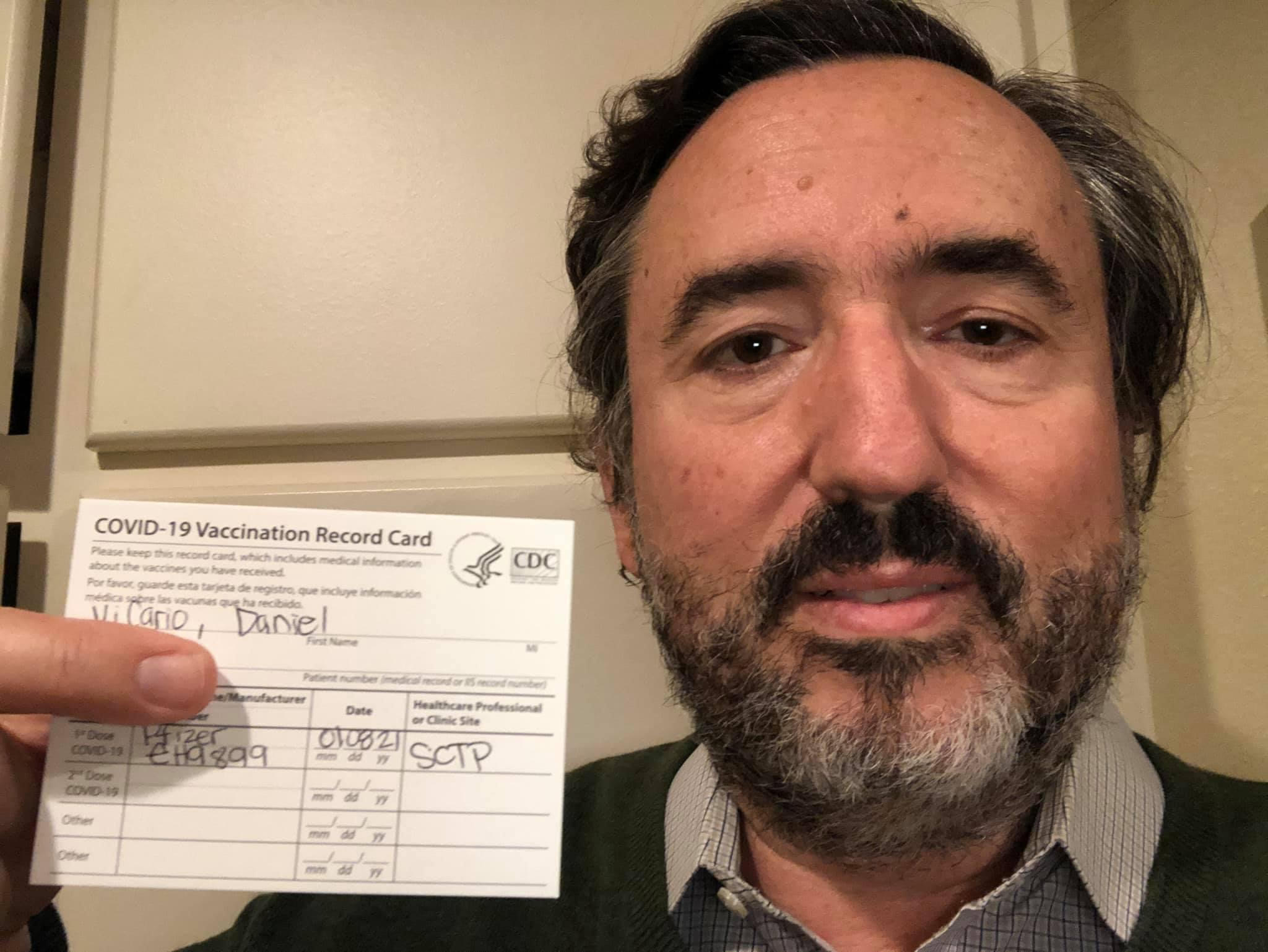 "I just had my first dose of Covid-19 vaccine. I'm deeply grateful to ALL the scientists, the thousands of volunteers who signed up for the clinical trials, the thousands involved in making & delivering the vaccine and those who administer them.
I can't wait for the vaccine to be available to everyone! We are all praying for that! 🙏🏼
We of course continue to pray for the millions who are affected by this terrible virus, in EVERY aspect; for the first responders and health care professionals caring for those affected. 🙏🏼
As the hospitals are preparing for the reality of massive increases in inpatient volumes in the next few weeks due to Covid-19, I've signed up to be available in the pool of physicians to help anywhere needed."
---
December 20, 2020
COVID-19 VACCINE UPDATE
We would like to share with our readers a summary of the new COVID-19 vaccines. There is such extensive information available that we feel it may be helpful to give a brief summary and include several reference sites for you to review if needed or desired. We've been regularly watching updated webinars and websites of the CDC (Centers for Disease Control), FDA, Health and Human Services (HSS), the California Department of Public Health, and several others.
We now have at least two different vaccines for COVID-19, and both of them are safe and highly effective, in the view of the FDA scientific advisory panels.
We know that there is significant vaccine skepticism in the general population. We also know that, in order for there to be an impact in fighting this pandemic, at least 70% of the population needs to receive the vaccine. COVID-19 has already been responsible for the deaths of more than 300,000 Americans, with mortality and hospitalization continuing to increase at an alarming rate. The pandemic has threatened the welfare of health care workers who risk everything in the line of service. Thankfully, the science tells us that the vaccine has close to 95% efficacy, and now that it's here, we can begin to see the end of the pandemic.
Here are the highlights of the two vaccines that have been approved by the FDA under an "Emergency Use Authorization (EUA)": The Pfizer-BioNTech and the Moderna COVID-19 vaccines:
Both vaccines have demonstrated over 90% effectiveness across age groups, racial and ethnic groups. No vaccine is 100% effective
They are considered safe to be given to all adults. The Pfizer vaccine is approved for ages 16 and up. The Moderna vaccines, which was just approved, is for ages 18 and up.
There were over 35,000 participants in the Pfizer clinical trial that was a cross-section of a large population, including those with medical comorbidities associated with a high risk of severe COVID-19.
These vaccines are considered to be safe for everyone, including people with underlying chronic conditions, autoimmune diseases, severe comorbidities, etc.
There are no contraindications except for those with a history of a severe allergic reaction (for example anaphylaxis) to any component of the vaccines.
The risk/benefit ratio highly weighs toward the significant benefits for all to be vaccinated
The risk/benefit ratio is considered for all vaccines, medicines, and medical recommendations.
Before vaccination, medical providers will counsel vaccine recipients about expected local and systemic post-vaccination symptoms
For those who are on cancer treatment, your physicians will be discussing with you what would be the best timing to receive the vaccine.
Unless a person develops a contraindication to vaccination, they should be encouraged to complete the series even if they develop post-vaccination symptoms in order to optimize protection against COVID-19.
Protection from the vaccine is not immediate; the vaccine is a 2-dose series and will take 1 to 2 weeks following the second dose to be considered fully vaccinated
The Pfizer vaccine is given 21 days apart. The Moderna vaccine is repeated 28 days later. Both are effective 1 to 2 weeks after the second dose. Even though they are similar they are not interchangeable. You must get both doses from the same product.
All those who receive the vaccine will be monitored closely. Serious allergic reactions are extremely rare. The vaccination sites are prepared for the potential management of any serious allergic reaction to the vaccine that may occur.
After the COVID-19 vaccination, we may have some side effects. This is a normal sign that our body is building protection.
The side effects of the COVID-19 vaccination may feel like the flu and might even affect our ability to do daily activities, but they should go away in a few days.
Around the injection site we may notice some pain and swelling.
Throughout the rest of the body: fever, chills, tiredness, headache.
If you have a reaction like a fever, soreness at the injection site, and/or fatigue, both products say it will last approximately 24 hours. Tylenol can help. They both say to get the second dose even if you have these mild side effects. As with any side effects, let your healthcare team know.
For further details, please click on this link: What to Expect after Getting a COVID-19 Vaccine | CDC
The vaccines were made as soon as scientists knew the genetic code of the virus back in January 2020. It is NOT a brand-new technology. Scientists have been working on this technology for the last several years.
The vaccines do NOT contain the virus.
They both contain a messenger RNA (mRNA): "Spike Protein encoded mRNA" that will make our cells produce the "spike protein" that mimics the spike glycoprotein (S) antigen on the surface of the SARS-CoV-2 (Coronavirus). This in turn will make our immune system be prepared to react against the virus
In other words, the vaccine mRNA can neither interact with nor integrate into our DNA. The mRNA enters our cells to create the protein that mimics the COVID virus and will make our immune system reject the virus. The mRNA does not enter the nucleus of the cell and it does not change our cell's DNA
The vaccine creates a specific immune response with neutralizing antibodies and cell-mediated immunity against the COVID virus.
The vaccines contain NO preservatives or additives; just lipids, salts, and sugar
See "Table 1" below with the Ingredients included in both mRNA COVID-19 approved vaccines.
For more details on the Pfizer vaccine, you can refer to the FDA Briefing Document Pfizer-BioNTech COVID-19 Vaccine in the link below: Vaccines and Related Biological Products Advisory Committee December 10, 2020 Meeting Briefing Document- FDA
The Advisory Committee on Immunization Practices (ACIP) recommends that the Initial Phase of the COVID-19 vaccination program (Phase 1a) is offered to health care personnel and residents of long-term care facilities. You can see all phases of the program in the "Table 2"
Anthony S. Fauci, Director of the National Institute of Allergy and Infectious Disease at the NIH, has explained who should be next in line to receive this highly anticipated vaccine, "the ones that have a more likely chance of getting a severe outcome" if infected with COVID-19. They include the "vulnerable people, the elderly individuals with underlying conditions, diabetes, obesity, heart disease, individuals with those types of diseases. In addition, people who are immunocompromised, for example, cancer patients who are on chemotherapy and a variety of autoimmune patients who might have a suppressed immune response.
Given the currently limited information on how well the vaccine works in the general population; how much it may reduce disease, severity, or transmission; and how long protection lasts, vaccinated persons should continue to follow all current CDC guidelines to protect themselves and others, including:
Wearing a mask
Staying at least 6 feet away from others
Avoiding crowds
Washing hands often
Following CDC travel guidance
Following quarantine guidance after exposure to someone with COVID-19
Following any applicable workplace or school guidance
This is until most people in the US are vaccinated & the numbers of COVID cases significantly decrease.
The vaccine is also recommended to be given to those who already had Covid-19. Scientists at the CDC believe that natural immunity is around 90 days for them, but not sure beyond that. It is also recommended for people who are asymptomatic. They should finish their quarantine before getting it. Speak with the doctor first.
For those who have been seriously ill with COVID-19, hospitalized, and received convalescent plasma or monoclonal antibodies, they will be asked to wait approximately 90 days after receiving the antibody treatment to be vaccinated. In this situation, the antibodies administered may still be circulating and can potentially block the spike protein produced by the vaccine mRNA, not allowing the person's own immune system to create the desired specific immune response with neutralizing antibodies and cell-mediated immunity.
From the CDC website: https://www.cdc.gov/coronavirus/2019-ncov/vaccines/8-things.html
"You should receive a vaccination card or printout that tells you what COVID-19 vaccine you received, the date you received it, and where you received it.
You should receive a paper or electronic version of a fact sheet that tells you more about the specific COVID-19 vaccine you are being offered. Each authorized COVID-19 vaccine has its own fact sheet that contains information to help you understand the risks and benefits of receiving that specific vaccine."
V-safeis a smartphone-based tool that uses text messaging and web surveys to provide personalized health check-ins after you receive a COVID-19 vaccination. V-safe After Vaccination Health Checker | CDC
The information above is a guide. You will be making your own choice about whether to take the vaccine whenever it is offered to you. The decisions you make about being immunized will have an impact on the decisions made by your family and your community.
We hope you will take this opportunity to contribute to our collective safety and success by encouraging others to protect themselves—and all of us—by getting vaccinated when they can.
Our goal is to share updates regularly, especially if there is any significant new information available. In the meantime, please refer to the below-recommended websites, as these are updated regularly.
Sending best wishes and many blessings to our SDCRI community,
Mary Hollander, R.N.
Daniel Vicario, M.D.
Table 1:
Table 2:
Phases (sandiegocounty.gov)
Recommended Websites:
Coronavirus Disease 2019 (COVID-19) | CDC
Vaccines | CDC
8 Things to Know about the U.S. COVID-19 Vaccination Program | CDC
COVID-19 Vaccines | FDA
Home | Clinician Outreach and Communication Activity (COCA) (cdc.gov)
Calls/Webinars | Clinician Outreach and Communication Activity (COCA) (cdc.gov)
Webinar December 18, 2020 – What Clinicians Need to Know About the Pfizer-BioNTech and Moderna COVID-19 Vaccines (cdc.gov)
Slides from above Webinar: What Clinicians Need to know about the Pfizer and Moderna Vaccines. December 18, 2020:
-COCA Crisis Standards of Care (cdc.gov)
American Society of Clinical Oncology (ASCO) Coronavirus resources:
-ASCO Coronavirus Resources | ASCO
California Department of Public Health COVID-19 Vaccine Information:
-COVID-19 Vaccines (ca.gov)
-Patients Undergoing Immunosuppressive Cancer Therapy Can Shed Viable Covid-19 Virus For at Least Two Months | Memorial Sloan Kettering Cancer Center (mskcc.org)
County of San Diego website:
-Coronavirus Disease 2019 (sandiegocounty.gov)
County of SD COVID December 16 Update:
-(4) COVID-19 Update 12-16-2020 – YouTube
COVID-19 Exposure Notifications:
-CA Notify
-More than 6 million have signed up for California's COVID-19 alert system – The San Diego Union-Tribune
FDA Briefing Document Pfizer-BioNTech COVID-19 Vaccine:
-Vaccines and Related Biological Products Advisory Committee December 10, 2020 Meeting Briefing Document- FDA
FDA Briefing Document Moderna COVID-19 Vaccine:
-Vaccines and Related Biological Products Advisory Committee December 17, 2020 Meeting Briefing Document – FDA
-Fact Sheet for Health Care Providers: Emergency Use Authorization (EUA) of Bamlanivimab (fda.gov)
Society of Integrative Oncology: COVID Resources
-Covid Resources (integrativeonc.org)
ESPECIALLY FOR PHYSICIANS:
County of San Diego Clinical Town Hall on COVID-19. December 16, 2020
-(6) County of San Diego Clinical Town Hall on COVID-19 – December 16 2020 – YouTube
-RESOURCE ARCHIVE: Clinical Town Halls on COVID-19 – Smartsheet.com
---
Ask Me Anything with Dr. Dan Vicario, MD
In this YouTube video, you will see a wonderful interview with our own Dr. Daniel Vicario, hosted by the founder of Consciousness and Healing Initiative (CHI), Dr. Shamini Jain, Ph.D..
"While employing the diagnostic tools and treatments often found in Western Medicine, Dr. Vicario has pioneered integrating complementary healing modalities to help put his patients in the best possible space to receive treatment and meet the challenges treatment brings. Join us to ask questions and gain insights to help improve your client's ability to heal or your own healing journey."
Click here or on the image to watch this great conversation and presentation.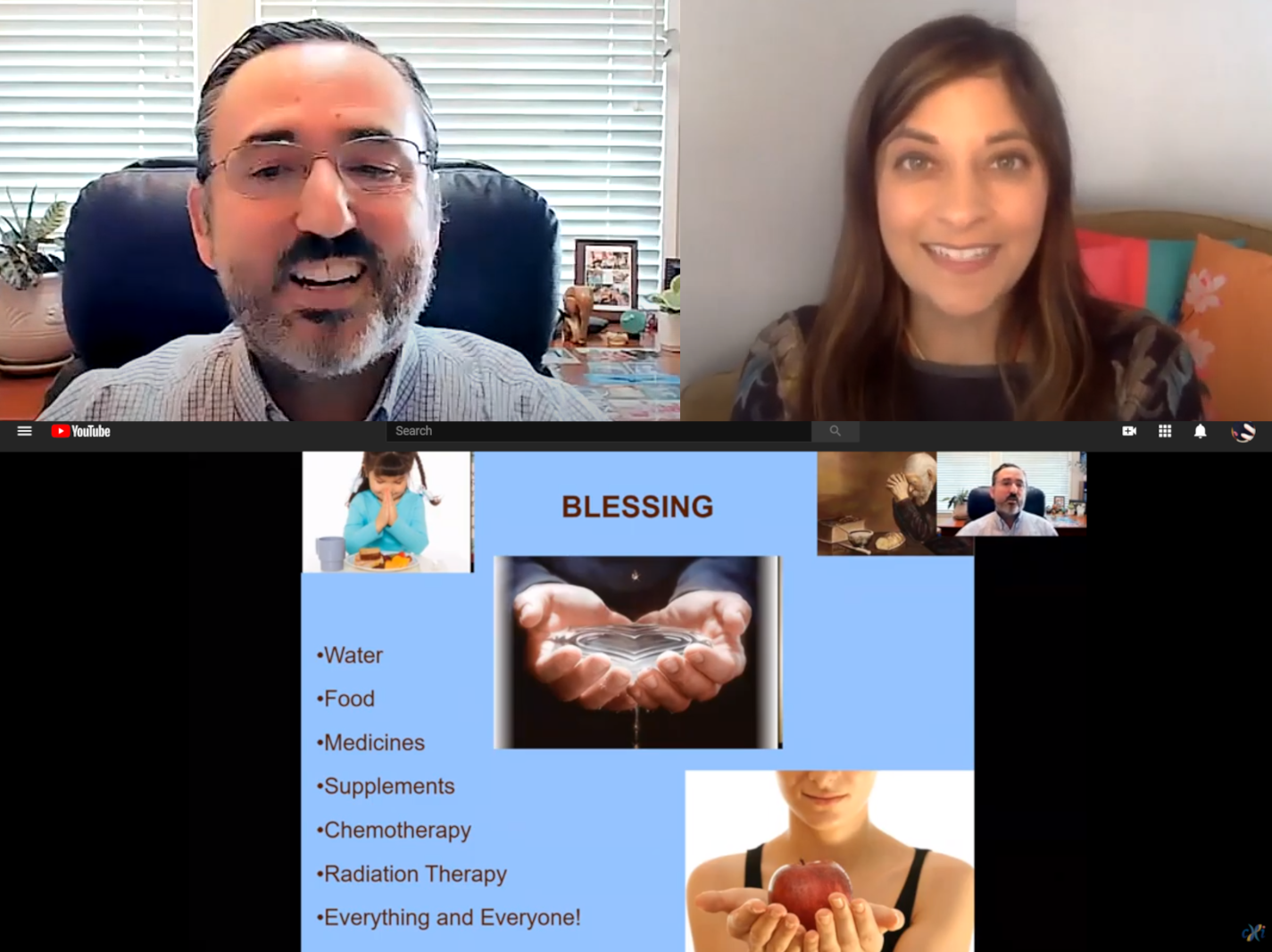 Click here to explore the Powerpoint presentation (in PDF format) on your own!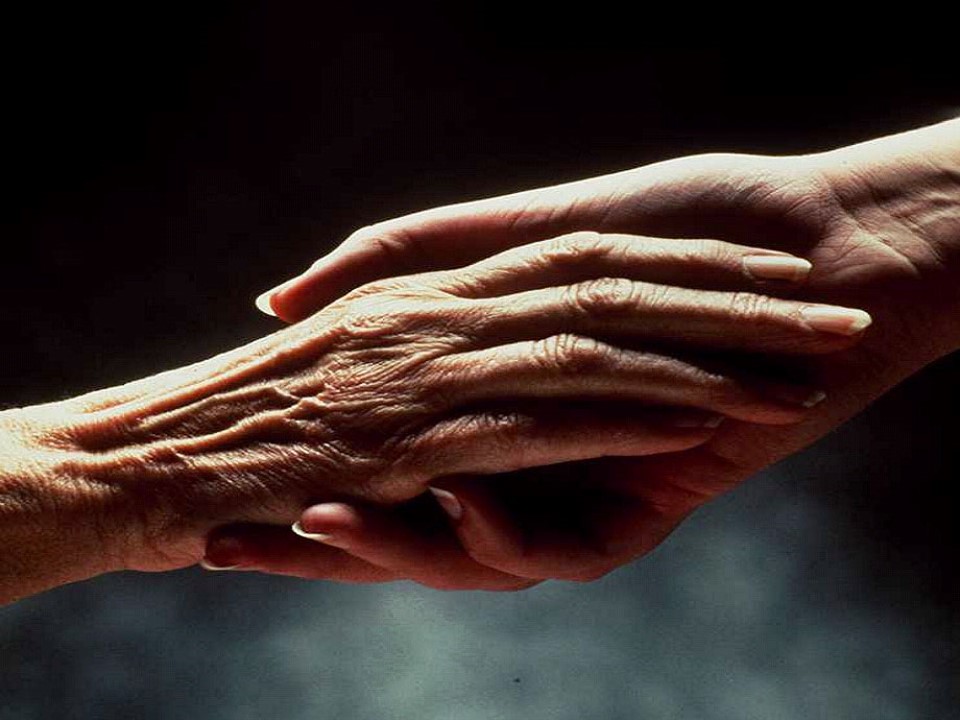 ---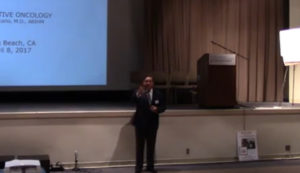 On April 8th (2017) our very own Dr. Daniel Vicario, MD, ABIHM, gave a talk at the Susan Komen Breast Cancer Symposium in Long Beach. Don't worry! If you missed it, you can still catch that talk in this video, titled, "Metastatic Breast Cancer Symposium- Helping Me Help Myself". In this talk, Dr. Vicario explains Integrative Oncology and Epigenetics, and their importance in helping cancer patients and survivors.
---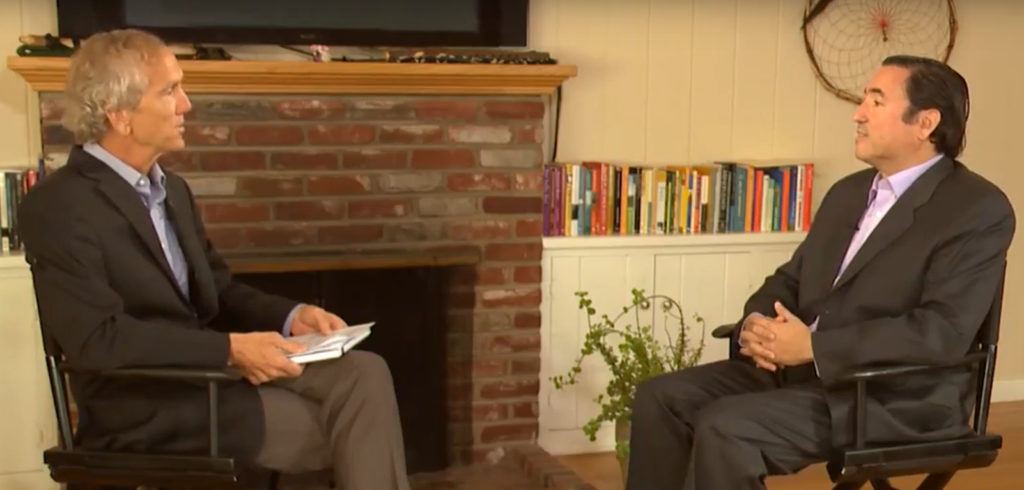 Ready for more? Relax and enjoy this great interview with Dr. Paul J. Mills of UC San Diego and our own Dr. Daniel Vicario, MD, ABIHM. In this video, Dr. Mills and Dr. Vicario talk about pioneering research in integrating Western medicine with ancient healing techniques and developing comprehensive treatment plans for cancer patients. Dr. Vicario gives examples of treatments that have led to a decrease in cancer and treatment related symptoms, fewer doctor visits and a higher quality of life for those who are responsive to holistic cancer care. Click the following link or the image above to view the video on the UCTV (University of California) website, recorded in March, this year (2017): Comprehensive Cancer Care: Integrative Oncology
---
If you haven't yet, be sure you check out Dr. Paul Brenner's wonderful videos on Epigenetics, Psychology and Healing for cancer patients, survivors, families and even the people who've never been touched by cancer. We have 23 short, but beautiful talks by Dr. Brenner.
Check out SDCRI's YouTube site here to watch them all!
Don't forget to check out our secondary Blog site for Dr. Brenner here!
---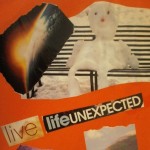 Don't forget to check out our Featured Articles! Each month we will post a new article written by someone in the Integrative community, and very often, one of our former Free Integrative Service Volunteers!
Click here to see who has contributed and what they had to say!
---
Missing the old Nutrition group with Mary and Jessica? You're in luck! Mary has her very own Nutrition Blog online and we are happy to host a secondary site for that blog. Check out a new post nearly every week, with news, info and recipes that are geared specifically toward health and life improvement in the cancer community!
Click here to see what you've been missing!
---
SDCRI would like to share this empowering and inspirational video:
Intentional Medicine – Shifting the Focus of Healthcare by Libby McGugan at the TEDxGlasgow talks.
Click here to be taken to the YouTube page.
---
News Archive
Select a sub-section of the Archives:
Important Updates for Classes and Groups
Past News Updates Archive
Updates on SDCRI as a Whole
Class and Group notifications for 2015:
Mindful Living Support Group: New Location as of Wednesday, March 4th, 2015!
This group of 8-16 members meets weekly for 90 minutes with certified and long-time mindfulness meditation teacher, Diana Shimkus, LCSW. The aspiration of this group is to explore and adapt the many ways that mindfulness practices and training can be effective in encouraging everyone to directly encounter and use all the unexpected and present aspects of their lives, including illness, medical treatment and aging in which to learn, heal and cultivate qualities of resilience, compassion, kindness, connection and well being.
Each week the group will discuss mindfulness teachings and principles based upon identified group needs, explore a 30 minute guided practice together, review the practice for weekly practice and offer 20 minutes of mindful movement in which to embody the practices fully. An audio file is made of the guided meditation each week and made available to all participants through email.
Please join Diana for this drop-in series. Chairs are available and meditation cushions and other supportive devices can be made available upon request.
The group has moved to a new location to make room for additional participants as of Wednesday, March 4th at the Soul of Yoga located at 627 Encinitas Blvd, just off of Westlake, in Encinitas, CA 92024. The group will meet from 1:00-2:30 PM. There is no charge for this group. There is ample parking and a welcoming community awaiting you.
Mindfulness practices offer many benefits, including:
increased capacities and personal resources, improved health and well-being, greater joy and ease and a sense of true belonging in community.
Check out the new flyer by clicking here!
Please go to: www.everydaymind.com to learn more or contact Diana directly at:
(760) 310-2920.
Diana M. Shimkus, LCSW
---
-Zumba: Gentle (both Encinitas and Vista) and Gentle Fitness (Encinitas) are continuing indefinitely in the care of Yoga Vista Studio and North County Cancer Fitness!
Currently On-Going Classes & Groups
Please keep in mind that none of these classes are directly a part of SDCRI any longer, but are being supported by individuals and groups who were gracious and wonderful enough to take over the reins!
Multiple cancer fitness classes are now hosted by North County Cancer Fitness!
Go to their website for info and to sign up!
https://northcountycancerfitness.org/
Gentle Fitness
Exercise has been shown to improve cardiovascular fitness, strengthen muscles, regain balance, increase flexibility while reducing fatigue, anxiety, and depression in cancer survivors.
Certified Personal Trainer, Erzsi Kovacs will lead the way!
Zumba: Gentle is held every week! Come and dance, sway or just sit and enjoy the music! Learn Salsa, Cumbia, Bachata, Merengue, Reggaeton, Hip-Hop, and free flow too!
Caregivers are welcome! No experience needed!
Email Alessandra for more details at alessandra@alessandracolfi.com.

---
Past News
Hope Made Visible™: Creating & sharing artful flags among cancer patients, survivors, families/friends, & caregivers
Alessandra Colfi has been engaging patients at San Diego Cancer Research Institute – SDCRI, and UCSD Moores Cancer Center in creating Flags in various art media. We have made and received over to 1,000 flags now, from all over the USA, Canada, Colombia, Argentina, Guatemala, Ghana, France, Germany, The Netherlands, Italy, Australia, and many other countries; even more are on the way!
Recently, the flags were hung in Germany at the Karlsruhe Museum! Here are just a few photos of the exhibit: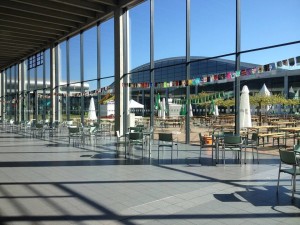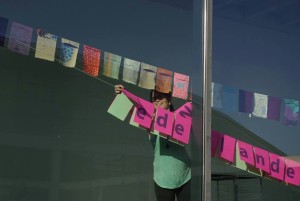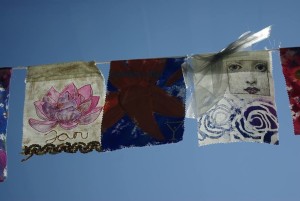 We will keep you posted as to new times, dates and special events involving Hope Made Visible.
---
2016 News
Our wonderful Social Worker and Meditation Facilitator, Erin Graves, will be able to start seeing clients again! Starting April 13th, Erin will be welcoming patients, their family, and their friends to her Therapy Groups and Individual sessions. She recently sent us an email with this message, and her contact info:
"I am really excited about this new opportunity to provide supportive individual and group counseling services to those experiencing anxiety, depression, life-transitions, life-altering medical diagnoses, grief, loss and relationship issues. In addition, I will facilitate support groups in meditation, mindfulness, and self-care for women, healthcare professionals, first responders, public school educators, and college students. As I am eager to offer my services to a wide range of individuals, please feel free to refer acquaintances, family, and friends who may be interested in individual or group counseling including introductory meditation and self-care classes. I offer day, evening and Saturday appointments. I am also able to offer an income-based sliding-scale to individuals as needed.
Thank you so much for your support as I embark on this new endeavor! My bio and contact information will be added to the Therapeutic Center for Anxiety and Trauma website soon. Please contact me if you have any questions and feel free to pass my information to anyone who may be interested.
Take care,
Erin Graves, MSW, ASW6098
Registered Associate Clinical Social Worker
Therapeutic Center for Anxiety and Trauma
619-272-6858 x705
erin@anxietytraumatherapy.com
Welcome!
Contact Erin, today!
---
Our SDCRI family lost a dear friend & colleague on Saturday, February 27th, 2016. Deb Snyder, the founder of North Coast Cancer Fitness, NCCF, and a Cancer Warrior herself, will be missed by so many in the cancer community. Her commitment to cancer fitness was unparalleled.
If you have not yet had a chance to read this article written about her in 2015, please take the time to learn about this amazing woman.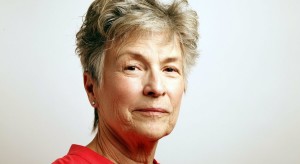 Recognize this face? If you've ever attended a Gentle Fitness session, or been to a few of our other classes, odds are you would have met this fantastic lady! Deb Snider is a long time client and partner of SDCRI and, more importantly, is a co-founder of the North County Cancer Fitness (NCCF) program, helping so many cancer patients and survivors get back to the health and functionality they very much need!
Check out this great interview article, posted on the San Diego Union Tribune website, to learn more about Deb, her personal struggle with Cancer, and her work with cancer survivors in San Diego county!
---