Current News and Updates
January 11th, 2021
Here is a note from SDCRI's Medical Director, Dr. Daniel Vicario: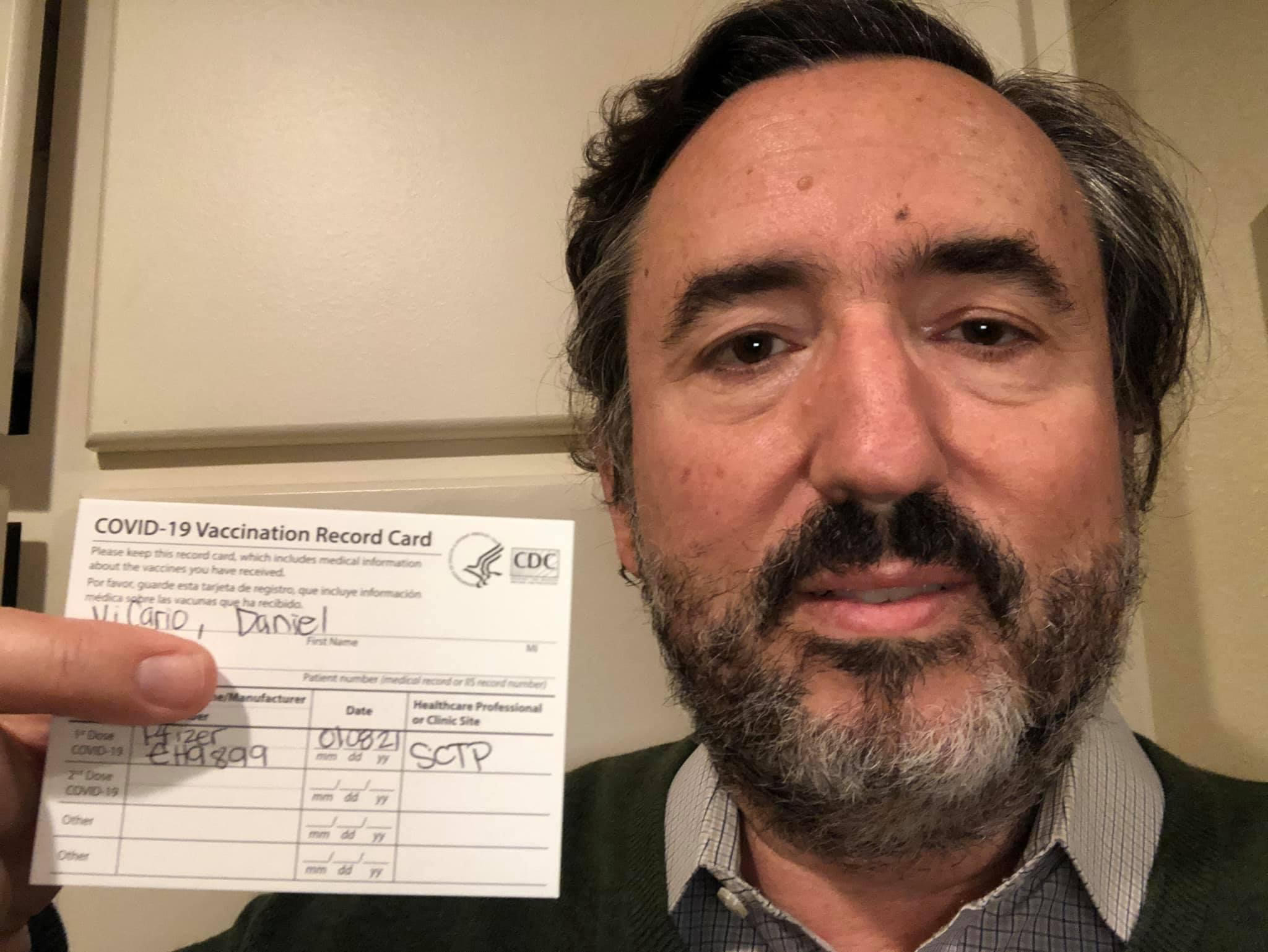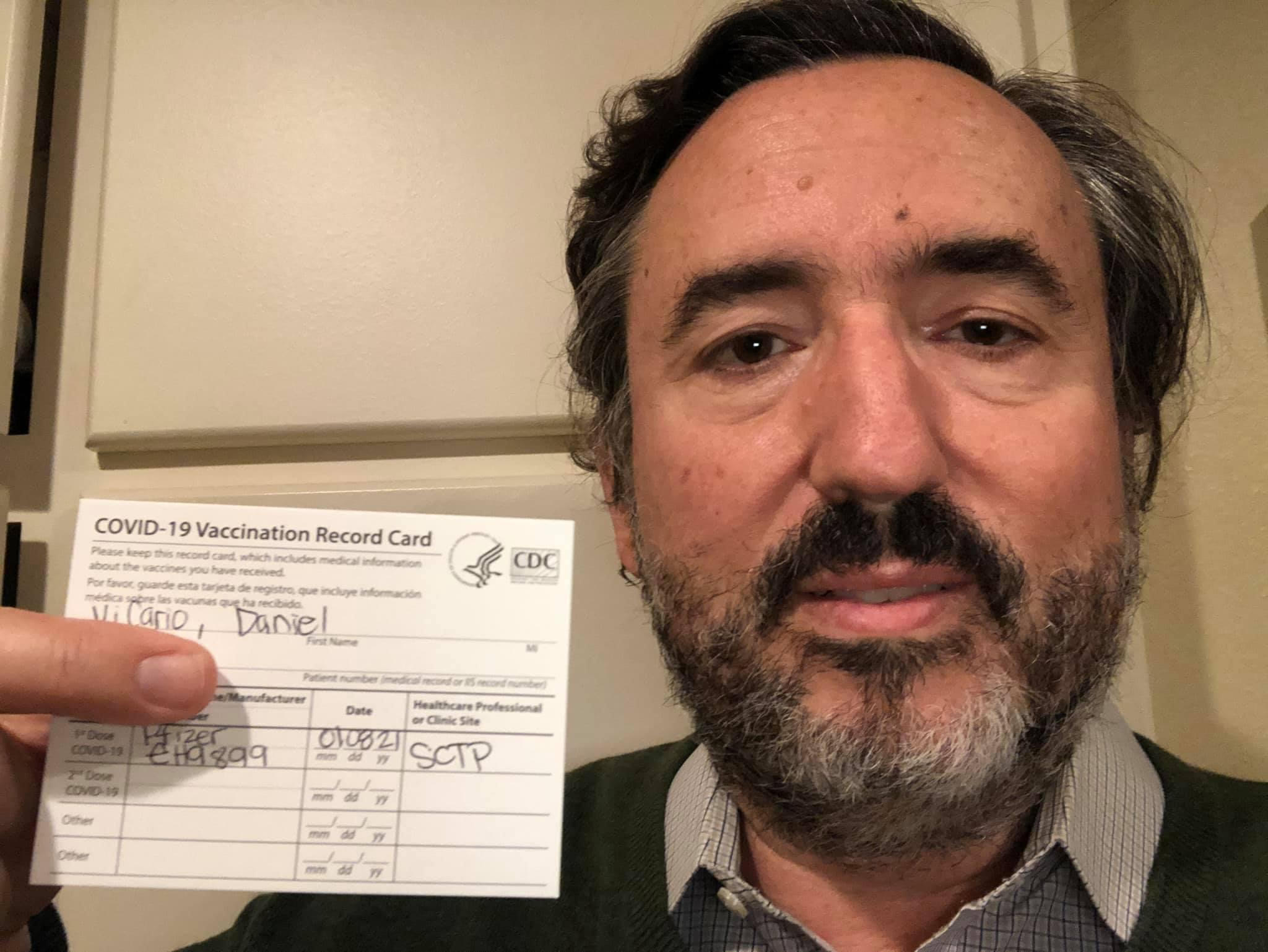 "I just had my first dose of Covid-19 vaccine. I'm deeply grateful to ALL the scientists, the thousands of volunteers who signed up for the clinical trials, the thousands involved in making & delivering the vaccine and those who administer them.
I can't wait for the vaccine to be available to everyone! We are all praying for that! 🙏🏼
We of course continue to pray for the millions who are affected by this terrible virus, in EVERY aspect; for the first responders and health care professionals caring for those affected. 🙏🏼
As the hospitals are preparing for the reality of massive increases in inpatient volumes in the next few weeks due to Covid-19, I've signed up to be available in the pool of physicians to help anywhere needed."
---
December 20, 2020
COVID-19 VACCINE UPDATE
We would like to share with our readers a summary of the new COVID-19 vaccines. There is such extensive information available that we feel it may be helpful to give a brief summary and include several reference sites for you to review if needed or desired. We've been regularly watching updated webinars and websites of the CDC (Centers for Disease Control), FDA, Health and Human Services (HSS), the California Department of Public Health, and several others.
We now have at least two different vaccines for COVID-19, and both of them are safe and highly effective, in the view of the FDA scientific advisory panels.
We know that there is significant vaccine skepticism in the general population. We also know that, in order for there to be an impact in fighting this pandemic, at least 70% of the population needs to receive the vaccine. COVID-19 has already been responsible for the deaths of more than 300,000 Americans, with mortality and hospitalization continuing to increase at an alarming rate. The pandemic has threatened the welfare of health care workers who risk everything in the line of service. Thankfully, the science tells us that the vaccine has close to 95% efficacy, and now that it's here, we can begin to see the end of the pandemic.
Here are the highlights of the two vaccines that have been approved by the FDA under an "Emergency Use Authorization (EUA)": The Pfizer-BioNTech and the Moderna COVID-19 vaccines:
Both vaccines have demonstrated over 90% effectiveness across age groups, racial and ethnic groups. No vaccine is 100% effective
They are considered safe to be given to all adults. The Pfizer vaccine is approved for ages 16 and up. The Moderna vaccines, which was just approved, is for ages 18 and up.
There were over 35,000 participants in the Pfizer clinical trial that was a cross-section of a large population, including those with medical comorbidities associated with a high risk of severe COVID-19.
These vaccines are considered to be safe for everyone, including people with underlying chronic conditions, autoimmune diseases, severe comorbidities, etc.
There are no contraindications except for those with a history of a severe allergic reaction (for example anaphylaxis) to any component of the vaccines.
The risk/benefit ratio highly weighs toward the significant benefits for all to be vaccinated
The risk/benefit ratio is considered for all vaccines, medicines, and medical recommendations.
Before vaccination, medical providers will counsel vaccine recipients about expected local and systemic post-vaccination symptoms
For those who are on cancer treatment, your physicians will be discussing with you what would be the best timing to receive the vaccine.
Unless a person develops a contraindication to vaccination, they should be encouraged to complete the series even if they develop post-vaccination symptoms in order to optimize protection against COVID-19.
Protection from the vaccine is not immediate; the vaccine is a 2-dose series and will take 1 to 2 weeks following the second dose to be considered fully vaccinated
The Pfizer vaccine is given 21 days apart. The Moderna vaccine is repeated 28 days later. Both are effective 1 to 2 weeks after the second dose. Even though they are similar they are not interchangeable. You must get both doses from the same product.
All those who receive the vaccine will be monitored closely. Serious allergic reactions are extremely rare. The vaccination sites are prepared for the potential management of any serious allergic reaction to the vaccine that may occur.
After the COVID-19 vaccination, we may have some side effects. This is a normal sign that our body is building protection.
The side effects of the COVID-19 vaccination may feel like the flu and might even affect our ability to do daily activities, but they should go away in a few days.
Around the injection site we may notice some pain and swelling.
Throughout the rest of the body: fever, chills, tiredness, headache.
If you have a reaction like a fever, soreness at the injection site, and/or fatigue, both products say it will last approximately 24 hours. Tylenol can help. They both say to get the second dose even if you have these mild side effects. As with any side effects, let your healthcare team know.
For further details, please click on this link:

What to Expect after Getting a COVID-19 Vaccine | CDC

The vaccines were made as soon as scientists knew the genetic code of the virus back in January 2020. It is NOT a brand-new technology. Scientists have been working on this technology for the last several years.
The vaccines do NOT contain the virus.
They both contain a messenger RNA (mRNA): "Spike Protein encoded mRNA" that will make our cells produce the "spike protein" that mimics the spike glycoprotein (S) antigen on the surface of the SARS-CoV-2 (Coronavirus). This in turn will make our immune system be prepared to react against the virus
In other words, the vaccine mRNA can neither interact with nor integrate into our DNA. The mRNA enters our cells to create the protein that mimics the COVID virus and will make our immune system reject the virus. The mRNA does not enter the nucleus of the cell and it does not change our cell's DNA
The vaccine creates a specific immune response with neutralizing antibodies and cell-mediated immunity against the COVID virus.
The vaccines contain NO preservatives or additives; just lipids, salts, and sugar
See "Table 1" below with the Ingredients included in both mRNA COVID-19 approved vaccines.
For more details on the Pfizer vaccine, you can refer to the FDA Briefing Document Pfizer-BioNTech COVID-19 Vaccine in the link below:

Vaccines and Related Biological Products Advisory Committee December 10, 2020 Meeting Briefing Document- FDA

The Advisory Committee on Immunization Practices (ACIP) recommends that the Initial Phase of the COVID-19 vaccination program (Phase 1a) is offered to health care personnel and residents of long-term care facilities. You can see all phases of the program in the "Table 2"
Anthony S. Fauci, Director of the National Institute of Allergy and Infectious Disease at the NIH, has explained who should be next in line to receive this highly anticipated vaccine, "the ones that have a more likely chance of getting a severe outcome" if infected with COVID-19. They include the "vulnerable people, the elderly individuals with underlying conditions, diabetes, obesity, heart disease, individuals with those types of diseases. In addition, people who are immunocompromised, for example, cancer patients who are on chemotherapy and a variety of autoimmune patients who might have a suppressed immune response.
Given the currently limited information on how well the vaccine works in the general population; how much it may reduce disease, severity, or transmission; and how long protection lasts, vaccinated persons should continue to follow all current CDC guidelines to protect themselves and others, including:

Wearing a mask
Staying at least 6 feet away from others
Avoiding crowds
Washing hands often
Following CDC travel guidance
Following quarantine guidance after exposure to someone with COVID-19
Following any applicable workplace or school guidance

This is until most people in the US are vaccinated & the numbers of COVID cases significantly decrease.
The vaccine is also recommended to be given to those who already had Covid-19. Scientists at the CDC believe that natural immunity is around 90 days for them, but not sure beyond that. It is also recommended for people who are asymptomatic. They should finish their quarantine before getting it. Speak with the doctor first.
For those who have been seriously ill with COVID-19, hospitalized, and received convalescent plasma or monoclonal antibodies, they will be asked to wait approximately 90 days after receiving the antibody treatment to be vaccinated. In this situation, the antibodies administered may still be circulating and can potentially block the spike protein produced by the vaccine mRNA, not allowing the person's own immune system to create the desired specific immune response with neutralizing antibodies and cell-mediated immunity.
From the CDC website: 

https://www.cdc.gov/coronavirus/2019-ncov/vaccines/8-things.html


"You should receive a vaccination card or printout that tells you what COVID-19 vaccine you received, the date you received it, and where you received it.
You should receive a paper or electronic version of a fact sheet that tells you more about the specific COVID-19 vaccine you are being offered. Each authorized COVID-19 vaccine has its own fact sheet that contains information to help you understand the risks and benefits of receiving that specific vaccine."
V-safeis a smartphone-based tool that uses text messaging and web surveys to provide personalized health check-ins after you receive a COVID-19 vaccination.

V-safe After Vaccination Health Checker | CDC
The information above is a guide. You will be making your own choice about whether to take the vaccine whenever it is offered to you. The decisions you make about being immunized will have an impact on the decisions made by your family and your community.
We hope you will take this opportunity to contribute to our collective safety and success by encouraging others to protect themselves—and all of us—by getting vaccinated when they can.
Our goal is to share updates regularly, especially if there is any significant new information available. In the meantime, please refer to the below-recommended websites, as these are updated regularly.
Sending best wishes and many blessings to our SDCRI community,
Mary Hollander, R.N.
Daniel Vicario, M.D.
Table 1: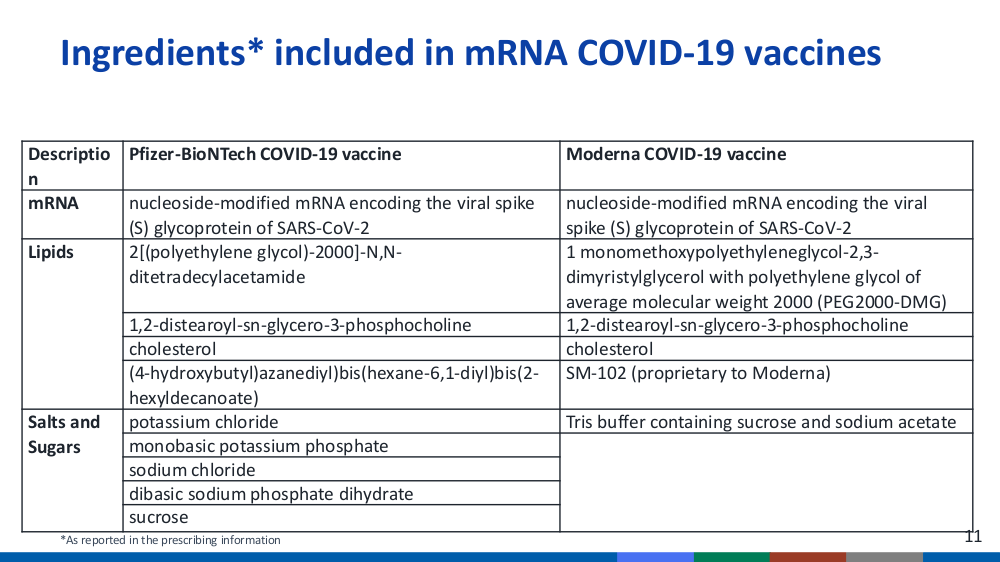 Table 2: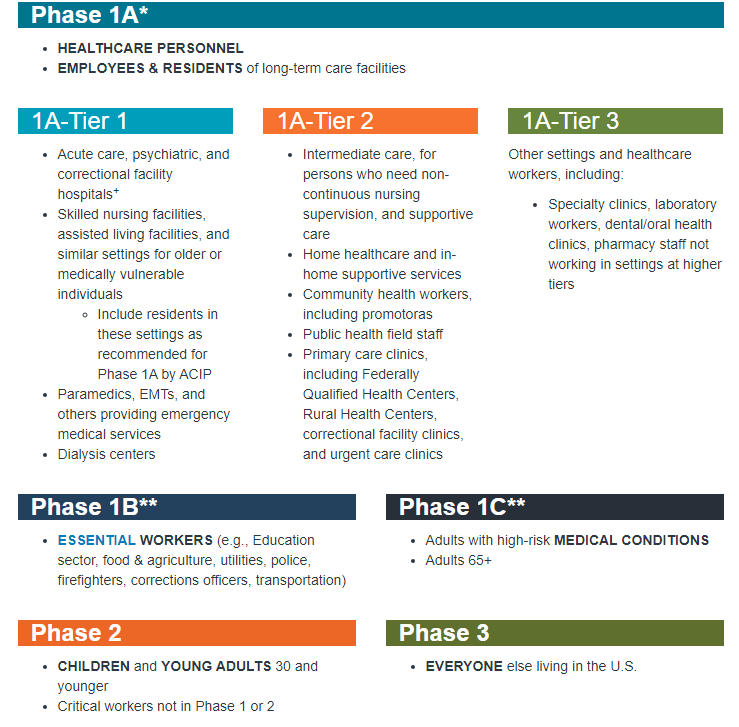 Phases (sandiegocounty.gov)
Recommended Websites:
Coronavirus Disease 2019 (COVID-19) | CDC
8 Things to Know about the U.S. COVID-19 Vaccination Program | CDC
Home | Clinician Outreach and Communication Activity (COCA) (cdc.gov)
Calls/Webinars | Clinician Outreach and Communication Activity (COCA) (cdc.gov)
Webinar December 18, 2020 – What Clinicians Need to Know About the Pfizer-BioNTech and Moderna COVID-19 Vaccines (cdc.gov)
Slides from above Webinar: What Clinicians Need to know about the Pfizer and Moderna Vaccines. December 18, 2020:
–COCA Crisis Standards of Care (cdc.gov)
American Society of Clinical Oncology (ASCO) Coronavirus resources:
–ASCO Coronavirus Resources | ASCO
California Department of Public Health COVID-19 Vaccine Information:
–COVID-19 Vaccines (ca.gov)
–Patients Undergoing Immunosuppressive Cancer Therapy Can Shed Viable Covid-19 Virus For at Least Two Months | Memorial Sloan Kettering Cancer Center (mskcc.org)
County of San Diego website:
–Coronavirus Disease 2019 (sandiegocounty.gov)
County of SD COVID December 16 Update:
–(4) COVID-19 Update 12-16-2020 – YouTube
COVID-19 Exposure Notifications:
–CA Notify
–More than 6 million have signed up for California's COVID-19 alert system – The San Diego Union-Tribune
FDA Briefing Document Pfizer-BioNTech COVID-19 Vaccine:
–Vaccines and Related Biological Products Advisory Committee December 10, 2020 Meeting Briefing Document- FDA
FDA Briefing Document Moderna COVID-19 Vaccine:
–Vaccines and Related Biological Products Advisory Committee December 17, 2020 Meeting Briefing Document – FDA
–Fact Sheet for Health Care Providers: Emergency Use Authorization (EUA) of Bamlanivimab (fda.gov)
Society of Integrative Oncology: COVID Resources
–Covid Resources (integrativeonc.org)
ESPECIALLY FOR PHYSICIANS:
County of San Diego Clinical Town Hall on COVID-19. December 16, 2020
–(6) County of San Diego Clinical Town Hall on COVID-19 – December 16 2020 – YouTube
–RESOURCE ARCHIVE: Clinical Town Halls on COVID-19 – Smartsheet.com
---
November 30, 2020
We would like to thank you all for your donations over the years. Without donor support, the San Diego Cancer Research Institute would not be able to continue with its mission of education, collaboration, community outreach, and research.
Your generosity has helped Alessandra Colfi, Ph.D., to continue the International Hope Made Visible™ project: creating & sharing artful flags among cancer patients, survivors, families/friends, & caregivers.
Continued support will allow SDCRI's other educational programs to carry on and to expand. SDCRI's online nutrition program, Reality-Based Nutrition with Mary Hollander R.N.; Dr. Paul Brenner's Blog and education programs; Dr. Daniel Vicario's Integrative Oncology educational resources and videos.
Donations designated for cancer research are used for Dr. Mark Adler's work in Genomic Oncology and Dr. Daniel Vicario's work in Integrative Oncology. Dr. Vicario is collaborating in broad-based Integrative Research projects with practitioners, professionals, scientists, and researchers in Integrative Medicine, Naturopathic medicine, Ayurvedic medicine, and other Ancient healing traditions. Thank you for your ongoing commitment to both of their work.
You have been an integral part in the growth of SDCRI since its inception in 2001 and you can continue to be a part of its growth in the coming years by donating now. To contribute to this worthy cause, please make an online donation with our Facebook Donation button; at our website, www.sdcri.org, by clicking on the DONATE button; or by sending your donation to:
San Diego Cancer Research Institute
Attn: Mr. Claudio Garcia, CFO
910 Sycamore Ave., Suite 102
Vista, CA 92081
Sincerely,
The SDCRI Team
---
June 16, 2020
"Racism, discrimination, and inequality in healthcare. A proposal of comprehensive guidelines as a collective response."
A Letter & Resources from our Medical Director Daniel Vicario M.D
The events that we've been seeing occur over the last several months are a reminder of the pervasive racism, discrimination and inequality that unfortunately continues to transpire in our country. It affects our population on all levels, and especially those who are dealing with a serious illness. For cancer patients and those who care for them, this is particularly concerning and harmful. We would like to share a few articles that bring to light the longstanding and persistent discrimination we sadly continue to experience in our country.
With gratitude, warm regards and best wishes,
Dr. Daniel Vicario and the SDCRI Team
---
Our Vision
The San Diego Cancer Research Institute is a non-profit, 501(c)(3) organization dedicated to accelerating the development and availability of cutting-edge cancer therapies, and to improving through comprehensive integrative approaches, the quality of life for cancer patients.
---
Our Mission
The San Diego Cancer Research Institute was co-founded by Dr. Mark J. Adler and Dr. Daniel Vicario in 1998 after several years of looking into better ways to help people with cancer. We believe in a multi-disciplinary approach to wellness. Our primary goals are to help cancer patients gain quick access to state-of-the-art 'bench-to-bedside' medical treatment and to provide them with optimal physical, emotional and spiritual guidance to challenge their illness.
The San Diego Cancer Research Institute remains active in its mission of education, collaboration, and research. As many are aware, SDCRI's free services facility in Encinitas closed in December 2014. Since then, SDCRI has continued its education and research collaborative efforts with several other respectable institutions and has remained an active web-based resource.
We will continue to update our webpage with news, Integrative and Genomic Research updates, Nutrition and Oncology blogs, Dr. Paul Brenner's Blog, the latest info on the Hope Made Visible Project, educational programs, videos, resources and more.
With love, deep gratitude and much appreciation,
SDCRI Integrative Oncology leadership