Contact Information
Expressive Arts Therapy with Alessandra Colfi, Ph.D., RYT-200, ZIN ® 
Facebook: Phoenix Rising Expressive Arts Therapy,
Phone: 858.735.5708
Email: Alessandra@AlessandraColfi.com
Read more about Alessandra here
Jump to a topic:
Interactive Art: Wings of Gratitude
Hope Made Visible™, International
Expressive Arts Therapy
Yoga
Zumba: Gentle Dance Fitness
---
Waves of Love, Waves of Care
Our new creative collaboration / initiative to engage the worldwide community with the expressive arts, making meaning, and coming together to uplift one another, will be assembled and featured as a photo booth at the CSU Symposium for Palliative Care in February 2024 in SAN DIEGO!
Experience a profound blend of creativity and compassion at the 'Expressive Arts Collaboration: Waves of Love, Waves of Care' event during the Symposium for Palliative Care. This unique collaboration brings together patients, caregivers, and healthcare professionals as artists to explore the healing power of expressive arts in the context of healing and palliative care. Participants will delve into the depths of human emotions, fostering connection, empathy, and compassion. Join us in this transformative journey, where waves of love and care converge, fostering a deeper understanding of the human experience in the realm of serious illness care.
It will be a collage of HeArts (Artful Hearts) made by people affected by cancer – patients, families, caregivers, and healthcare providers as a community, infusing each heart with your HeArt!
Please contact Alessandra Colfi, Expressive Arts Therapist, at Alessandra@AlessandraColfi.com or 858.735.5708 with your questions.
Follow the development of this project on Facebook at https://www.facebook.com/SDCRI
---

What are you grateful for?  You're invited to reflect on and cultivate gratitude, and collaborate on an interactive art piece where you'll design a special feather to build a giant pair of "wings."  Think about what you're grateful for and express it in your feather design.  Recognizing and expressing gratitude can result in improved mental and even physical health. Research has shown that higher gratitude scores are associated with better mood, higher quality sleep, more self-efficacy, and less inflammation.
A grateful heart means a healthier body and a more peaceful mind.
Wings of Gratitude is offered by Alessandra Colfi, Ph.D., Expressive Arts Therapist, and featured by the San Diego Cancer Research Institute, a 501(c)3 organization.
Recently, the art piece became a fun and inspiring photo opportunity for attendees. Please share on social media! @ArtWalkSD
Patients, Families, Friends, and Practitioners have responded enthusiastically to a creative/expressive group process, whether they were able to join in a class or explore and create on their own. Virtual sessions and workshops have been a huge gift during the pandemic, but technology has also been a barrier for some patients, and practitioners have been overwhelmed and overworked.
This was launched as an opportunity to be a part of our community's creative efforts and connect in all the ways each one felt called to while exploring around the broad theme of Gratitude.
A daily gratitude practice has been shown to create real positive shifts and benefits. And the practice quickly becomes the lens through which we see the world and we show up in it. Gratitude is part of a wider outlook on life that involves noticing and appreciating the positive aspects of life. Gratitude can infuse our lives with optimism, resilience, and self-reliance. Recognizing and expressing gratitude for specific aspects of one's life can result in improved mental, and even physical, health in patients, caregivers, and healthcare professionals. Research studies found higher gratitude scores were associated with better mood, higher quality sleep, more self-efficacy, and less inflammation" (Mills et al., 2015). A grateful heart means a healthier body and more peaceful mind.
It's Vitamin G!
Participants created 1 or more feathers using cardstock as a base and all mixed-media art we've been practicing during our workshops. Each feather brought in colors, texture, and personal messages or uplifting quotes which resonate and reflect gratitude. Shaping the feathers together as Wings of Gratitude has been an amazing process, honoring each contributor, and allowing the wings to reflect the esthetic magnificence as well as the healing power of community.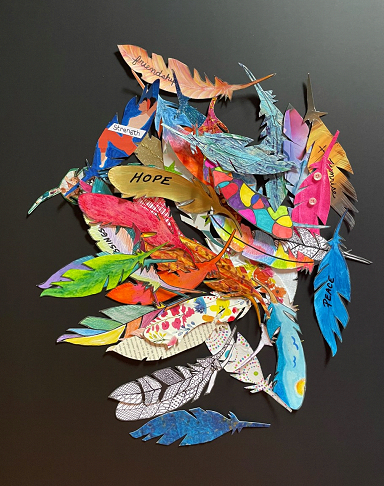 "When I is replaced with WE, even ILLNESS becomes WELLNESS" ~ Malcolm X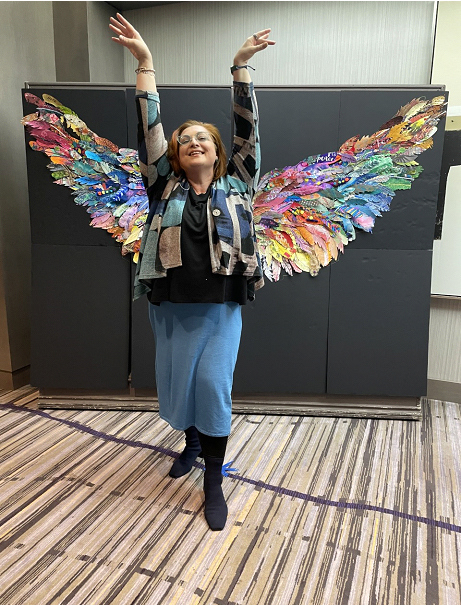 "These photos of people posing with the wings are so special because you can see the joy, hope, and excitement on everyone's faces. I'm so happy to hear that your wonderful idea has become the catalyst for other practitioners to use. I'm grateful to have had a part in this and can't wait to see the wings in person someday. It's fun to see my feathers interspersed throughout, but the real point is that these wings only came into being because of our community. That's the only way each of us can really fly. Love it and love you!" – E. Z.
The first unveiling of the Gratitude Wings was at CSU Symposium for Palliative Care Education and Research, March 1 – 3 in Long Beach, which included using the wings as a 'photo booth' for attendees to 'wear' the wings and embody/emphasize/memorialize their many symbolic aspects: empowerment, freedom, beauty, community, transformation, trust, life, support, light… The Wings of Gratitude have shared and received lots of love and gratitude! The attendees are practitioners in all palliative care, research, education, and hospice roles from all over the Country; they are the most compassionate, dedicated, and in many cases, sadly burnout, so to engage them and bring them joy was such an honor, very humbling.
Grateful to each one of our artists, who inspire me every day! When the attendees saw the wings, they were very impressed with their beauty, but as soon as I shared with them who created the feathers and why, they felt immediately moved and realized how special the whole process is and how much deeper they could connect with patients if given the opportunity. Art with a purpose, a catalyst indeed! Several attendees also created feathers and we integrated them in the wings as a truly healing community!
New venues are to be announced! With deep Gratitude for each one of YOU, your presence, dedication, and our strong, supportive community,
Enjoy the complete slide show here https://youtu.be/i2OsXBmTtzg
Alessandra Phoenix Rising Expressive Arts Therapy with Alessandra Colfi, PhD, RYT-200, ZIN ® 858.735.5708 ~ Alessandra@AlessandraColfi.com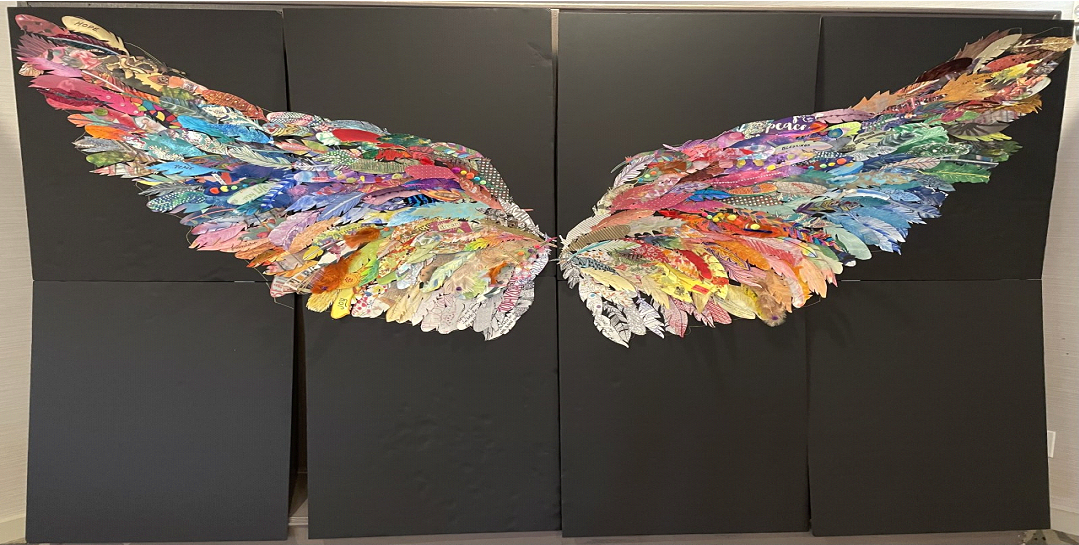 ---
Wings of Gratitude update 8/8/2023
We had a super fun time playing at ArtWalk, sharing and creating gratitude feathers for a new pair of Wings of Gratitude with visitors. Many people affected by cancer who came by felt touched and grateful we were there offering a meaningful activity to contribute to while honoring and transforming their experiences into beautiful, uplifting, and empowering wings. Coincidentally, ACS, American Cancer Society, Relay for Life was also taking place nearby on Saturday!  I'm grateful to all who spent time helping, sharing stories, inspiring one another, and playing throughout the weekend!
Here is a slideshow of the process: from the basic outline to 2 majestic, vibrant wings full of Gratitude Feathers! Here is a link to my photo album on iCloud, available until September 8th, 2023. https://share.icloud.com/photos/093TOsNxew7tIkSF4_7EqNgIw
---
Update: November 14th, 2022
Dear Patients, Families, Friends, and Practitioners:
You are all invited to participate in a creative/expressive group process, whether you can join a class or explore and create on your own.
This is an opportunity to be a part of our community's creative efforts and connect in all the ways each one of you feels called to, as you explore the broad theme of Gratitude.
A daily gratitude practice has been shown to create real positive shifts and benefits. 
Gratitude is a part of a wider outlook on life that involves noticing and appreciating the positive aspects of life. Recognizing and expressing gratitude for specific aspects of one's life can result in improved mental, and even physical, health in patients, caregivers, and healthcare professionals.
Research studies found higher gratitude scores were associated with better mood, higher quality sleep, more self-efficacy, and less inflammation" (Mills et al., 2015).
A grateful heart means a healthier body and a more peaceful mind. 
We each will create 1 or more feathers using cardstock as a base. Each feather will bring colors, texture, and a personal message or a quote that resonates and reflects your gratitude.
Create as many feathers as you wish, using the patterns here attached. Use paint, collage, mixed-media… etc.
All the feathers will be collected and assembled to create a large wall artwork in the shape of wings.
The destination of the piece will be decided and possibly a public 'unveiling' will be planned, including using the wings as a 'photo booth' for artists and visitors to 'wear' the wings and embody/emphasize/memorialize their many symbolic aspects.
Please contact me to receive feather templates ready for Right and Left orientation, and a series of prompts and affirmations to jump-start your reflections and generate each unique artful feather – feel free to use any of these or make up your own!
Here are a couple of examples of wings made with individual feathers: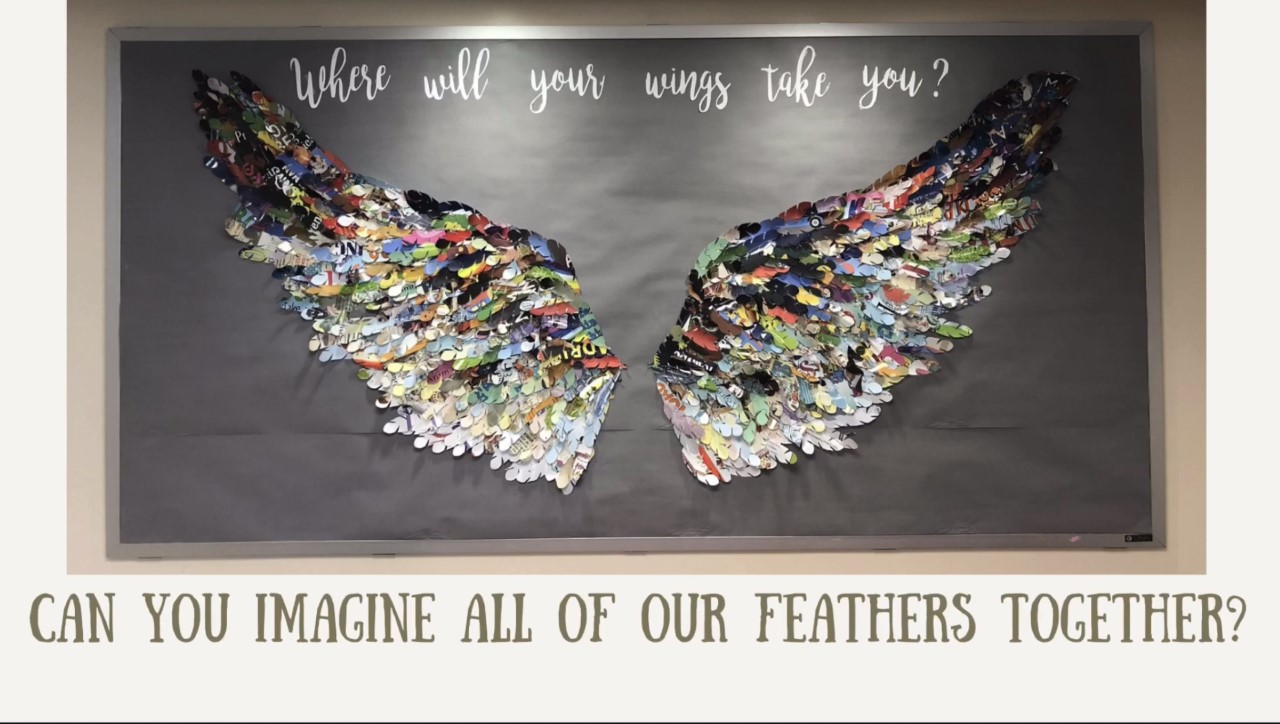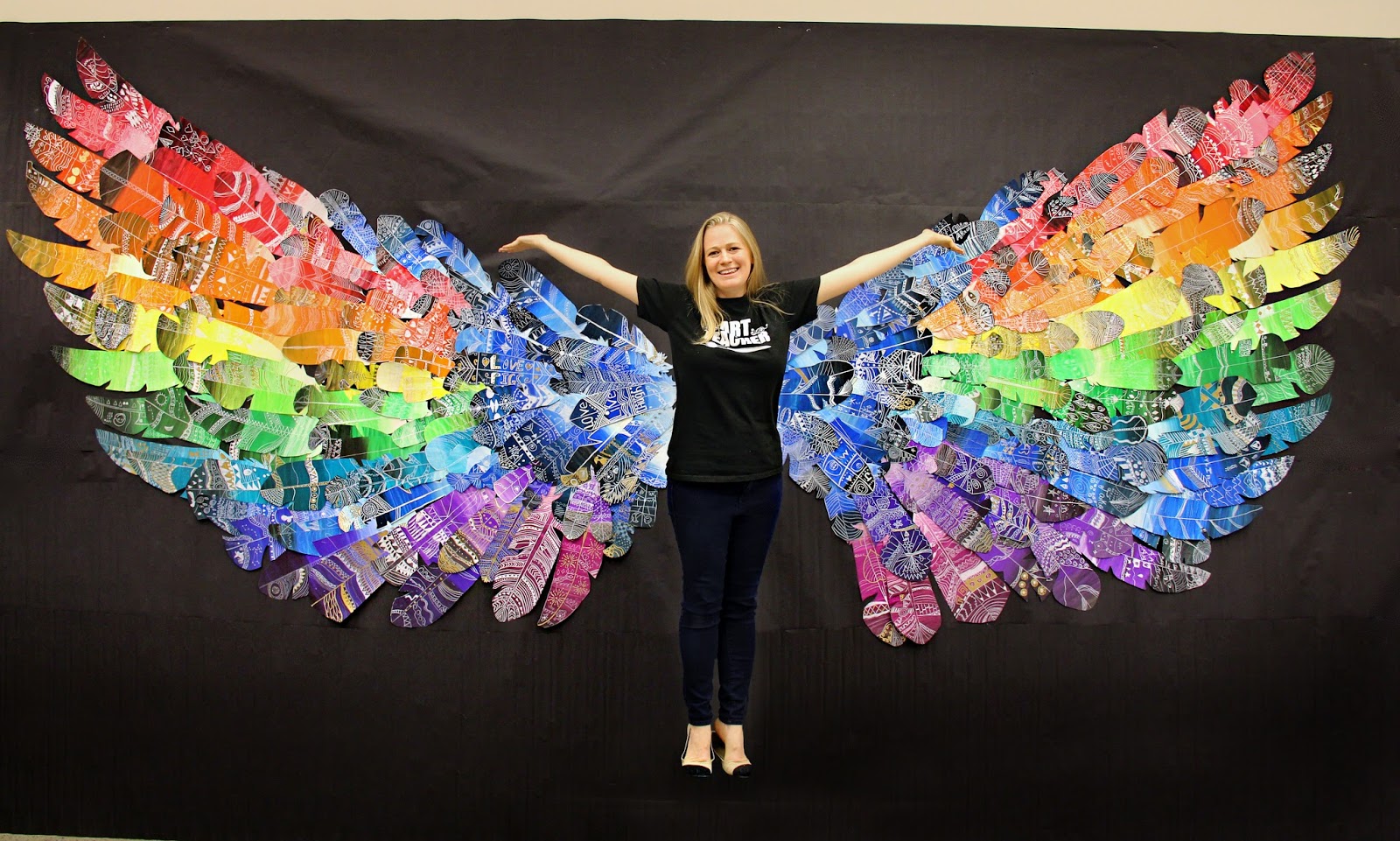 You are also welcome to select Gratitude quotes from my selection: https://www.pinterest.com/alessandracolfi/gratitude/
Don't hesitate to contact me with your questions and ideas!
With deep Gratitude for each one of you, your presence, dedication, and our strong, supportive community,
HAPPY THANKSGIVING TO ALL!
This Expressive Arts Therapy program focusing on Gratitude offers all participants a direct experience of a hands-on process with research & evidence-based applications and benefits in our patient-centered health care.
---

An ongoing journey of healing, compassion, and resilience.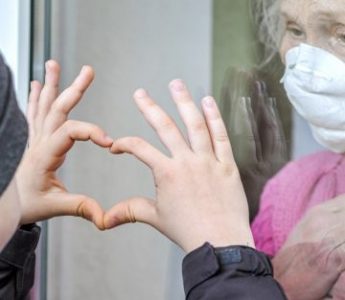 "Only through our connectedness to
others can we really know and enhance self.
And only through working on the self
can we begin to enhance
our connectedness to others".
— Harriet Goldhor Lerner
Hope Made Visible™, International, San Diego Cancer Research Institute's global expressive arts initiative, has received even greater attention since the whole world turned upside down, and outside-in, because of the COVID-19 pandemic. More than ever people have been seeking creative ways to stay connected and feel the support of the community while physically distanced and only able to see each other's eyes in public. Especially for our vulnerable cancer survivors and their families, the elderly, or those who live alone, the isolation can be particularly grueling; no hugs, no shaking hands, no getting together for workshops, no group activities, and limited travels are taking a toll as we approach the 8-month mark and likely expect prolonged social distancing recommendations will remain in place next year.
The pandemic added a thick layer of anxiety, lack of freedom, irritability, and fatigue to those affected by cancer; patients have been expressing that their view of cancer as the most serious, life-altering experience they could ever experience evolved into a whole new level of emotional and mental stress. More than ever supportive services, coping skills, and resilience through meaningful engagement need to be enhanced, especially in the prolonged quarantine.
Not only at this time it has been difficult to create a new sense of 'normal', but it hit especially hard those who lost loved ones and have been struggling with not being physically present with their loved ones at the end of their lives and gathering with family and friends for the very necessary, soulful rituals of celebrating and remembering their precious lives and relationships.
How do we deal with the heaviness of this time? How do we keep going when so much of our lives is so hard, sad, uncertain, and unpredictable? How do we breathe through the anguish and find joy and gratitude in being alive?
My answer is: community and the arts! Here is a short list of benefits based on extensive research and narrative accounts by participants:
Art fills occupational voids, distracts thoughts of illness
Improved well-being by decreasing negative emotions and increasing positive ones
Improved medical outcomes, trends toward reduced depression
Reductions in stress and anxiety; increases in positive emotions
Reductions in distress and loneliness
Increase in compassion for others
Improvements in flow and spontaneity, expression of grief, positive identity, and social networks
And here comes Zoom, our ubiquitous virtual meeting platform.
I facilitated Hope Made Visible™ workshop series during the summer for cancer patients and vulnerable community members through UC San Diego Health; with geographical boundaries evaporating thanks to the virtual delivery mode, patients from all over the Country joined in, creating additional interest and new personal connections and exchanges.
We have been working together with reminders, tools, mindful attention, and processes which offer a pathway to authentic artistic expression. There is no better time to delve into the depths of ourselves in a safe, supportive group, to explore and express how we feel, and to bear witness to these discoveries with acceptance, in simple accessible ways.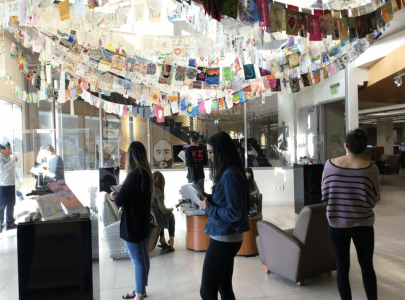 Since 2012 we have collected more than 1,500 unique Hope Made Visible flags created by cancer patients and families/friends from all over the world. They are currently displayed as a powerful, moving exhibition at California State University San Marcos ~ Kellogg Library until December 31, 2020.
Now more than ever these soulful flags touch and inspire all of us with hope, connections, and compassion. I cannot wait to read and share thoughts and comments left by visitors in our guest book!
SDCRI has been collaborating with highly respected organizations and practitioners through the years; one of those collaborations in 2015 and 2016 was with Habitat for Humanity in Los Angeles / San Fernando Valley, which focused on Hope Made Visible™ flag-making workshops and more Expressive Arts with Veterans transitioning from homelessness, addiction recovery, PTSD.
A new opportunity for Hope Made Visible™ opened up to reach out to the public with the intention of bringing solace and healing, upon invitation by The HeartWay to collaborate at an Expressive Arts initiative to offer Healing Grief Thru HeArt live online sessions to individuals and family who lost loved ones during the pandemic and/or are feeling the psychosocial/emotional toll of the pandemic, as we recognize the experience of PTSD or even Ongoing Traumatic Stress (OTS).
In this challenging time, we want to support those who are grieving, especially if in isolation, and experiencing complex emotions. It is important in order to feel supported and promote healing to validate one's unique experience, stay connected, and allow grief to be expressed thru a compassionate, safe, non-judgmental medium like simple hands-on art, and share it with others in our virtual community. By giving ourselves permission to create art, by tapping into awe, wonder, and beauty, we invite healing and create potentially transformational shifts.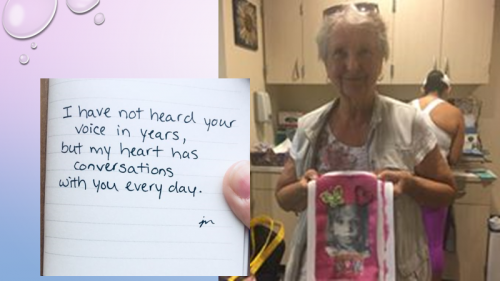 Art has the Power to Heal Humanity
This new collaboration would start with a hands-on expressive arts workshop via zoom on October 24th; the presentation includes a brief history and inspirational slides featuring special moments involving Hope Made Visible™ and Healing Grief Thru Heart: https://www.youtube.com/watch?v=pBcm1s7wnko
Everyone will be invited and guided through a process to create a flag in remembrance and celebration of the family member or friend they lost, with the opportunity to send the flag to us, to join the growing global initiative, and become part of a future public exhibition.
Participants will also be invited to create larger banners on their own, which individuals and families can hang from their windows or balconies, fostering community connections and solidarity.
Banners and flags have been used throughout history, across cultures and traditions, to symbolically honor the death of a loved one, to express compassion, and to enhance healing through individual and collective participation. Our intention is that through cooperation, participation, and HeArt-centered creativity, we will inspire a cultural shift to emerge around a community-centered approach to grief and loss.
Our goal with this new collaboration is to gather an additional 1,000 Flags and 500 Banners, as an ongoing opportunity.
ADDITIONAL INFO:
1) You do not need to be an artist to participate — your personal style and creativity is welcomed!
2) Materials:
– Blank paper
– White or off-white fabric cut in 6" X 10" sections for each Flag
– A paper grocery bag (cut open) or pillowcase for each Banner
– Markers, oil pastels or crayons, acrylic paints, tempera, a paintbrush
– Optional: glitter, embellishments such as buttons, jewels, beads, ribbon, trims, stamps, quotes, and natural findings like pods, leaves, and twigs.
I am deeply grateful to continue this journey of empathy, hope, compassion, resilience, and community.  In closing, enjoy a poem by storyteller, filmmaker, and poet Nic Askew as a thoughtful and comforting reminder:
THE ADVENTURE OF UNCERTAINTY
There Was A Time When
I Looked For Certainty.
Certainty In The
Outcome Of
The Events Of
My Own Life.
And Then I Realized
That There Was
Only One Certainty.
And That Was
That It's All OK.
That There's Something
That Could Never Die.
And Now I Realize That
The Total Uncertainty
Of The Events Of Life
Is The Adventure.
And That's The Wonder. ~ Nic Askew
Namaste,
Alessandra
---
Update May 29th, 2020

Our International initiative Hope Made Visible™: creating and sharing art flags, has an installation exhibition of more than 1,300 flags at The University Library at California State University San Marcos. The exhibition has been extended through December 2020, as a timely inspiration of hope and compassion for communities of patients, students, faculty, and staff affected and coping with the COVID-19 pandemic.
Stay tuned for updates and visiting options as the campus will partially re-open in the fall.
The invitation to participate remotely to create and contribute flags is always open. Patients and their families / caregivers are invited to join an 8-week series of Expressive Arts workshops led by Alessandra Colfi, PhD, through UC San Diego Centers for Integrative Health, starting June 5. Below is the link for more information and to register:
https://www.eventbrite.com/e/hope-made-visibletm-live-online-via-zoom-tickets-106601058636
An in-depth look at this initiative here:
https://csusmchronicle.com/19734/a-e/expressive-arts-therapist-speaks-on-hope-made-visible-exhibit/
---
Update! February 15th, 2019
Hope Made Visible™ in support of Palliative Care and of a broader healthcare conversation on University campuses.
At least once a year, San Diego County patients are offered the opportunity to participate and contribute to the worldwide movement with an 8-week series at 2 different locations. Through this unique Expressive Art-making process cancer patients have been creating mixed-media art flags. Connecting locally and internationally patients become aware of something greater, share purpose, solidarity, their journeys, and resources. Together they make hope visible! Hope Made Visible™ has been transforming the consciousness of individuals affected by cancer from co-dependency and disconnect to deep interconnectedness by raising empathetic awareness and restoring hope and resilience, proven valuable in an integrative model of care. 2000+ flags made by people affected by cancer have been traveling and exhibiting in the USA, South America, Europe.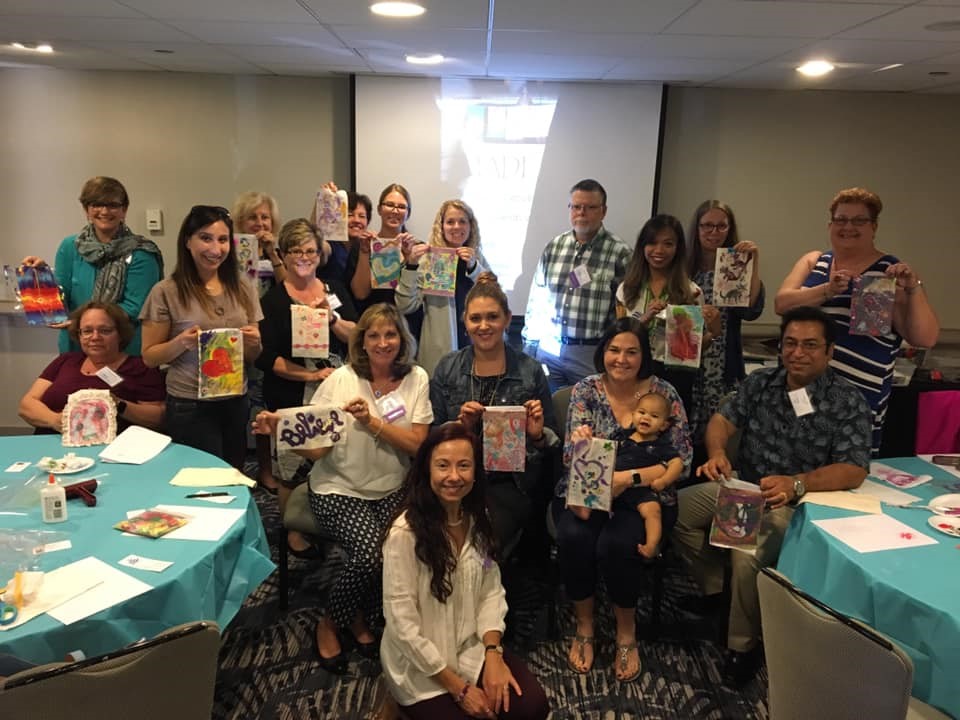 Hope Made Visible™ was featured at CSU Institute for Palliative Care Symposium hosted by CSUSM Institute for Palliative Care. Dr. Alessandra engaged attendees from across the USA with a presentation and hands-on workshop and shared a research poster to demonstrate patients' enhanced resilience through the Expressive Arts program. A wonderful way to meet and engage so many dedicated Palliative Care professionals, while planting seeds for future collaborations. Another pin on the health care map!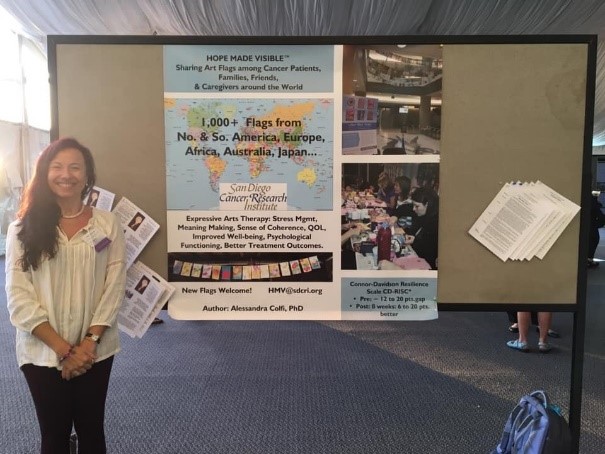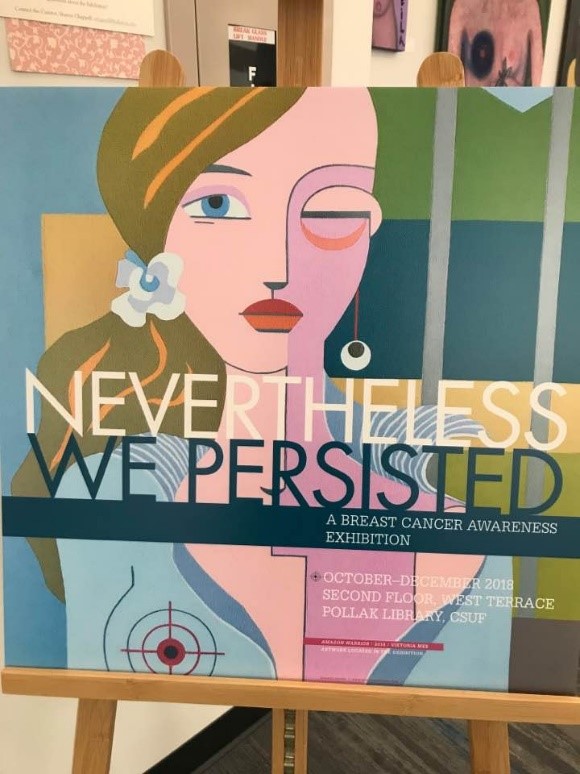 "The dedication of each patient to their healing, their willingness to share their feelings and how they tap into their resilient spirit through beautiful, unique, powerful art is inspiring; it motivates me to seek avenues and more ways to creatively and socially engage patients and their loved ones."
Dr. Sharon Chappell, a professor at CSU Fullerton, invited our Expressive Artists to participate in her art showcase 'Nevertheless We Persisted' at California State University Fullerton Pollak Library to celebrate the journeys and transformation of people affected by cancer. She is in her Breast Cancer Healing Journey and has been decorating bras for herself and encouraging other patients in her community, hence the idea for a collective exhibition by artists among patients, friends, and families.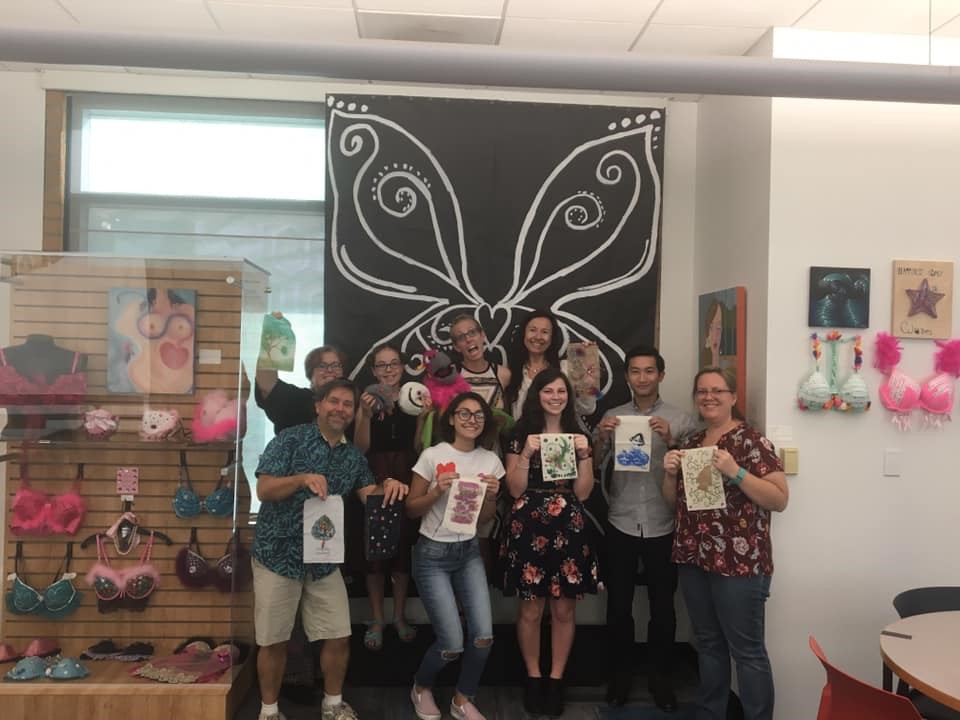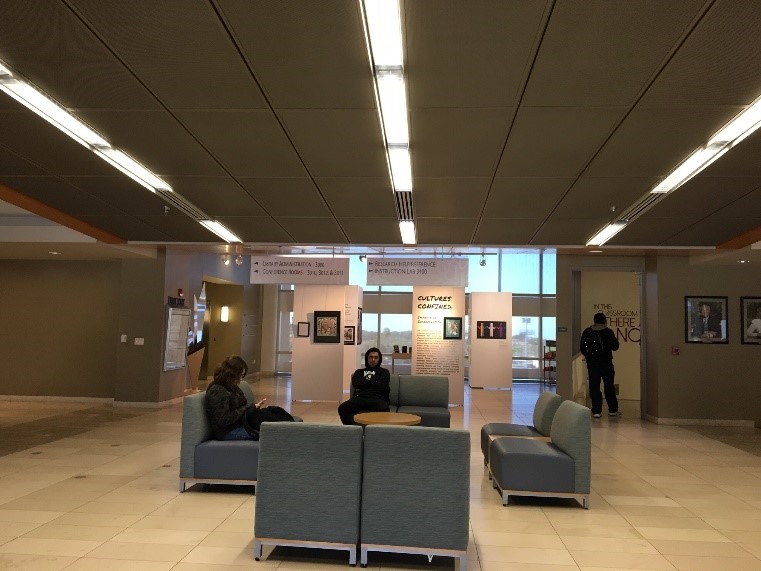 SDCRI Hope Made Visible™ Flags and The Artful Bra & Purses magnified the awareness of the impact of cancer in the community, the healing power of the arts and gave a home to their shared stories for the duration of the fall 2018 semester. A heartfelt, gratitude- and joy-filled artful afternoon where Alessandra leads a flag-creating workshop for all guests. More flags to add to the growing collection.
Moving Forward…
California State University of San Marcos, CA, invited SDCRI to share Hope Made Visible™ with an exhibition at the Campus Library for 2 years; this was a collaboration through their Palliative Care Institute, the Campus Library, Academic Health, and Social Justice programs, providing a rich academic and social context on how the local and international outreach and impact of these unique flags can affect, inform, and be a powerful message and experience for the CSUSM community.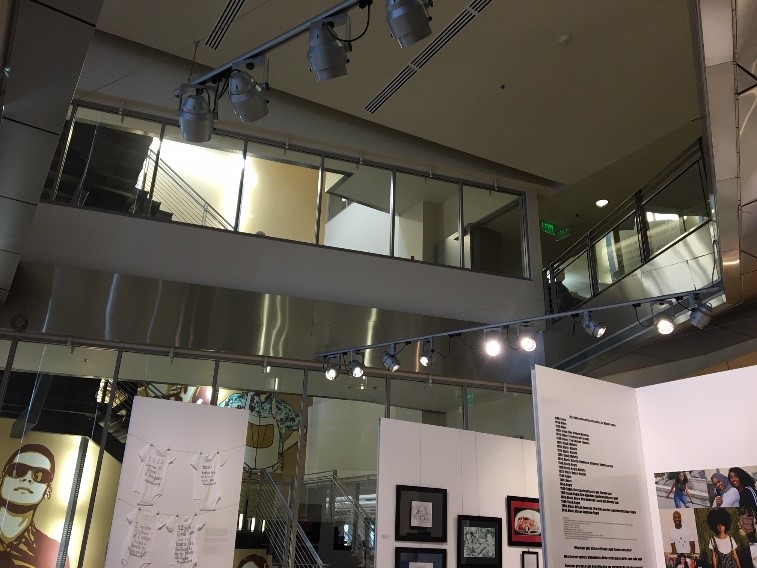 The exhibition space was optimal with the open atrium where the flags were suspended as a canopy of colors, textures, and messages, and wall space for the research poster connected with Hope Made Visible™, statements, video/slideshow, and opportunity to engage the community with creative and interactive stations.
We celebrated these milestones in 6 years of participation by patients from San Diego County and across the world joining in person and virtually.
---
Hope Made Visible has now been to the following countries:
United States of America
Canada
Argentina
Guatemala
El Salvador
Germany
Switzerland
Austria
Lichtenstein
France
Italy
Australia
The Netherlands
Mexico
and Ghana!
---
Update: June 20th, 2017
Hope Made Visible™ has arrived in Guatemala!
Paulina, a colleague of Alessandra's in Guatemala, is working with the help of a public hospital to exhibit the globe-trotting flag collection at a local mall from July 7th through July 9th!
The flags were shipped from SDCRI's home in San Diego to Guatemala in May, and their arrival in Guatemala was confirmed in early June.
Paulina and her crew of cancer warriors completed 7 monthly sessions making flags, and they have announced that they are planning to exhibit the flags for the 3 days in July. Alessandra has sent 700 to 800 flags created in, and collected from, the USA & several other countries around the world.
In addition, at least 100 more flags will be coming from the Fahnen furs Leben group in Germany. Fahnen furs Leben ("Flags of Life") is the German counterpart of HMV, headed up by Gabriele, another colleague of Alessandra's, who has been working with cancer patients in Europe to create their own collection of flags.
There will be more news and possibly photos for the new exhibition of these wonderful, international symbols of hope!
Check back soon to see what's next!
---
Update: December 1st, 2016
You can follow Hope Made Visible™ on Twitter by clicking here!
And you can get updates for HMV on the Expressive ARTS Therapy Facebook page!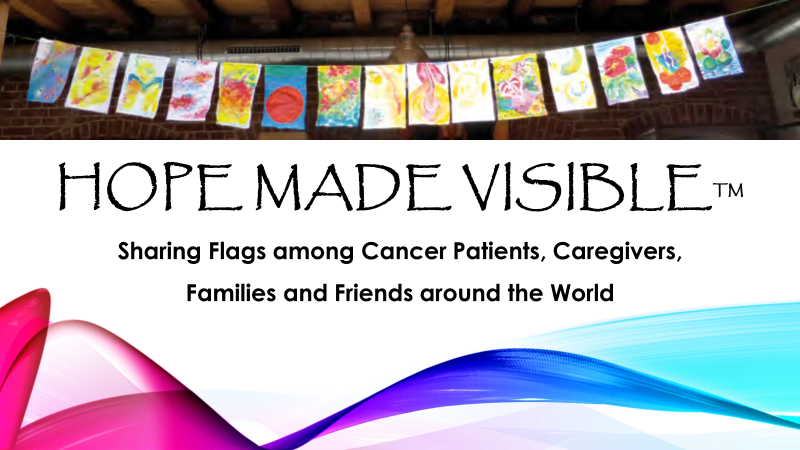 Our international, educational initiative started 4 years ago, inspired by the Nepalese and Tibetan flags, which symbolically bring healing blessings across lands, mountains, and reach out to distant communities.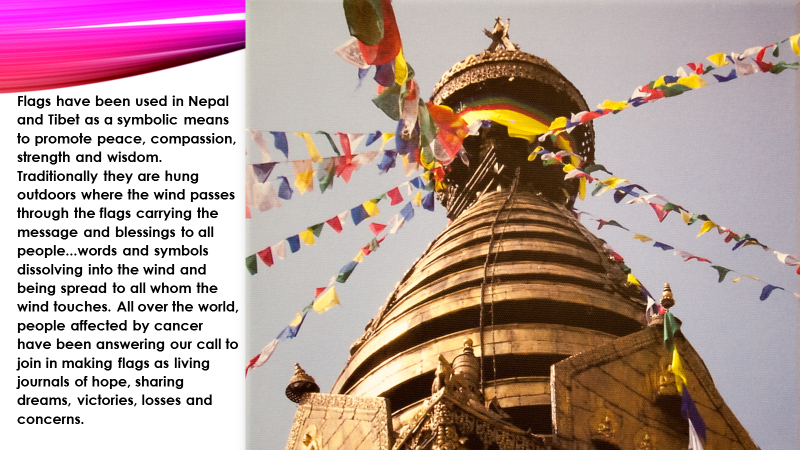 It's been very inspiring and rewarding to follow the developments of this initiative, with many opportunities to share and build a virtual community based on local and non-local healing, aimed at fostering empathy and resilience among cancer patients.
Local workshops have been periodically offered through our Expressive Arts Therapist Alessandra Colfi and her programs. Sharp Healthcare was one of the first local groups to join in. Currently, a new series is being offered at UC San Diego Moores Cancer Center, followed by a series at UC San Diego Cancer Center in Encinitas in 2017.
Cancer patients have been engaged in guided relaxation, visualization, hands-on art-making processes to create personal flags made mostly with fabric, paint, trims, quotes or personal messages.
Data have been collected in the form of narratives, patients' feedback, and self-assessment / self-reporting tools, which Alessandra administers as surveys at the beginning and at the end of each 8-week segment for local groups; the principal tool is the Connor-Davidson Resilience Scale of 25 items (CD-RISC), created by Jonathan R. T. Davidson, M.D. and Kathryn M. Connor, M.D of Duke University, to assess depression and distress symptoms, post-traumatic stress disorder (PTSD), and patients' resilience.
CD-RISC surveys show improvements of 6 to 20 points over 100, showing a reduction in various pain and anxiety symptoms, in patients' confidence in coping with the disease and in managing stress.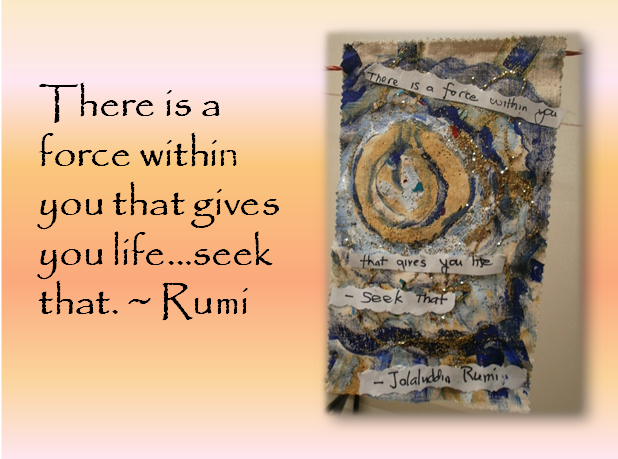 Participants' feedback shows improvements in fostering empathy and their resilience by making and sharing flags. Expressions of patients' feelings and emotions onto flags become catalysts for symbolic understanding and transformation.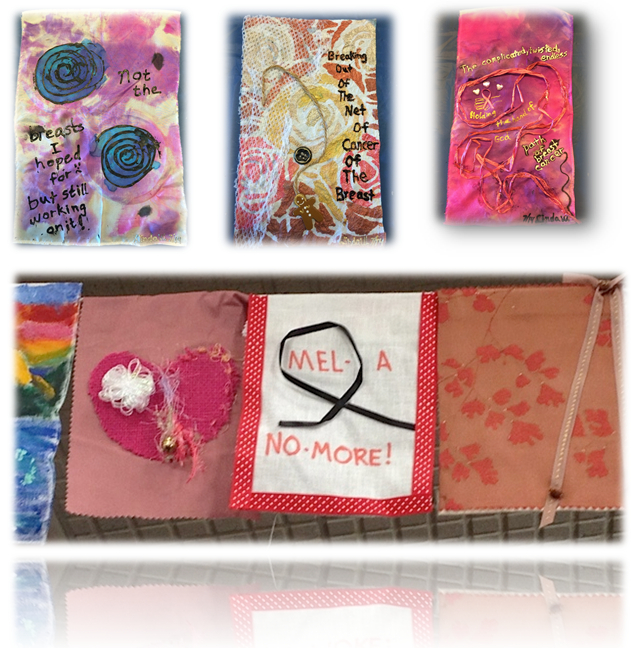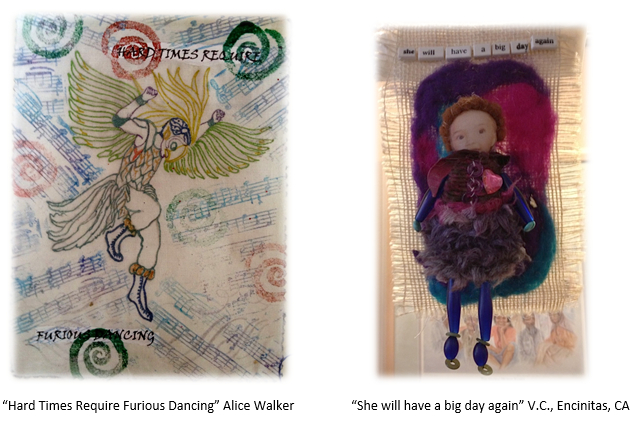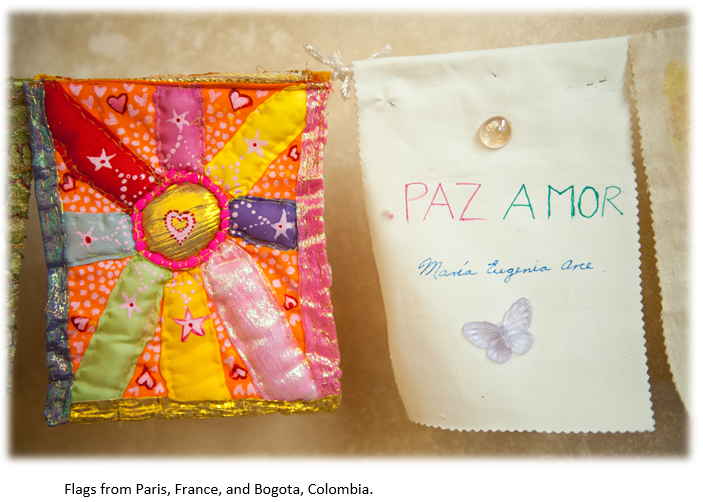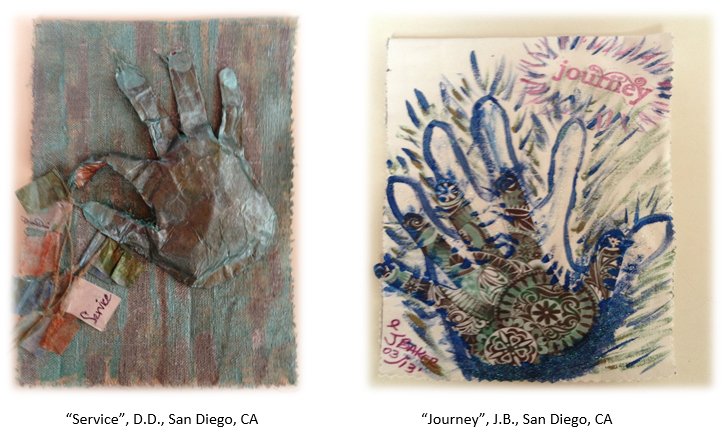 The call to join in and share their cancer journeys through art flags has been answered by groups, individuals, and families; for example, MACMA, a Breast Cancer Support Group in Buenos Aires, Argentina, dedicated several sessions to create flags together and sent them all to us.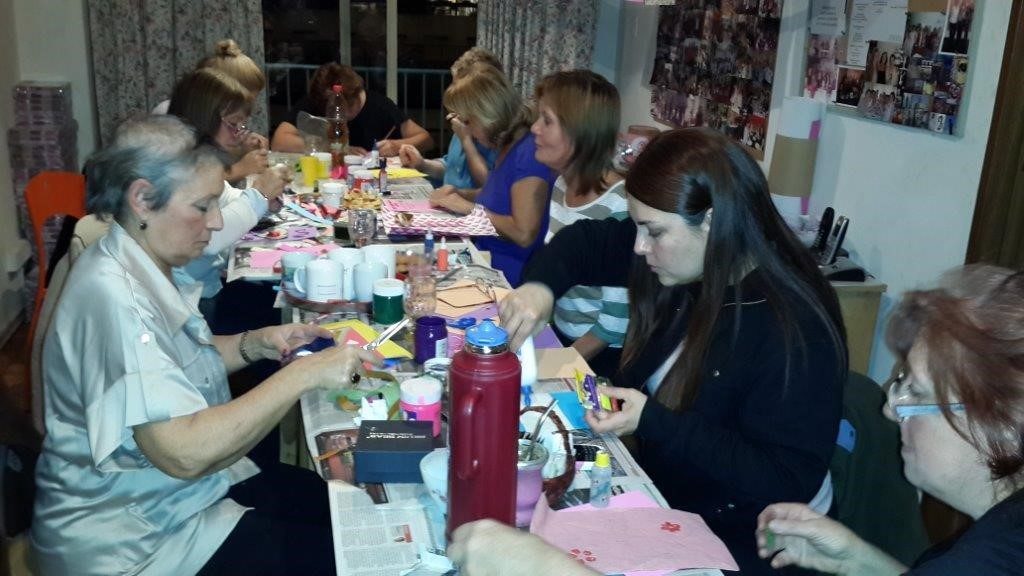 It was very meaningful and exciting when in February 2015 Alicia Galdeano, who runs MACMA, visited our Hope Made Visible™ exhibition at Front Porch Gallery in Carlsbad.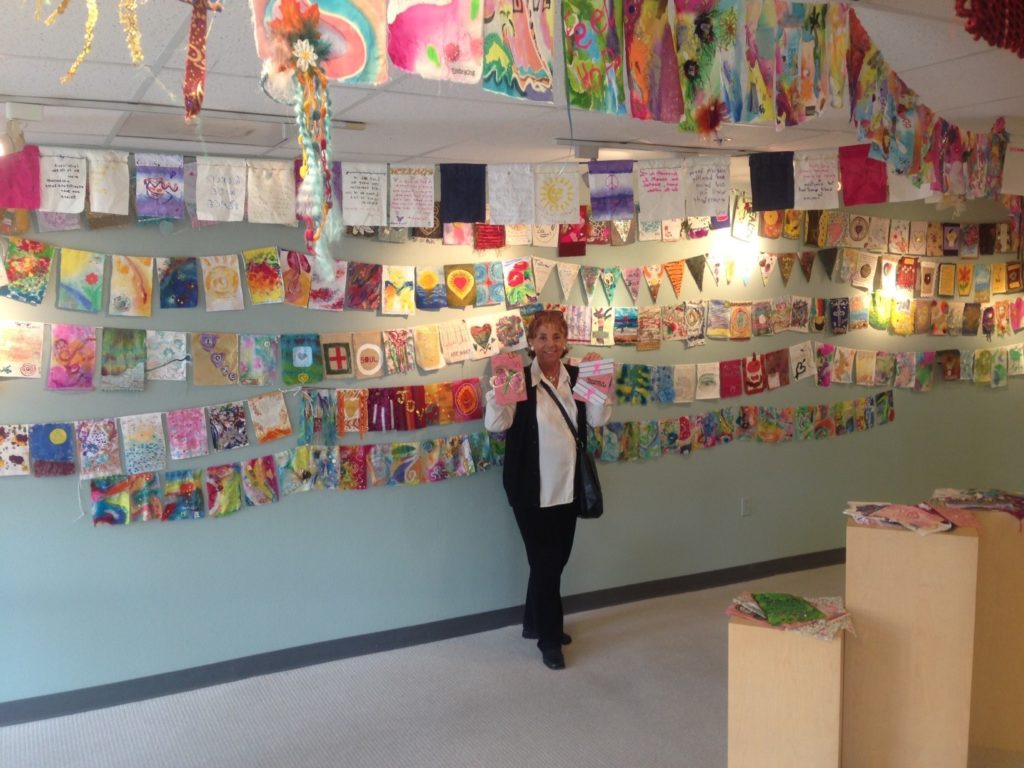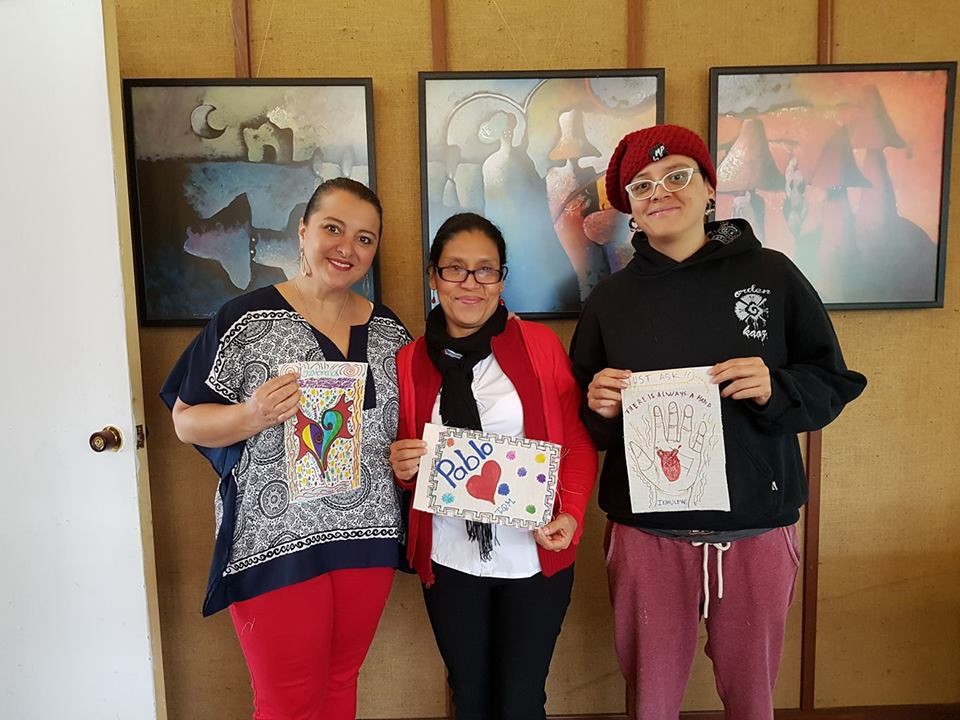 In Guatemala, Art Therapist Paulina Buonafina engaged patients at INCAN, oncology hospital in Guatemala City, making a long string of flags to add to our collection very early on. This year she embraced Hope Made Visible™ on her own, offering several workshops in the community to create flags; she plans to host a public installation with all the flags in March 2017. Another exciting development to look forward to! www.arteterapiaguatemala.com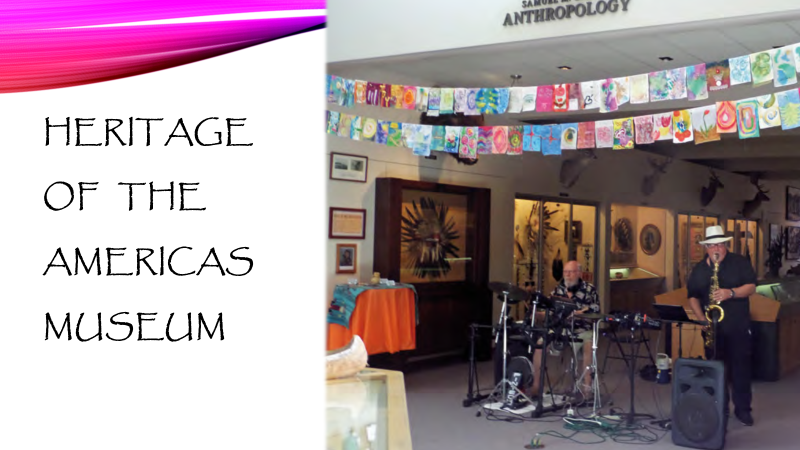 In 2014, San Diego Cancer Research Institute received the invitation to exhibit Hope Made Visible™ and all artwork made by patients, at the Heritage of the Americas Museum, at Cuyamaca College in San Diego. The whole community of patients, families and practitioners came together to celebrate the healing spirit and the dedication of all the artists, and to remember those who live on in our hearts.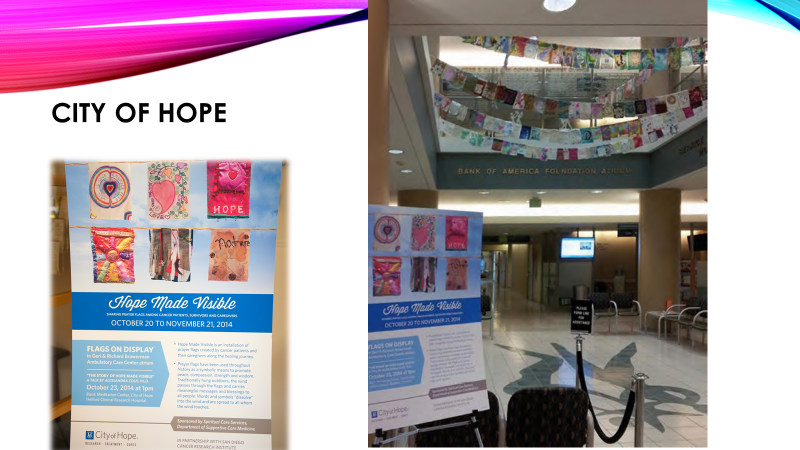 City of Hope requested a presentation and training for some of their Social Workers, Chaplains, and Nurses so that they could engage their patients in creating flags; at the same time, all the flags were featured in the Atrium at the Outpatient Clinic during Spiritual Care Week in October 2014. The impact was so remarkable that City of Hope then requested to keep the flags on display for the whole month.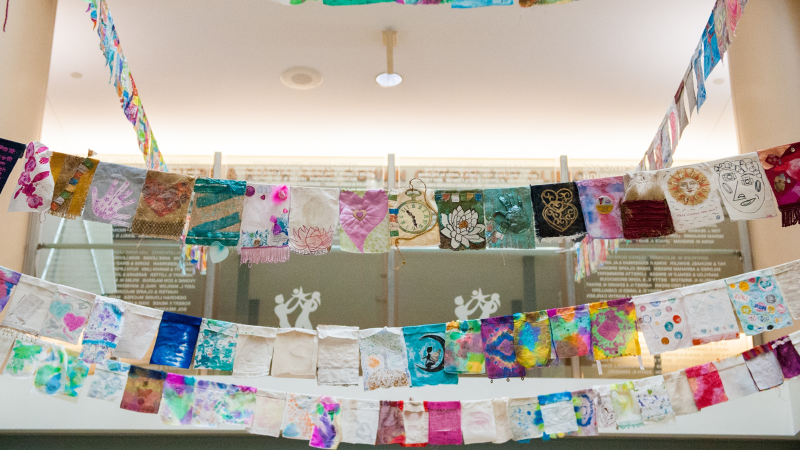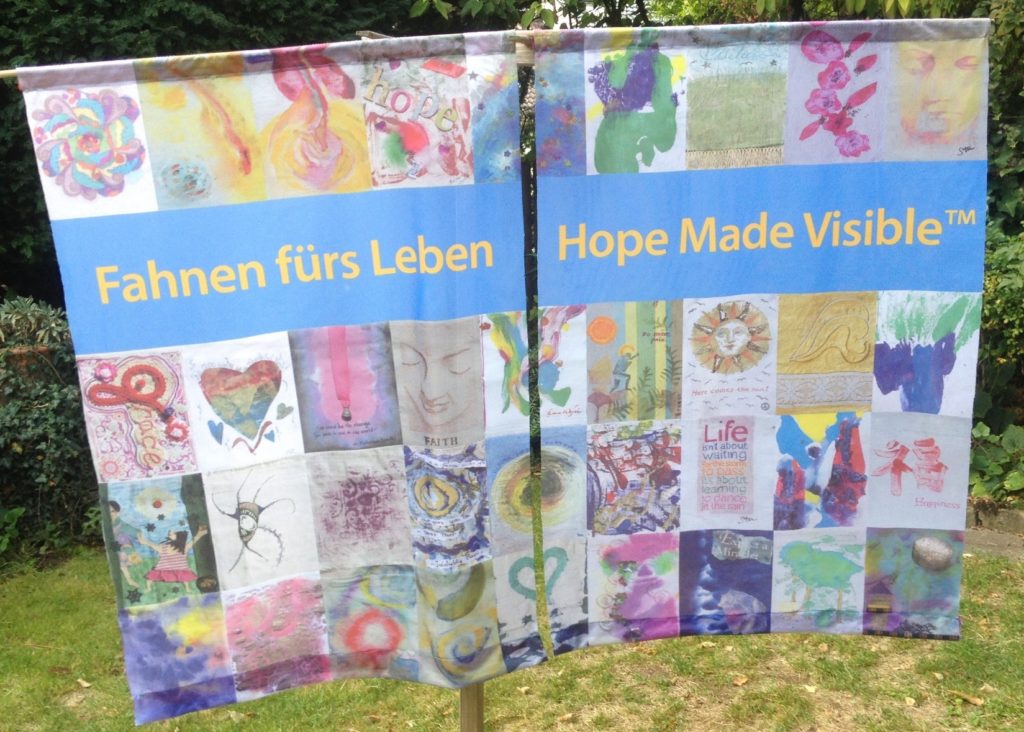 At the same time, in Germany, Gabriele Heyd combined flag-making workshops with outreach, marketing, and PR to share "Fahnen furs Leben" (Flags for Life) across the country, exhibiting at a variety of venues, including a Rehab Conference in Karlsruhe in April 2015.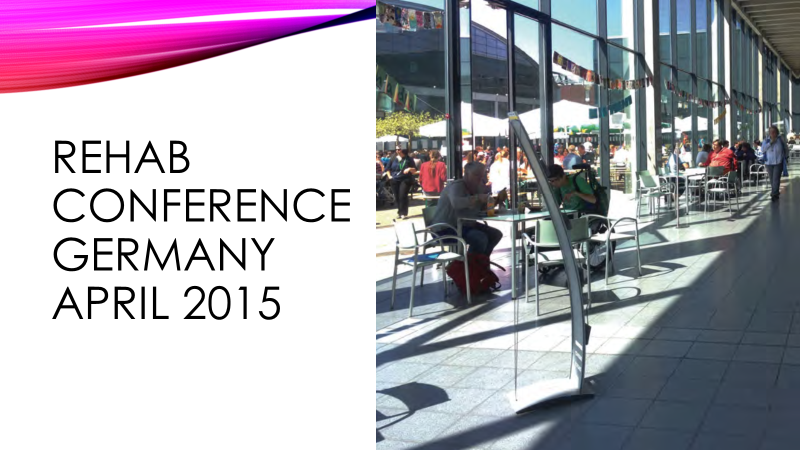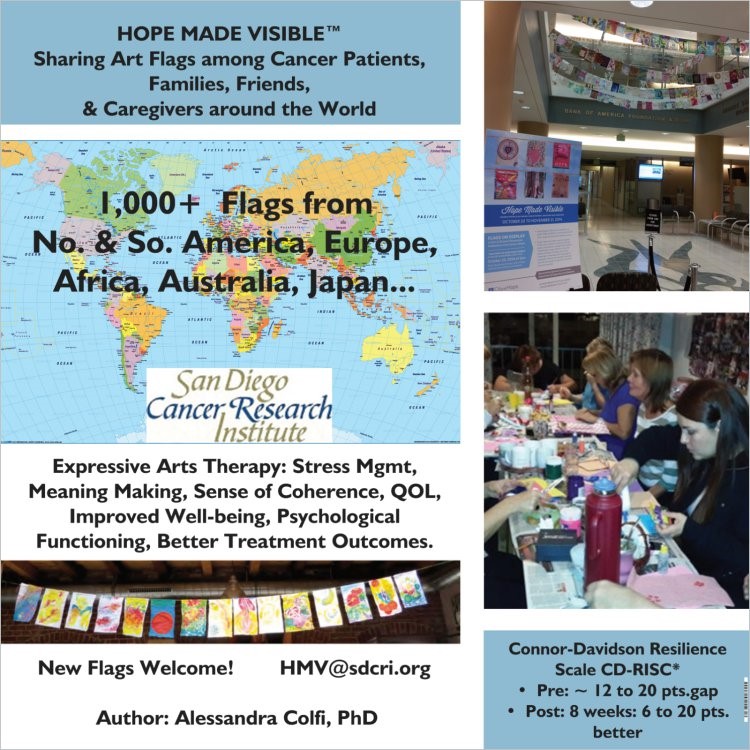 In March 2016 Hope Made Visible™ flags have been displayed at the American Psychosocial Oncology Society Conference – www.APOS-Society.org , and featured as an exhibition booth and as research poster. The only art program at the conference!
In July and August 2016, the full display of flags provided a symbolic canopy at Oceanside Public Library, adding another layer of patients' satisfaction, pride, and feeling connected beyond cancer. It's been especially meaningful and timely for the library staff who lost 2 of their own members to cancer this year.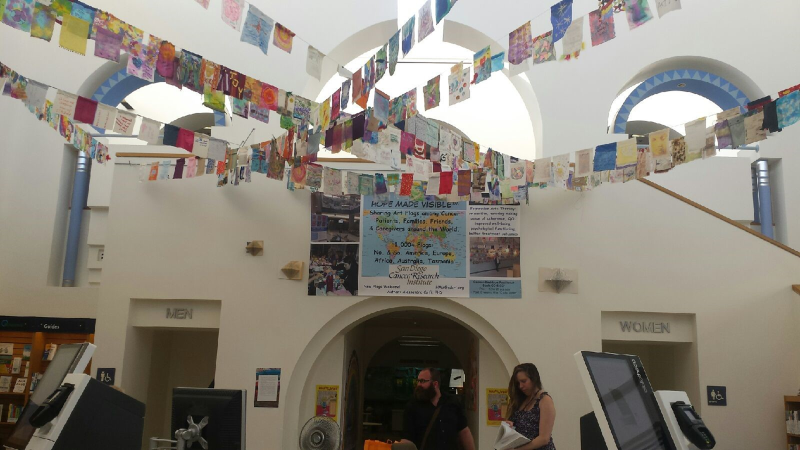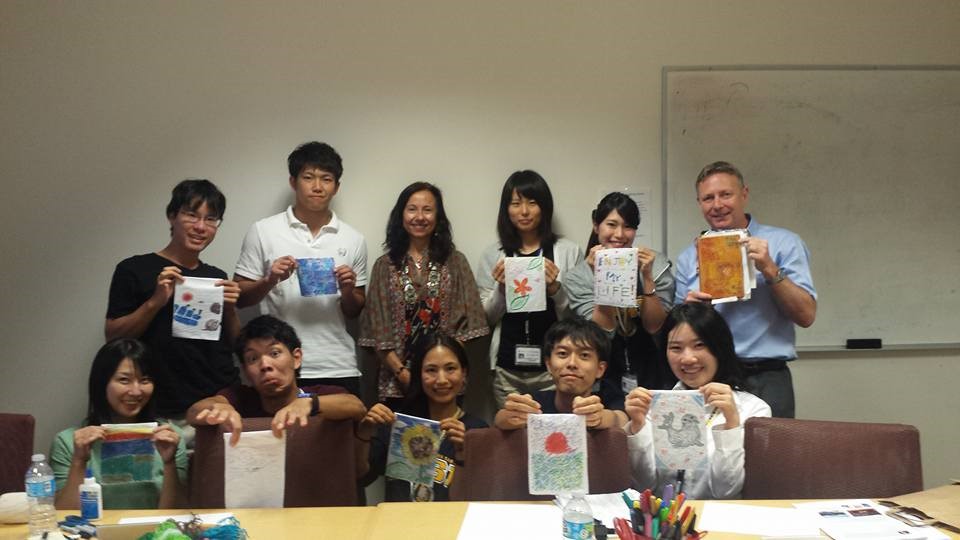 Last September Alessandra presented Hope Made Visible™ to medical school students from Dokkyo University (Japan), on a week-long visit at UC San Diego Moores Cancer Center. Together they took the opportunity to learn about mind-body-spirit modalities available to support oncology patients and their families and to make their own flags to take back to Japan to inspire colleagues and other clinicians to join in the global initiative.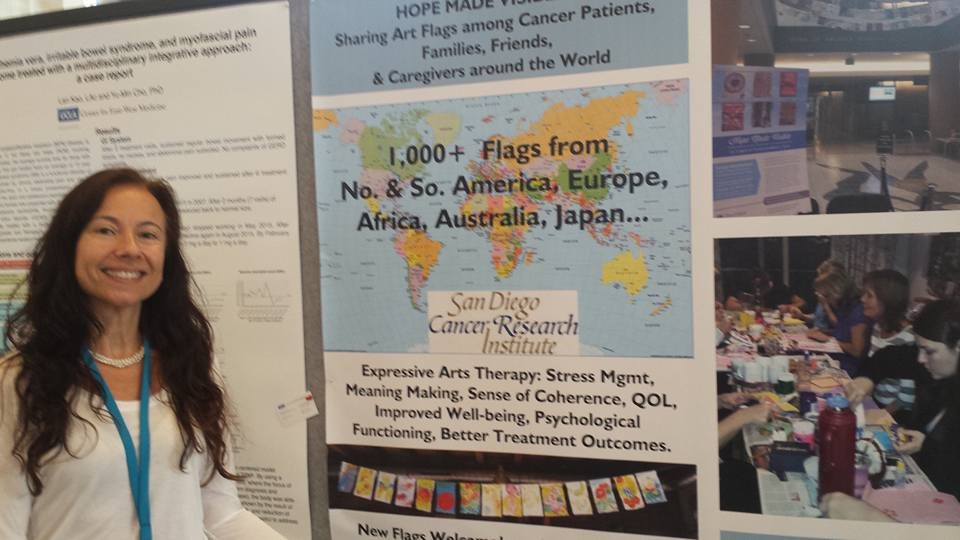 Hope Made Visible™ poster was also entered in a competition at the Academy of Integrative Health & Medicine Conference "People, Planet, Purpose" – www.AIHM.org – this past October in San Diego. On November 4th, the last day of the conference, Alessandra shared about her Expressive Arts Therapy program including Hope Made Visible™ at the Consciousness and Healing Initiative Summit: The Healing (R)Evolution – www.CHI.is.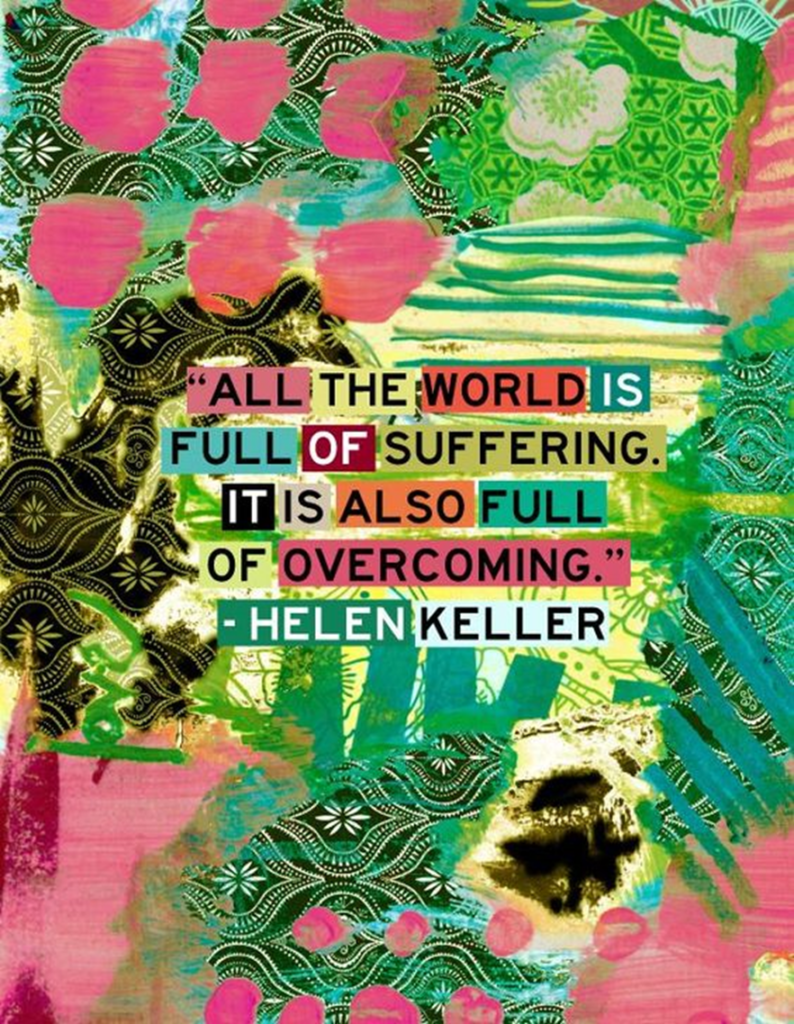 Alessandra has just completed a 2-year program at Habitat for Humanity; Hope Made Visible™ was well received by Veterans experiencing homelessness, addictions, PTSD. "Thank you so much Alessandra! Your work with our veterans has been magnificent and deeply appreciated. " (Donna Deutchman, CEO, Habitat for Humanity SF/SCV).
The invitation to create and gather flags is always open and encouraged, as well as considerations for exhibitions locally and internationally. More than 1,000 have been collected so far, all unique in their symbolic expressions of hope, healing, challenges, sorrows, joy, and resilience.
---
Hope Made Visible™ – Part II: Research Studies
The use of Art for healing is well documented and supported by a positive impact on the health and quality of life of oncology and other patients. Besides the data already collected, there could be interesting opportunities for further research; studies would be desirable on multiple fronts:
1 – Simple, low-cost tests to evaluate distress and anxiety in patients and their caregivers are necessary to identify and implement early intervention. Distress Screening has become mandatory in cancer care since 2015.
Biofeedback screening such as BioWell http://www.bio-well.com/ could be used in a study to identify, monitor, and evaluate patients' energy, stress, and vitals.
2 – Is 'a sense of coherence' what makes the difference in boosting patients' resilience?Often patients seek complementary modalities on their own and after several months of their initial diagnosis. In an integrated model of care, patients can safely access complimentary modalities.
Clinicians often note higher cooperation by patients who are engaged in supportive complementary modalities like Expressive Arts Therapy.
Clinicians often report fewer pain medications prescribed and fewer visits to those same patients, thus reducing costs and increasing capacity.
3 – Is art-making a catalyst for lower inflammatory response in the body?
The effect of mindfulness on inflammatory health was shown in a study by David Creswell, Ph.D., published in February this year. This research showed changes in brain circuitry and reduced inflammation after three days of mindfulness training, while three days of relaxation did not have the same effect. Creswell explains the difference in impact between mindfulness meditation and relaxation:
"We show that mindfulness meditation impacts measurable brain circuits more so than helpful relaxation practices and that these brain circuit changes help us understand how mindfulness meditation improves health. Mindfulness teaches participants how to be more open and attentive to their experiences, even difficult ones. By contrast, relaxation approaches are good in the moment for making the body feel relaxed, but… harder to translate when you're dealing with difficult stressors in your life. This new work sheds light on what mindfulness training is doing to the brain to produce these inflammatory health benefits." (Creswell, 2016, Carnegie Mellon University)
Here is just a taste of the project that has expanded to nearly 1000 flags and almost a dozen countries!
Hope Made Visible™ from around the world
Hope Made Visible™ @Moffitt Cancer Center
Hope Made Visible™ flags from Argentina:
Hope Made Visible™ presentation, exhibition and training at City of Hope, Duarte, CA
---
Expressive Arts Therapy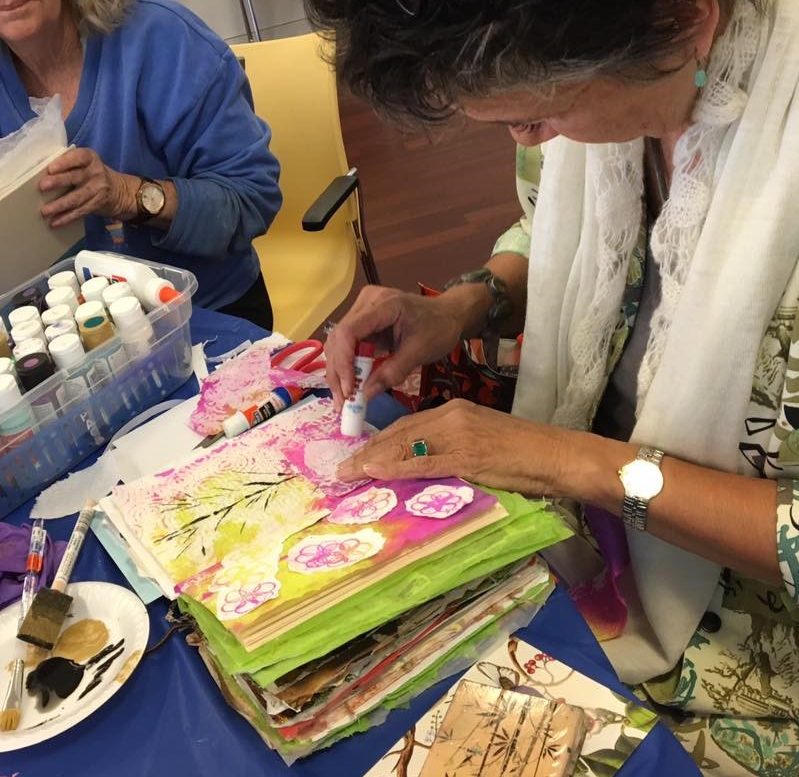 Involves all the arts in intermodal processes: visual art and sculpture, dance, music, poetry, movement, ritual, storytelling, and drama. Historically, the expressive arts have been a part of ancient healing practices and a bridge between the world of words and our inner life. Engaging patients, caregivers, clinicians with the expressive arts is an invitation to explore, play, relax; it facilitates introspection into our mental, emotional, and physical worlds through a safe, non-judgmental, process-oriented, person-centered approach. The therapeutic distance offered by the colors, shapes, textures, and images emerging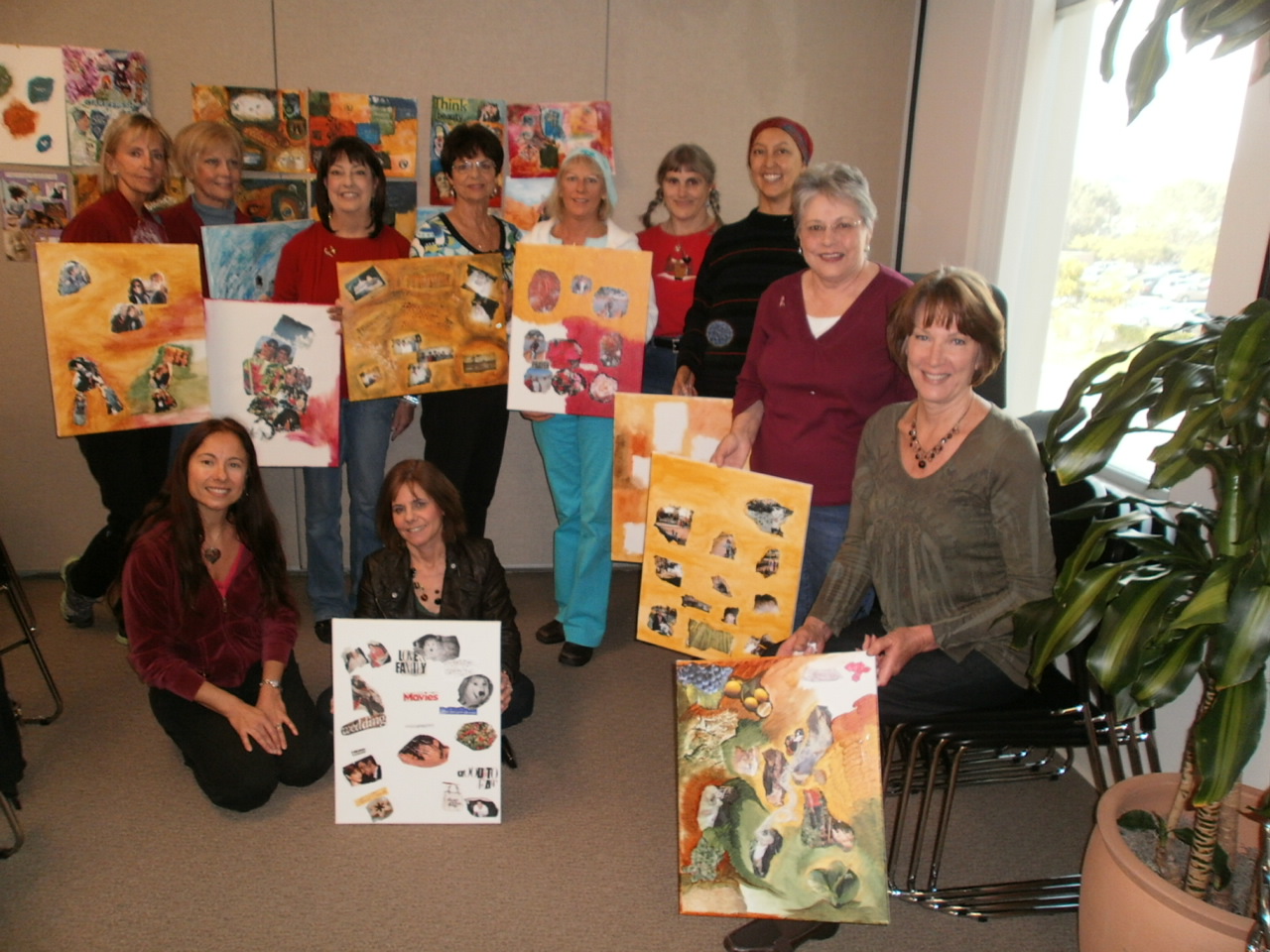 in the creative process allow for mindful awareness, a degree of control and freedom to choose, act. This is a process of building self-awareness and coping skills, with the potential for transformation of painful feelings and sensitive subjects into creative energy and personal satisfaction and connection. Therefore, Expressive Arts Therapy processes are used successfully in almost all psychotherapeutic contexts, in healthcare settings, educational systems, workplace, and as facilitation of human potential and growth.
---
Yoga is a term which means union of body and mind. Yoga is an ancient, evidence-based practice that can build strength, increase mobility and flexibility. It may also help manage pain and reduce stress. Various styles of yoga combine physical postures, breathing techniques, and meditation. Several styles of Yoga can be offered and are beneficial to cancer patients and caregivers, depending on where they are in their healing journey; Hatha Yoga, Restorative Yoga, Chair Yoga, Yoga for Cancer Recovery, Yoga Sculpt, Yoga Nidra, Grief Yoga, while integrating Pranayama, Fascia Release, Deep Tissue Release, intentions/affirmations.
---

For people with, or recovering from, any type of cancer and caregivers.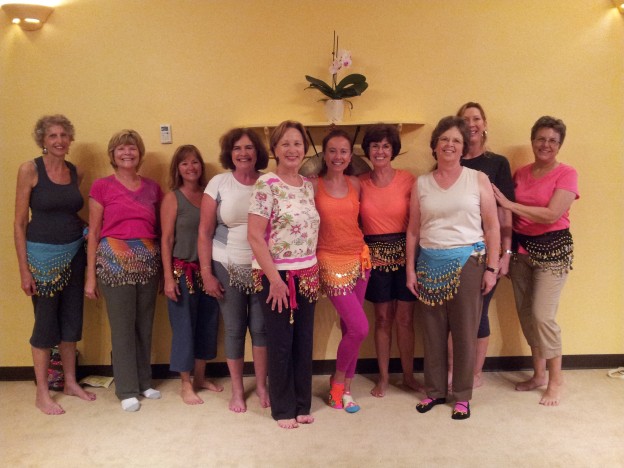 Want to have a playful, easy, good-for-body-mind-spirit time? Try low-impact Zumba®! Moving is one of the keys to healing and to prevent recurrence – our bodies are meant to move! Learn Salsa, Cumbia, Bachata, Merengue, Reggaetón, Hip-Hop, and free flow too! Recommended for beginners and adapted to each participant's ability and limitations. You are welcome to sit in a chair as well. Practice self-care tips, warm-up, low-impact cardio, cool-down, stretching, & JOY!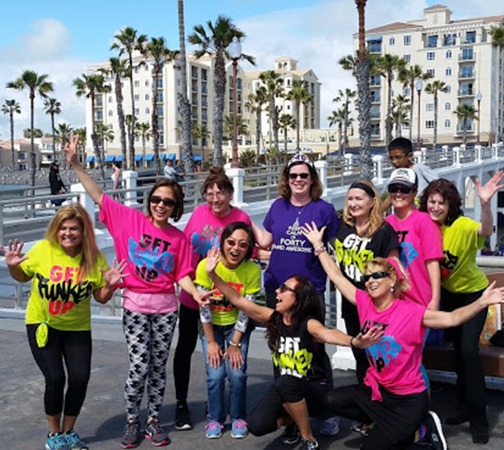 Research shows that movement provides a wide range of benefits: it reduces physical and mental fatigue, increases blood flow, awakens and enlivens body, mind, and spirit; increases range of motion, facilitates sleep, increases body awareness and serves as an antidote to depression and isolation, all assisting in improving quality of life and lowering the risk of recurrence.