Alessandra Colfi, PhD, RYT-200, ZIN®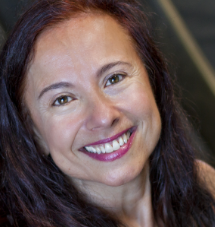 Alessandra Colfi holds a BA/MA in Linguistics, a Master's in Fine Art, and a Doctorate degree in Expressive Arts Therapy. She is a Registered Yoga Teacher RYT-200, Certified in Yoga for Cancer Recovery and Advanced Back Care, and a Zumba Instructor (ZIN®).
She provides her Expressive Arts Therapy programs at UC San Diego Moores Cancer Center working and supporting patients in their healing journeys, and assists individuals process their grief after the death a loved one at The HeartWay.  Her whole person-centered, mindfulness-based approach is compassionate, and uplifting, and draws from many different traditions and modalities like Meditation, MBSR, Guided Visualization and relaxation techniques, Emotional Freedom Technique (EFT), Pranayama (breathwork), Movement, EMDR, as well as from community resources.
Dr. Colfi is a member of San Diego Cancer Research Institute (SDCRI), a faculty member, and Director of the Expressive Arts Therapy Department at International University of Professional Studies; MiraCosta College Kinesiology Dept. Advisory Board Member, a member of the International Expressive Arts Therapy Association (IEATA), National Organization for Arts in Health (NOAH), Yoga Alliance, North County Cancer Fitness, Yoga Vista, Michelle's Place, Oceanside Museum of Art Artist Alliance, Allied Craftsmen of San Diego, Consciousness and Healing Initiative, Arts Health Network Canada.  Dr. Colfi has been using the creative arts and their embodied therapeutic qualities for over 22 years in private and clinical settings assisting oncology patients, families, and individuals experiencing grief.
Dr. Colfi has presented at professional conferences like APOS, AHIM, CSU Symposium for Palliative Care Research and Education, and Coalition for Compassionate Care of California Summit, and received numerous awards for her artwork and service; in 2014 she received the San Diego Cancer Research Institute Award of Excellence for contributing to improving the quality of life of cancer patients in San Diego County.
Keep up with Alessandra, and keep in touch:
Subscribe to Alessandra's YouTube channel for her fitness videos, talks, and Art Therapy project updates!
Facebook: https://www.facebook.com/ExpressiveARTSTherapy.EXT
Phone: 858.735.5708
Email: Alessandra@AlessandraColfi.com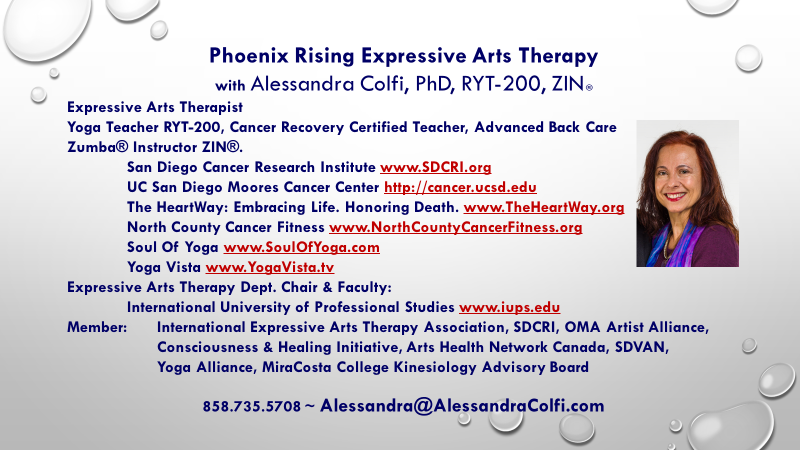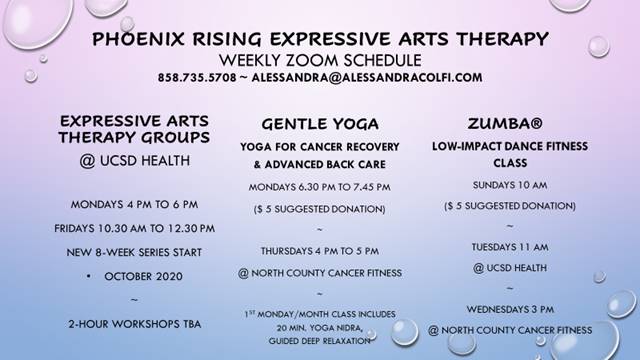 Expressive Arts Therapist: UC San Diego Moores Cancer Center http://cancer.ucsd.edu
UC San Diego Center for Integrative Medicine http://cim.ucsd.edu/
San Diego Cancer Research Institute www.sdcri.org
The HeartWay: Embracing Life. Honoring Death. www.TheHeartWay.org
Expressive Arts Therapy Dept. Chair & Faculty:
International University of Professional Studies www.iups.edu
Artist Co-owner: Paper Sun LightSculptures www.PaperSunLightSculpture.com
Zumba® Instructor (ZIN®) UC San Diego http://cancer.ucsd.edu
North County Cancer Fitness www.NorthCountyCancerFitness.org at EOS Fitness http://eosfitness.com/location/encinitas
Yoga Branch Vista Village www.yogabranch.com
Yoga for Cancer Recovery Certified Teacher:
Be Well http://www.bewelltherapy.net/
Phoenix Rising Yoga for Cancer Recovery https://www.facebook.com/PhoenixRisingYoga4Cancer/
North County Cancer Fitness www.NorthCountyCancerFitness.org
Member: International Expressive Arts Therapy Association www.ieata.org
Consciousness & Healing Initiative www.chi.is
Arts Health Network Canada www.artshealthnetwork.ca