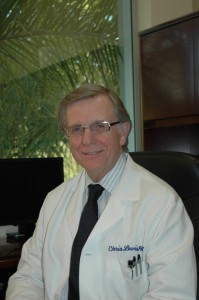 Mr. Lewis is a native of Southern California. He received his undergraduate degree in life sciences from the San Diego State University in 1975. He went on to receive his second Bachelor of Science degree in Allied Health as a Physician Assistant from Baylor College of Medicine Houston Medical Center in Houston, Texas in 1977. In 2008 he completed his Master's Degree in Spiritual Psychology at the University of Santa Monica. Chris is board certified by the National Commission on Certification of Physician Assistants in general medicine.
Mr. Lewis includes in his career experience several years in the surgical specialties of cardiothoracic, general and vascular surgery. His oncology experience began in 1997 and continues today at the UC San Diego Cancer Center. Mr. Lewis joined our practice in June, 2005 and has privileges at Tri-City Medical Center and Scripps Memorial Hospital—Encinitas.
Chris also brings forward from his own heartfelt commitment to be of service to patients and caregivers having an experience with cancer. The skills and practices of Spiritual Psychology, energy psychology and energy medicine are the foundation of his practice. Within his medicine practice he offers attentive conventional care. Within his private practice, The Art of Healing Consciously, he offers exploration of freedom and compassion for ourselves; not as concepts, but as realities born of our own experience and healing.